When you travel, you want to make sure that you experience the local specialties and culture.
While visiting historical sights and interacting with locals is a real treat, don't miss the sweet shops where you can enjoy a quick smoke or pick up a souvenir in between sightseeing.
Below, I will take you through the three sweet shops within walking distance from Narita Station that you definitely want to visit when you are in Narita.
1. Miyoshiya
As you walk down the road towards Narita-san, you will see a signboard on your right-hand side on the way down.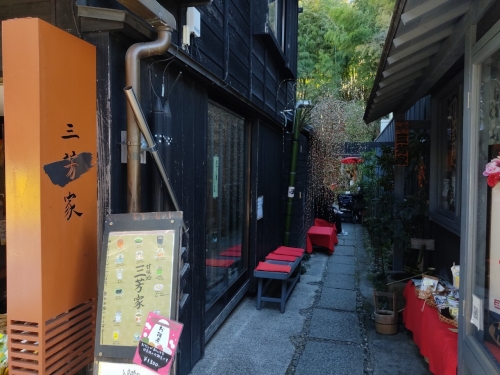 It is two doors down from Kawatoyo, a restaurant famous for their eels.
If you go further down this alley...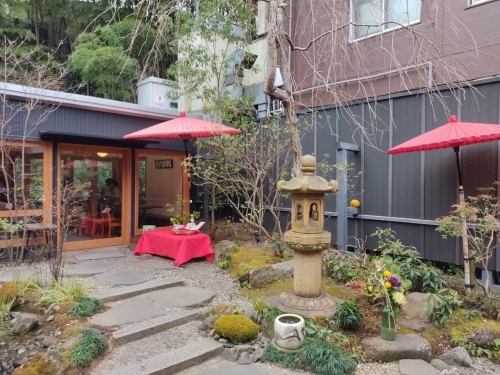 At the entrance of Miyoshiya, you will see a Japanese garden right there, the last thing you will probably expect to see.
This isMiyoshiya, the must-visit sweet shop in Narita.
There are counter seats, table seats, and terrace seats around Miyoshiya's garden. Make yourself comfortable sitting anywhere you want.
They seated me at the counter when I dropped by the other day.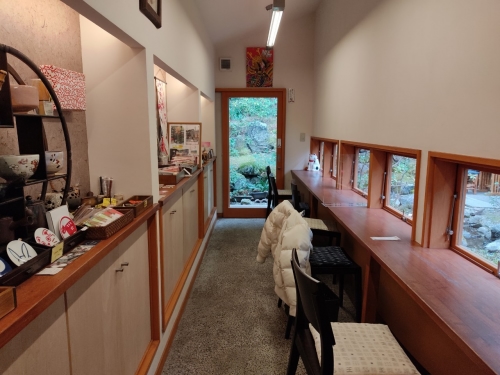 Better come in the morning when it still isn't crowded
Miyoshiya offers a calm space where you can casually hang by yourself, and no matter where you choose to sit, the window you look out of will just seem like a painting.
In addition to their No. 1 popular Cream Anmitsu, Miyoshiya has several other equally popular items.
It was cold on the day I came to visit, so I decided to have the warm shiratama azuki that they recommended.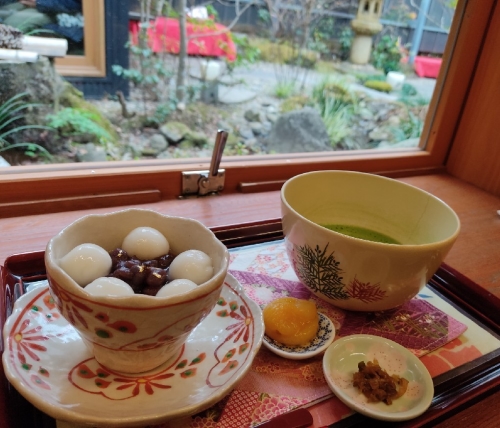 Warm shiratama azuki 830 JPY (tax included)
The large azuki beans are plump and chewy, but not too sweet.
It is filled with five plump white balls, giving you a sense of satisfaction.
All menus are served with hojicha (a kind of green tea), but since it was a special occasion, I also treated myself to a cup of warm matcha.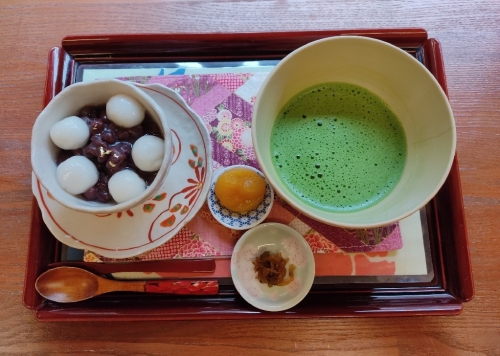 I recommend this drink set matcha + 350 JPY (tax included)
※Shiratama azuki comes with a set of hojicha
The freshly brewed matcha is sweet to the mouth, even the bubbles are sweet. Enjoy their smooth texture.
Coffee and sencha are also available on their drink menu, but do give their match a try if you can handle the taste.
The rich bitterness of the matcha goes well with the azuki beans.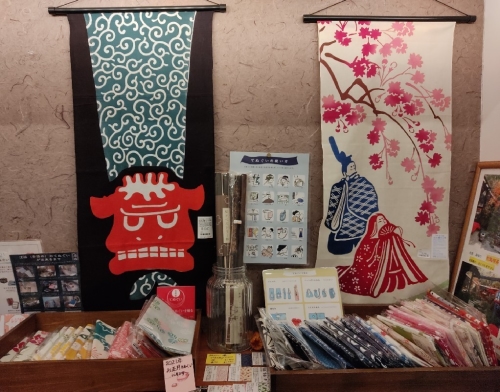 The store also displays and sells Japanese goods such as tea utensils, furoshiki (wrapping cloth), and accessories designed by Mizuhiki.
Make sure you bring some for your loved ones on your way out!

Miyoshiya
Business hours
10:00〜17:00
Closed on
New year holidays, and every Wednesday except for those in May and September

2. Goto Dangoya
The next sweet shop we are going to is about a 10-minute walk away from Narita Station.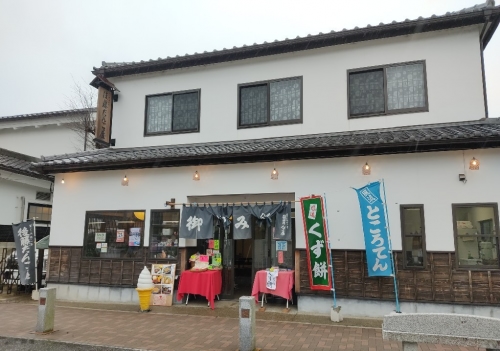 Founded 176 years ago, Goto Dangoya is a sweet shop with a long history that dates back to the Edo period.
In addition to their famous yaki dango, inarizushi and tokoroten are also popular with long-time fans.
This picture here shows the price for three dangos, but you can order as many or as few as you like, even just one.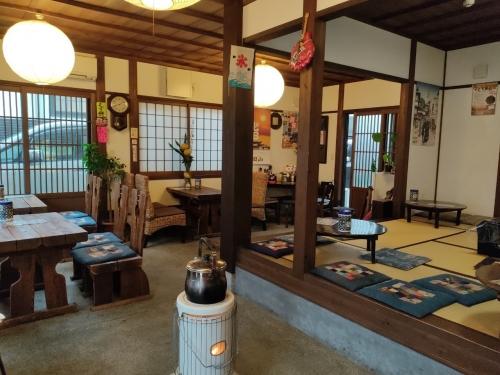 In addition to eating on the sidewalk, you can also eat at the restaurant, which has a traditional tatami room.
The dangos are handmade every morning, so they sometimes sell out in the evening.
Goto Dangoya does not use any additives in their dangos and insists on freshly made dangos.Among everything they have to offer, I ordered some red bean paste dangos, the proprietress's personal favorite.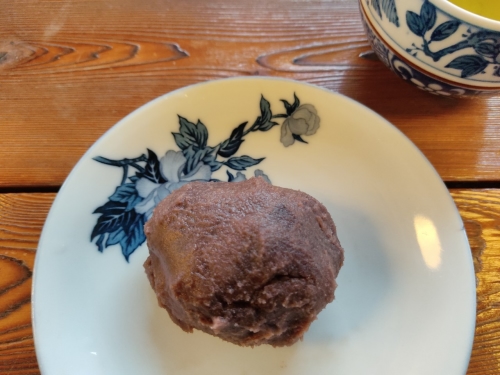 Red bean paste dango, one for 160 JPY (tax included)
The sweet bean paste, which is cooked for more than three hours, has an elegant flavor and is not too sweet, making it easy to eat.
The dangos are made to order so they can still be soft and fluffy when you put them in your mouth.
We also took some yaki dangos, one of their specialties, on our way out.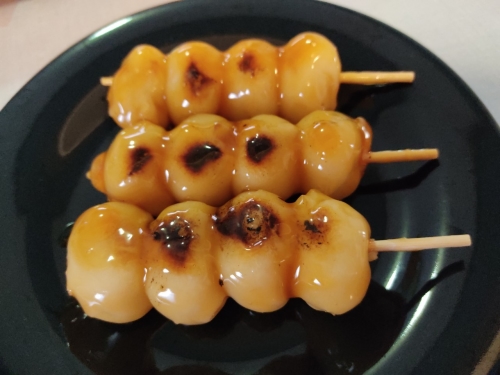 Yaki dango, one skewer for 160 JPY (tax included)
These dangos are also made to order, so the good smell of the dangos' charred skin will whet your appetite.
In short, I just want to let you know that you have never had dangos until you've tried dangos from this place.

Goto Dangoya
Business hours
10:30〜17:00
Closed on
Irregular holidays

3. Sawawa
The last sweet shop we will be looking at is on the way to Narita-san's Shinsho-ji Temple.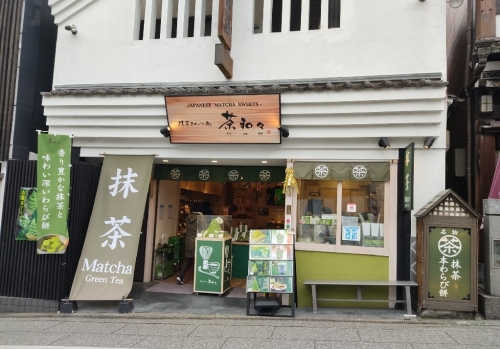 When you pass by Sawawa, the rich aroma of matcha green tea wafting through your nose will make you stop in your tracks.
Inside the shop, you'll find a wide variety of matcha drinks and sweets!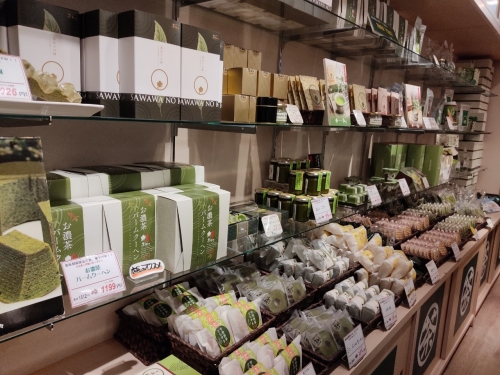 If you love matcha, this will be the death of yours...
Sawawa's sweets can usually last for quite a while, making them perfect for those of you thinking about bringing a few on your way home.
This time, in addition to their popular Uji green tea dorayaki, I decided to also take home some of their green tea raw dorayaki that they offer for only a limited period of time, because I wanted to compare the two!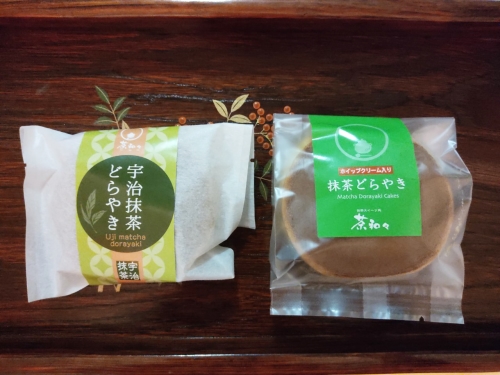 On the left: Uji green tea dorayaki, 248 JPY (tax included)
On the right: Green tea raw dorayaki 330 JPY (tax included)
Both these are match dorayakis, but they are quite different if you look at their cross sections!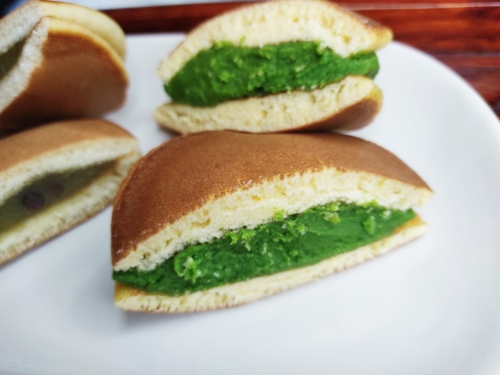 While green tea might taste bitter, the basic Uji green tea dorayaki (photo, back left) is almost non-bitter, so even if you can't handle matcha, I am sure you will be able to handle this dorayaki just fine.
It is packed with bean jam, and while it is a little small, I am sure you will find it very satisfying.
The bright green tea dorayaki (photo on the right) is surprisingly light and sweet.
The light and fluffy texture of the whipped cream and the not-too-sweet aftertaste are addictive.
I tried them both with a cup of brown rice tea, and it wasn't a bad match at all with the dorayakis.
Other than dorayakis, they also have a whole lot of sweets to choose from!

Sawawa Narita
Business hours 9:30〜17:00
Closed on Open 24/7
Conclusion
The three sweet shops we went through are my personal favorites, but when you actually go to Narita, trust me you will be overwhelmed by the sheer number of restaurants and sweet shops they have there. One of the most wonderful things about Narita is that it is within walking distance from the station. When you are here for a nice, leisure walk, make sure you find yourself a favorite spot to relax.