Many people visit Narita for sightseeing or for business.
Since you've made your way to Narita, why not enjoy Narita at night as well?
In this article, I will introduce some recommended izakayas that you can visit without worry, even if you are alone!
Number 1: Standing Bar "Happy", located about 50 meters from Keisei Narita Station.
When you exit Keisei Narita Station, look to the left.
"Happy"is located just in the distance.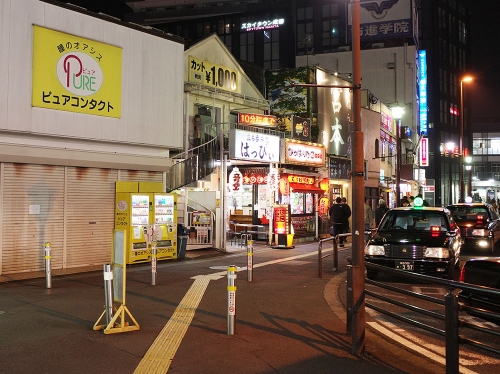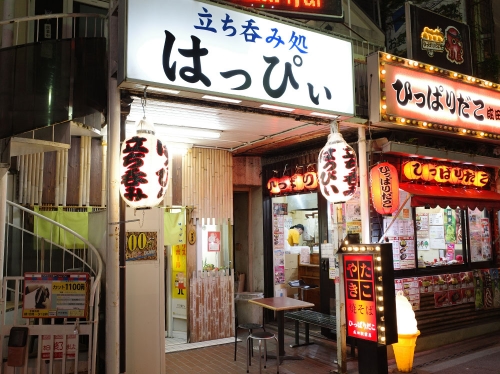 It's a little difficult to enter your first time.
But not to worry. I will show you the inside of the bar!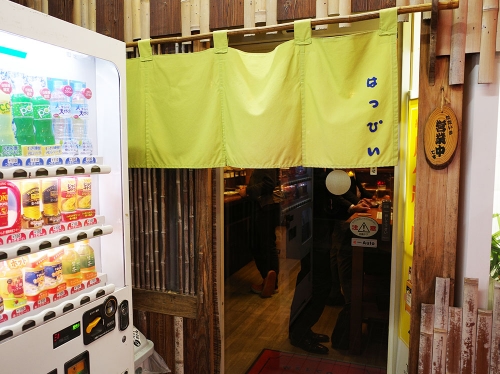 Inside, there is one counter and one table.
This is a standing bar.
And guess what? Drinks and food dishes are ALL 300 yen!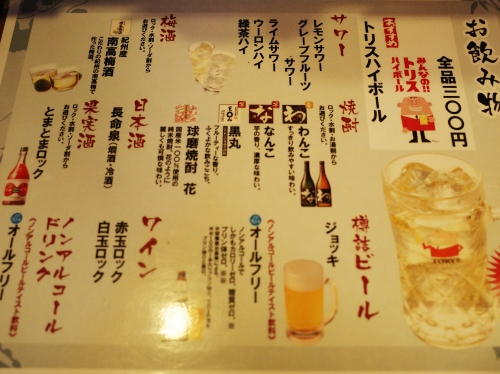 "Draft Beer in a mug", "Tory's Highball", "Lemon Sour", and "Grapefruit Sour" are some of the drinks on the menu.
This is a very reasonable restaurant.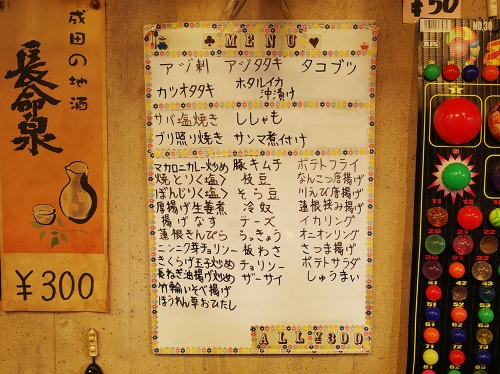 This is the food menu.
From classic Izakaya items such as "yakitori (seasoned with salt)", "edamame green soybeans", "fried potatoes", and "deep-fried chicken cartilage" to
seafood and fish dishes such as "Horse mackerel sashimi", "Horse mackerel tataki", "octopus chunks", "Grilled mackerel seasoned with salt" and "grilled smelt".
The menu which has been in use for many, many years has a presence of its own.
This is a sure sign that this izakaya is loved by the locals.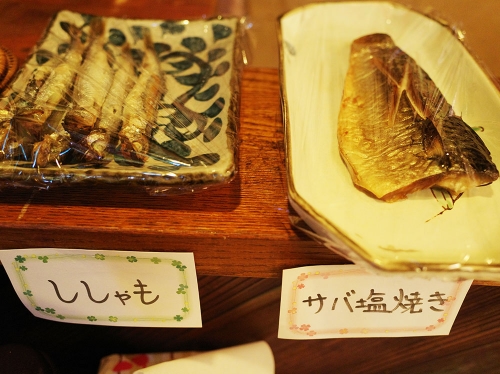 For snacks, you can order from the items lined up on the counter.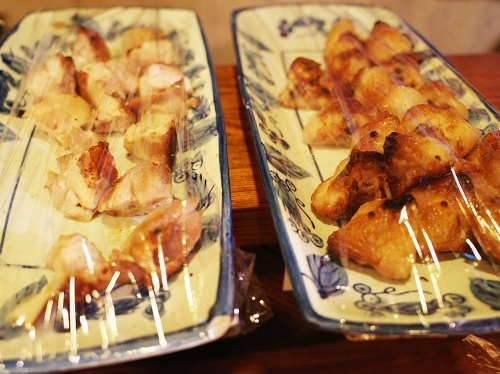 Grilled Chicken and Chicken Rump Meat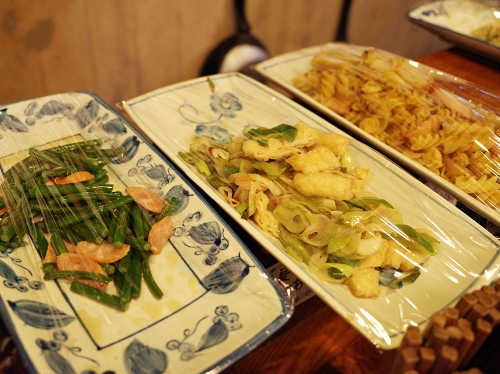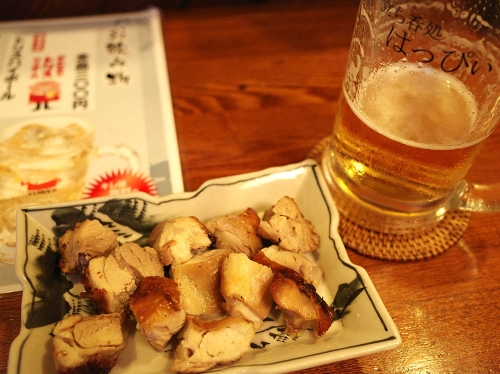 I'm ordering Draft Beer and Grilled Chicken.
It's hard to believe you can get this much volume for only 300 yen!
There are many customers who visit alone and you can enjoy drinking at your own pace.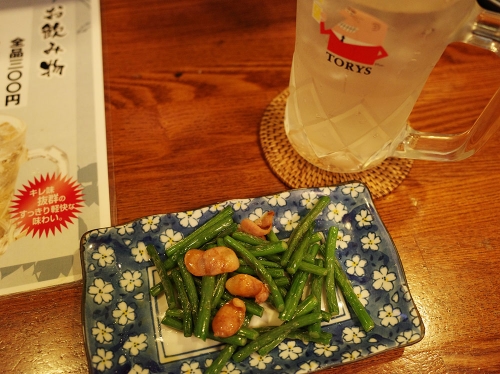 The second drink I ordered is a lemon sour.
With garlic greens and chorizo sausage for a snack.
A homely atmosphere is something nice that you can experience at "Happy".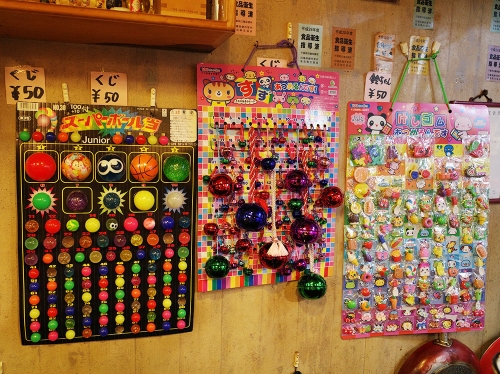 They also have toys like these which are reminiscent of a mom and pop candy store.
It's a good idea for a gift to bring home to your kids.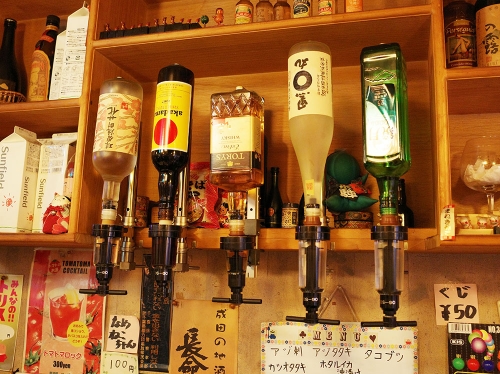 If you are visiting Narita, why not casually drop by "Happy"?
Number 2: Come and visit authentic kushiyaki (skewers) restaurant "Keisei Toraya"! It's located about 1 minute on foot from Keisei Narita Station.
There are three locations of "Toraya(Keisei store)" located nearby Narita Station and this is the Keisei Narita branch.
This is also a standing bar.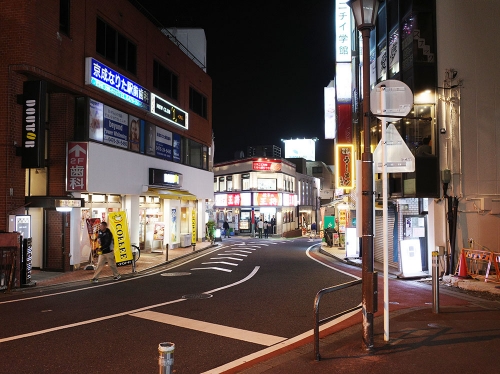 Turn right on the street in front of Keisei Narita Station and turn left at "Gyoza no Osho" and continue walking and you will find "Toraya(Keisei store)"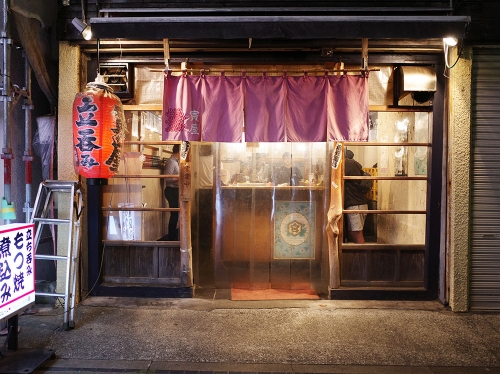 What do you think of the restaurant's appearance? Doesn't it make you want to go right in?
I'll go inside.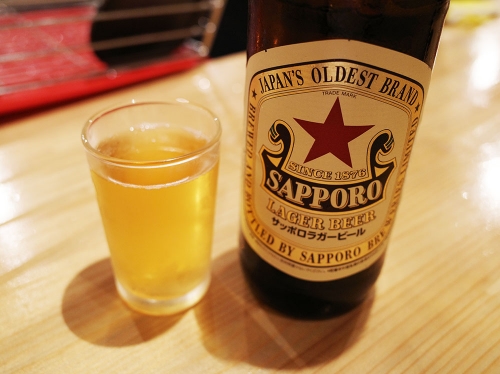 I'm ordering Sapporo's "Red Star" beer to start.
It's pretty tasty!! Make no mistake about it!!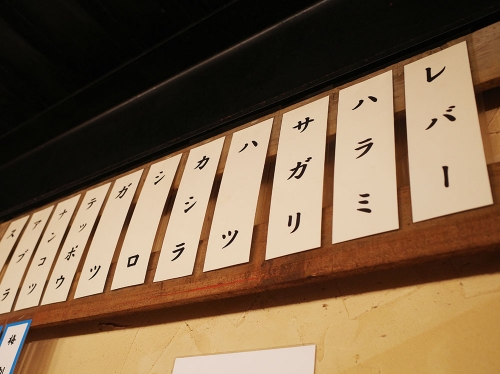 Let's enjoy grilled offal at Toraya(Keisei store)!
Liver, skirt steak, hanging tender meat, heart, cheek, small intestine, guts, rectum, cartilage, fat, etc.
Today, we ordered "Liver with tare (soy-based sauce)" and "hearts with salt"!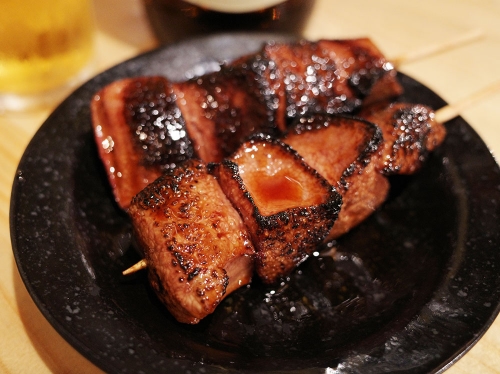 First, let's try the liver with tare. It's huge!!
The volume and satisfaction you feel are simply amazing! Inside, it's soft and full of savoriness and a sweetness that spreads throughout your mouth.
The beer just disappears from the glass.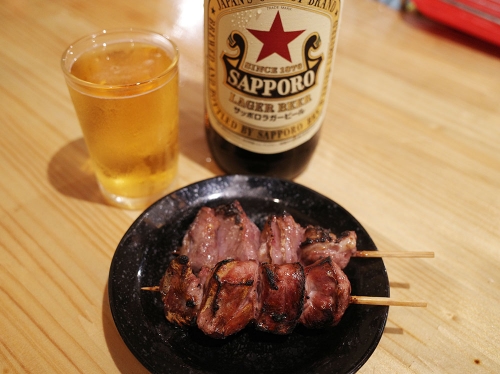 The hearts have now been grilled!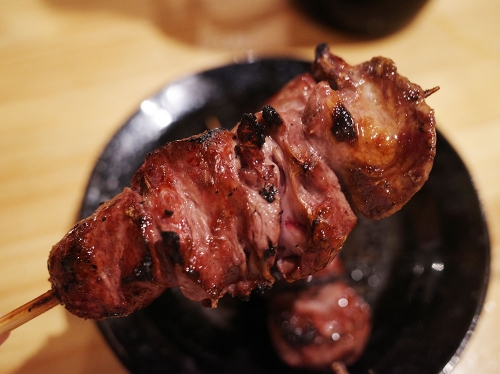 The texture of the hearts is just irresistible!
I recommend "Toraya(Keisei store)" for anyone who wants to enjoy a voluminous portion of kushiyaki skewers.
If you want to sit and relax to enjoy your meal, that's "Toraya Honten (Main Branch)! It's only 1 minute on foot from Keisei Narita Station.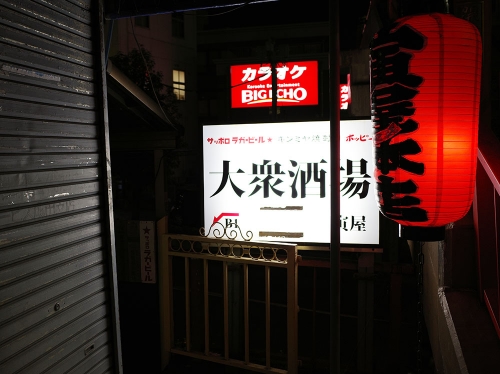 The entrance of ""Toraya Honten (Main Branch)" is located just past "Keisei Toraya".
The marker is the sign above. Toraya Honten is located on the B1 floor.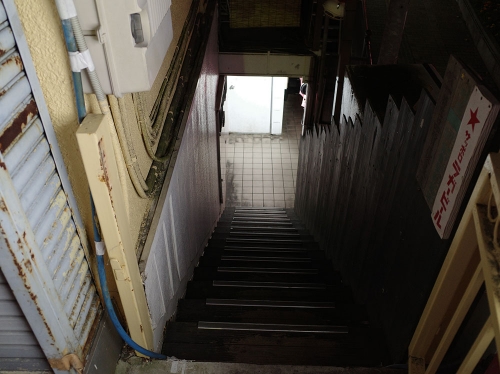 Go down a set of narrow stairs.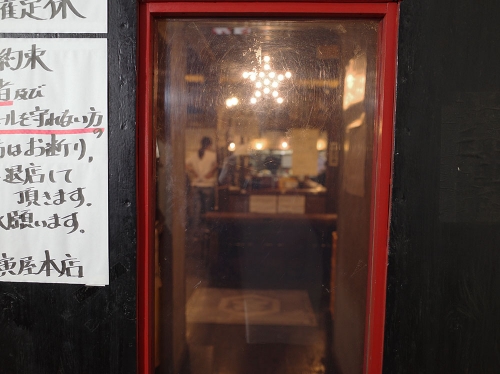 This restaurant might be a little difficult to enter for first-timers.
But not to worry! Be brave and open the door! You will be greeted with a chorus of powerful, loud voices.
This restaurant has both counter seating and several tables as well. You can enjoy the restaurant alone or in small groups.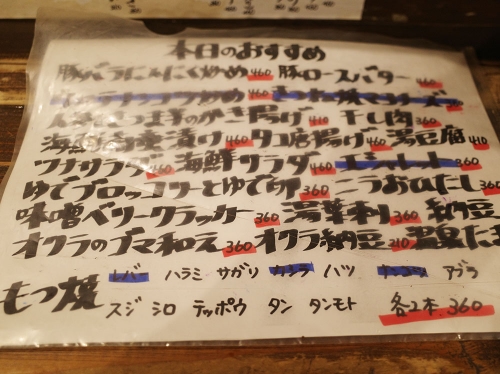 After sitting down, you will receive today's recommended menu.
Depending on when you arrive at the restaurant, some of the specials may already be sold out. It's first-come, first-served!
My personal recommendation is definitely "motsu-yaki (grilled offal)" after all!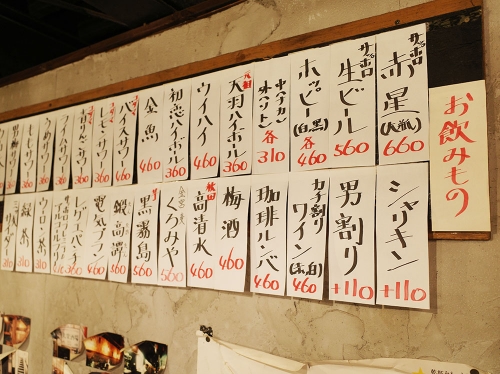 Drinks are listed on the wall.
It's really fun to choose what to order.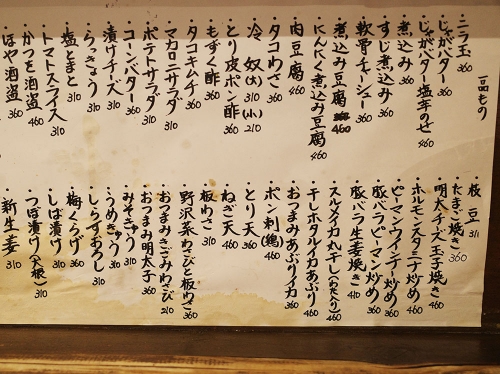 Stir-fried chives with egg, baked potato with butter (and fermented squid if you wish), stew, beef sinew stew etc.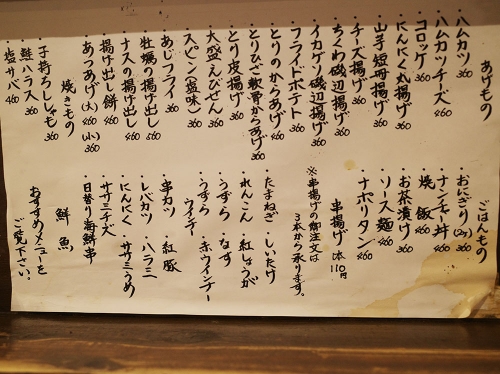 Ham katsu (ham cutlet), ham katsu with cheese, croquettes, deep-fried whole cloves of garlic, fried mountain yam squares, fried cheese, fried seasoned chikuwa (bamboo-shaped fish cakes) etc.
The snack menu is also vast!
I ordered "fried chicken (karaage)" and "Hoppy White".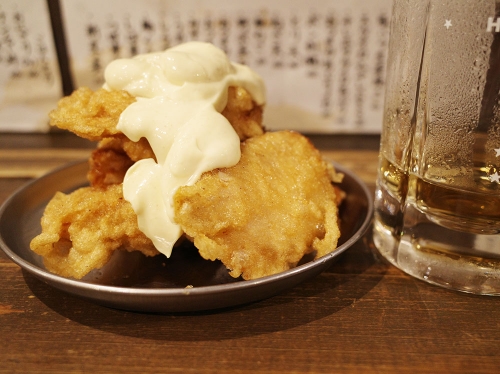 The "fried chicken" has so much volume.
This time, I asked for plenty of mayonnaise.
The slightly spicy mayonnaise goes very well with the juicy chicken.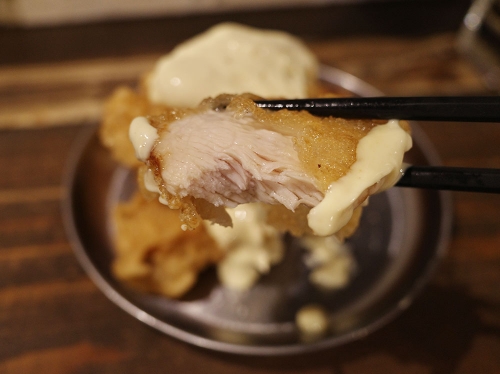 It's really filling and tasty!!
One more dish that I recommend is:
"Cheese Omelette with Spicy Cod Roe (Mentai Cheese Omelette)"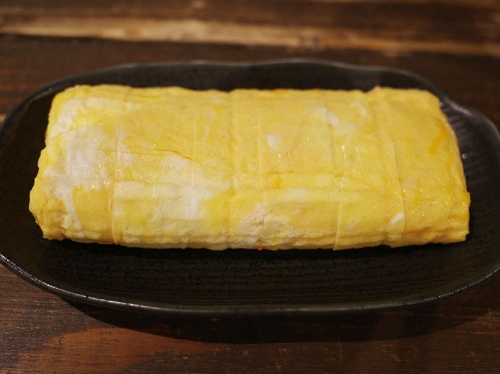 This is something I definitely recommend you finish your meal with.
The sweetness of the egg, the saltiness of the cod roe and the creaminess of the cheese are best matches for each other.
The gentle taste will warm you up inside.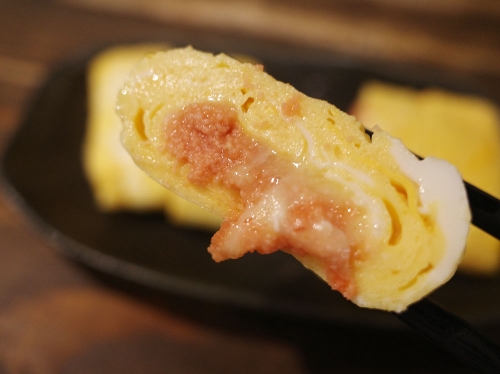 I also recommend it for ladies as well!!
Narita has many izakaya restaurants and you can have fun finding one that suits your tastes.
This time, I introduced you to 3 locations where you can enjoy yourself even if you are alone.
There are also many other izakayas, bars and "snack" bars that you can enjoy alone.
When you are visiting Narita, by all means, try wandering the streets of the town at night as well!