When you buy souvenirs while traveling, does it feel different, maybe more special, than your usual shopping?
You think "surely he or she will be happy to receive this!" or "let's buy this as a memory of the trip!" and so on. It's an exciting, happy, fun feeling.
The Naritasan Omotesando has many varieties of souvenirs that are sure to make others happy.
We will introduce you to many shops where you can purchase carefully selected memorable souvenirs!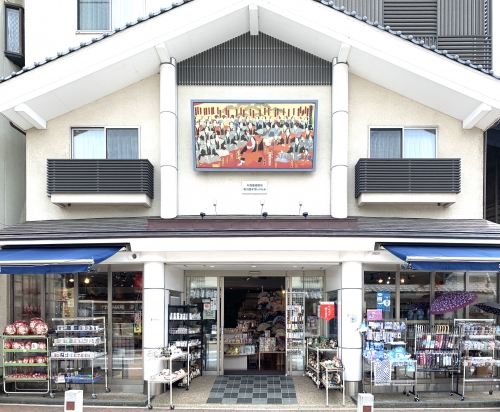 A pottery shop that sells food-related souvenirs, such as plates, coffee cups, and chopstick rests.
At the entrance, there is a wall painting of "Ichikawa Danjuro's glare" which is said to drive evil away.
The shop is located on the right hand side, a 3-minute walk from the entrance to Narita Omotesando.
In the shop, tableware and tea utensils are displayed so that they are easy to pick up and see in hand, in such a manner that just by looking at them will excite you.
Each product has a price tag, which makes the price very easy to figure out.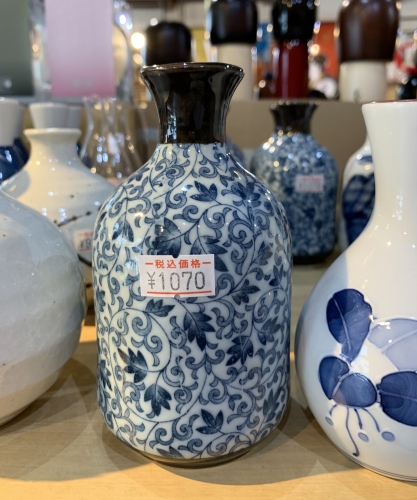 Pottery that can be used everyday, such as plates and traditional "tokkuri" sake pots, is perfect for souvenirs! They can be bought individually, allowing you to think up fun combinations.
Additionally, if you're travelling by airplane, they will wrap it up in bubble wrap, so feel free to consult with a store clerk.
Wind chimes of Naritasan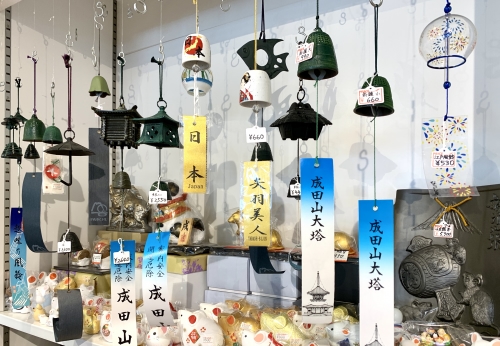 In the summer, the cool breeze often comes along with the gentle sound of wind chimes.
Narugeya Pottery sells wind chimes of various designs. Of particular note are the designs portraying the Naritasan Great Pagoda of Peace and Bell Tower.
It is said that wind chimes were originally made as amulets, so surely their effects are huge if they portray Naritasan!
Wind chimes with a gentle tone are also said to have healing effects, so you absolutely should get one.
Unari-kun Goods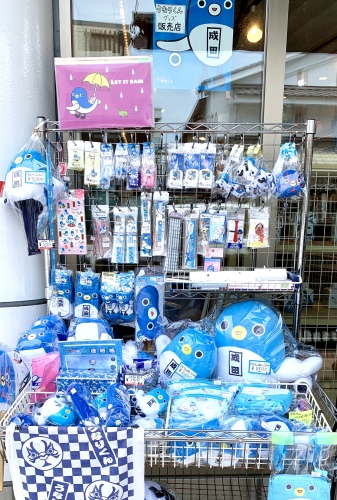 Unari-kun goods are displayed in front of the entrance.
Unari-kun is the mascot character of Narita City, born in 2010.
He is a big star with fans not only among local residents but all over Japan.
Unari-kun boasts a brilliant track record, having won the Yuru-kyara Mascot Grand Prix 2017. Its cute appearance was designed by combining the eel, Narita's specialty, and the airplane.
Narugeya Pottery has a wide variety of Unari-kun goods in their entrance shop. Please don't forget to take one home!
Fujikura Shouten sells bamboo crafts and woodworking products.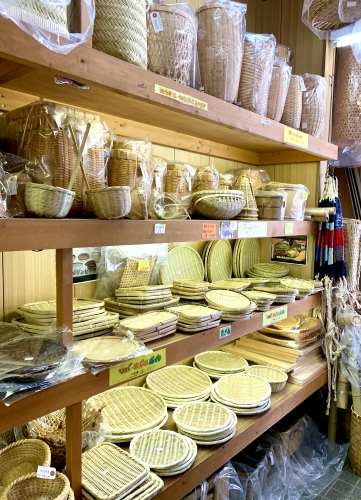 They deal in excellent handmade products made by Japanese craftsmen, mainly from Ibaraki, Chiba. Concerned about the aging of Japanese bamboo crafts and woodwork craftsmen, and the loss of technology and tradition, these are made under the concept of "taking good Japanese products to the next generation", in order to make products known to more people.
Coffee Dripper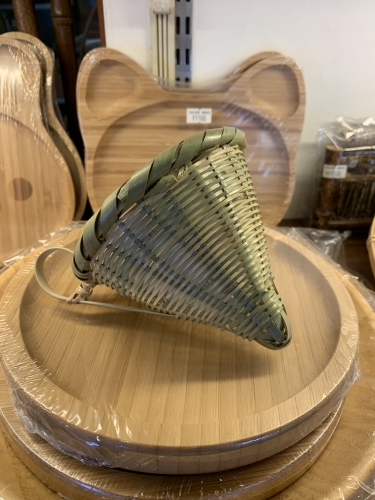 A very rare coffee dripper made from bamboo. Of course, each of these products is handmade by craftsmen.
It originally was produced by customer request, and is also used in hotel restaurants in Narita City.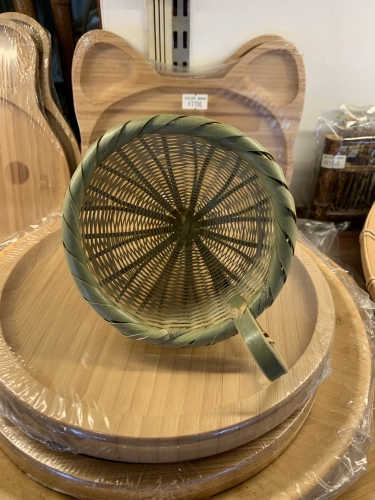 This bamboo dripper is excellent because the water drips slowly on the structure, so it takes a long time to touch the air. The resulting coffee has a mellow taste.
It is conical and can be used in any cup or pot.
Onioroshi Bamboo Grater
You cannot mention Fujikura Shouten without mentioning an "onioroshi".
These are bamboo radish graters, and top sellers without question. They're called "onioroshi" (demon grater) because the tooth looks like that of a demon.
By grating the food roughly with this bamboo instrument, the flavor and nutrients are preserved.
Fujikura Shoten's "onioroshi" has different teeth in the front and the back, making it possible to grate not only daikon radish but also various other foods.
It can grate vegetables such as daikon radish and lotus root, fine condiments such as ginger garlic, and foreigners often use it to create bread crumbs and grated cheese.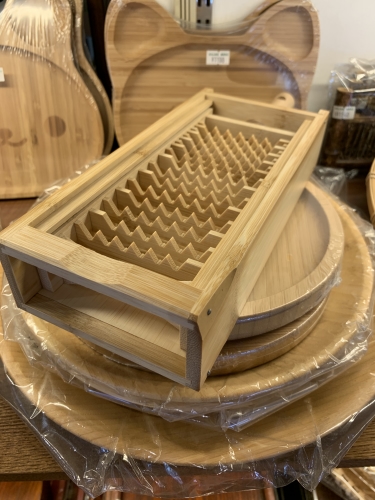 It is stable because of the saucer attached below, which means one can grate easily with it without using great force.
It is a traditional craft that can be used for more than 10 years if you follow the correct usage method. It is as though the life of the craftsman dwells in it.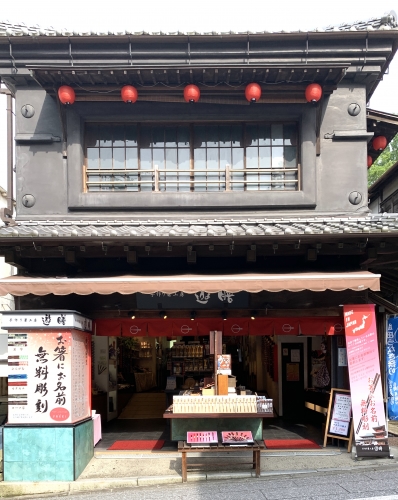 Handmade Chopstick Studio Narita Yuzen
Walk down the temple path for about 15 minutes and go down the slope leading to Shinshoji Temple, and you will see a shop on your right.
It is a shop full of products related to chopsticks, such handmade chopsticks made in the workshop, chopstick rests, chopstick cases, etc.
They offer a service which lets you put your name on chopsticks for free, so you can make your original pair of chopsticks of which there is none other in the world.
Chopsticks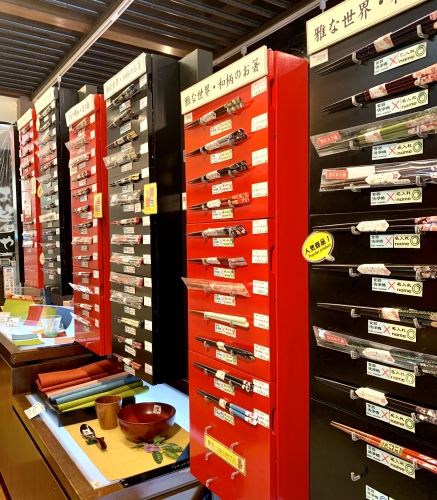 More than 600 kinds of chopsticks are displayed in the store, mainly produced in Obama City, Fukui Prefecture, a famous producer of chopsticks.
Each chopstick has its own explanation in regards to type of material and paint, so you can choose your favorite chopsticks carefully.
There are also practice chopsticks for children and chopsticks that are easy to use for people in cultural areas who do not usually use chopsticks, so please consult with the shop clerks.
You can also put your name on chopsticks for free (excepting in some products), so it is also ideal as a gift.
In addition to Japanese characters, names in the Latin alphabet can also be written.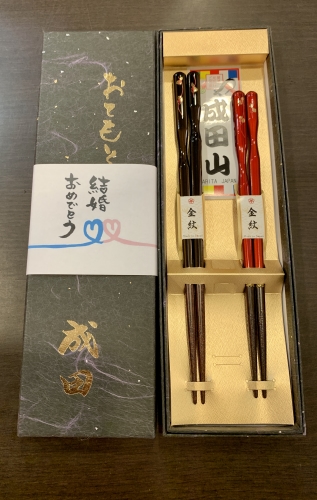 You can choose the best box and paper of different color or purposes for a gift.
Chopstick Rest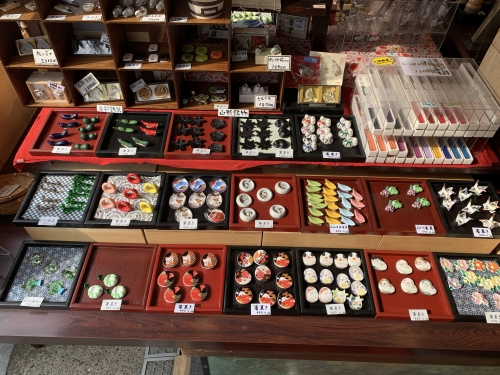 A chopstick rest that can be used not only for chopsticks, but also for Western-style utensils such as spoons and forks.
There are a wide variety of dishes here, and you can enjoy the change in dishes according to the season and the dish.
Just by changing the chopstick rest, the atmosphere of the table will change greatly.The prices for these are very reasonable so we recommend you buy multiple ones.
A chopstick, rest and case set would likely be very well received as a gift.
There are some people who make chopstick rests into brooches and pendants as well!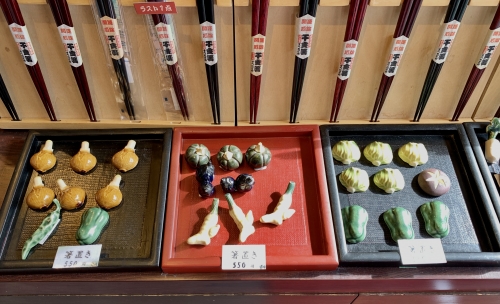 What did you think?
One of the real pleasures of memorable souvenirs is that you can look back on the memories and scenes of your trip every time you look at them.
It would make us really happy to help you choose a souvenir while you think of someone you want it for, or even for your personal usage.
In Omotesando, which leads to Naritasan, there are many shops that sell good old Japanese souvenirs in addition to the shops we introduced.
We hope you find your favorite souvenir!