When you say Narita, many people probably think of Naritasan Shinshoji Temple, but it is not the only thing to see. In Narita, there are many people who provide hospitality to visitors, and I would like you to know about them. Here, we will introduce them to you as "People of Narita"!
The guest this time is Mr. Yusaku Hagiwara, who runs the Italian restaurant Oliveto, in front of Narita station. It's not only a restaurant, but they also do a wide variety of events with the airport and airlines.
ーWhat sort of place is Oliveto?ー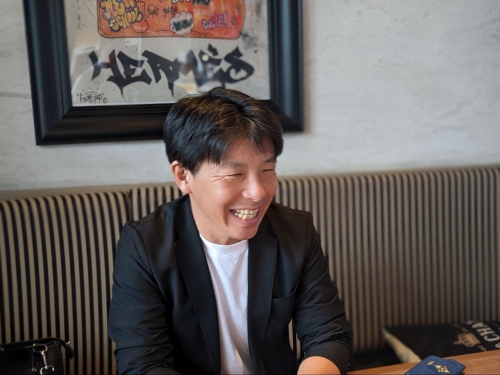 Oliveto means "olive grove" in Italian.
They opened their first restaurant in Sakura city 20 years ago. Their Narita site is their third restaurant.
It aims to be a place which stands close to the local community.
ーWhat other kinds of restaurants do you run?ー
Apart from Oliveto, we have opened Western style steakhouses and bakeries in Chiba and Ibaraki Prefectures, and we are thinking of opening a Japanese style restaurant next year.

As we don't open new franchises of large chains, there are many challenging aspects to setting up a new original brand restaurant, and I've had a few failures. I've had to give up on five or six restaurants so far.

I often get asked the question "have you worked in restaurants from the beginning?", but in fact I don't do any cooking at all. Within the company I act like an orchestra conductor, involved in all aspects of setting up and managing the restaurants.
ーHow did you come to open up restaurants?ー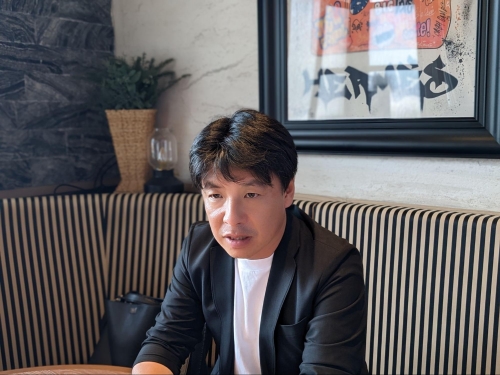 I was 24 when I started in restaurants.
Since I was a student, I wanted to start my own business, and I studied management in my undergrad and postgrad.
Restaurant management was my study subject when I was a student, and because I've always been interested in food and space management, I decided to challenge myself in a restaurant.

I think it's rare that I entered the business as a restaurant manager from academia.
ーI heard you served food to the Pope when he visited Japan?ー
I served the Pope some food in 2019.
A few years before that I had the chance to meet someone who used to go back and forth to the Vatican embassy in Japan.

Because of that I was lucky enough to serve food regularly at banquets in the Vatican embassy.
Previously it was only an extraordinary line-up of Michelin-starred restaurants and large hotels which would oversee banquets, but using ingredients from Chiba, I put together a menu which was very highly received.
Thanks to that, I have been hand-picked every year to oversee the banquet, and I have been able to assume the position of restaurant purveyor for the Vatican embassy.

That was when the Pope decided to visit Japan.
I thought I wanted to be involved, but right at that time it was quite difficult for Chiba Prefecture following a typhoon and subsequent flooding damage. The shop I was managing was damaged, and I had to deal with that so was unable to do anything that time.

However, because my previous work had been praised, I received an invite from the Vatican embassy to be in charge of providing food for the Pope.
As it was such a precious conversation, to help support Chiba I proposed a course using non-standard vegetables that had been hit with flooding damage during the typhoon.

By non-standard vegetables, I mean misshapen or slightly damaged ones, but they're very high quality and delicious.
However, I was anxious about the challenge of providing food for the Pope that would otherwise have been thrown away.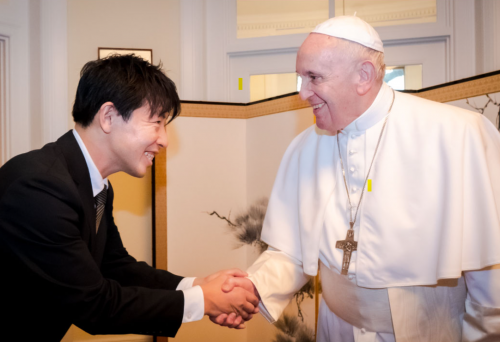 On the day I provided the food, I planned for one hour to prepare the full course.
But because of the Pope's schedule, lunch was reduced to 40 minutes.

We managed to prepare a full course in just forty minutes, but at that time the Pope was over 80 years old. Sure enough I was worried about how much people would enjoy the shorter course, but I was surprised to see they finished everything.

The Pope said it was "delicious", but after he returned to the Vatican I was really glad to hear from someone close to him that "he said it was really delicious".

It was all over a lot of TV and newspapers, and it had a big impact in Japan.
Until then I hadn't really gotten a sense of it all, but with the size of the impact it had I felt I had done something amazing.
ーWhat was the reason you opened a new restaurant during the covid crisis?ー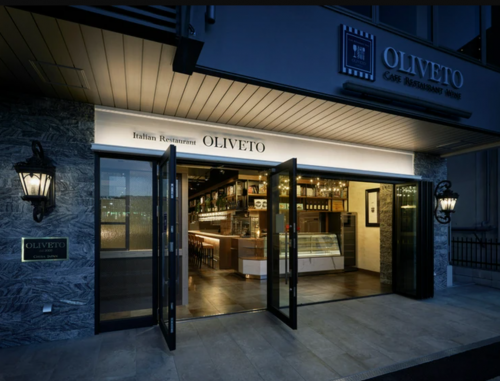 Originally Narita was where I wanted to open a restaurant, and I had been searching for a place since before covid.
But before covid there were no vacant tenancies because of the number of inbound tourists, and even if there were any vacancies I couldn't find a place that would reflect Oliveto's philosophy.

At that time I'd heard from an acquaintance at Hirayama Construction that they were planning to replace the building in front of Narita train station, and I decided to open a restaurant.
Before opening up the covid pandemic hit, and we realised the timing was tough but we opened with an eye to the future.
ーWhat plans do you have for the future now?ー
As a restaurant, we want to play our part in helping to lift up this town with its long history that welcomes everyone.
I think I want to help make Narita somewhere more people value and come to, as because of the airport Narita tends to be somewhere people pass through.

Personally, at the same time as working hard at the restaurant, I want to be involved in the produce beyond the confines of the company. Right now we are going ahead with several events with rail companies and airlines.
I think I want to do interesting things whilst working together with businesses and people in the surrounding area.
ーLastly, how would you like people who come to Narita to enjoy themselves?ー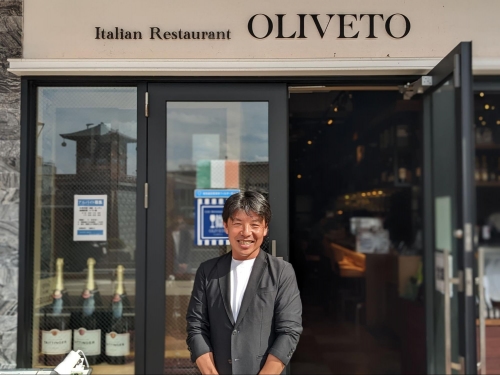 I feel that Narita is still not well known and is filled with charm.
Because of the nature of the town, we are now able to do things we couldn't due after the big hit we took during covid.

I think that even people who visited before covid will discover something different to before, and I hope they enjoy the transformed Narita.
"OLIVETO"