When you say Narita, many people may think of Naritasan Shinshoji Temple. However, Shinsoji Temple is not the only point of interest. There are also a lot of people in Narita who are working to make visitors feel welcome, so we'd really like you to know about them.
Here, we will introduce them to you as the "People of Narita"!
Our first guest is Ms.Yabu, the owner of Hashira Deli & Cafe, which is located close to Narita Station.
Many "People of Narita" think a great deal of the city of Narita, and are passionate about it. Make sure to try and make a visit to Narita.
―Briefly introduce yourself.―
I run a place called "Hashira Deli & Cafe"in front of the station in Narita.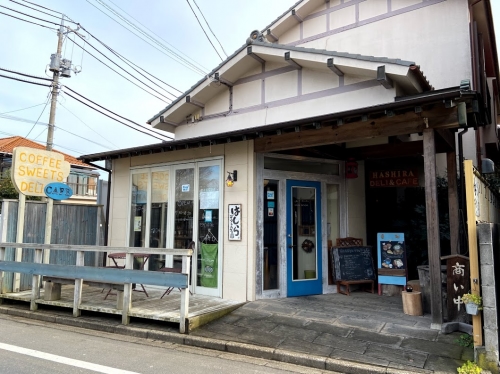 it's because rent is expensive (haha), but all the restaurants in front of Narita Station are chain stores.
There aren't many places where you can relax in the daytime. So, in order to provide hospitality to tourists, and wanting to get local people to have a great time, I remodeled my family home into a cafe.
―You work in Narita, but why did you start?―
Our family has done business in Narita since the beginning of the Meiji era, and the previous generation ran a soba noodle restaurant on this spot. Narita is a historic city, but the cityscape has changed rapidly with the times, and it felt lonely. So we built a café, not by replacing an old building with a new one or renting one from somebody, but by making use of the good qualities of long ago.
Then, when the store became stable, we came to think not only about our business, but also about how to connect to those who are attached to the city of Narita from a local person's point of view. We expanded on those thoughts and considered how to develop it.
As a result, we decided to make this cafe a community place, rather than just a restaurant.
Many exchanges have come to be as a result of this initiative, not only by holding the events that we launch, and so on, but also by renting places to people who had an idea of what they wanted to do.
However, there aren't enough places that blow people away.
We thought that we had to create more and more places, other than this one, where young people and people with ideas could turn their ideas to a reality. To begin with, wanting to bring our friends together, we set up "Narita Kaigi".
"Narita Kaigi", which is held on once a month, is not just a gathering, but also a study session.
Even if you want to change the city for the better, and try to do something, if it's all in one place, it won't go any further.
There are many points, and the points are connected to form a line, and that becomes a loop.
With those kinds of changes, there's a limit on what I can do alone. If everyone is working on their own affairs individually, they'll eventually end up feeling self-righteous, so obviously we need the strength of even more people.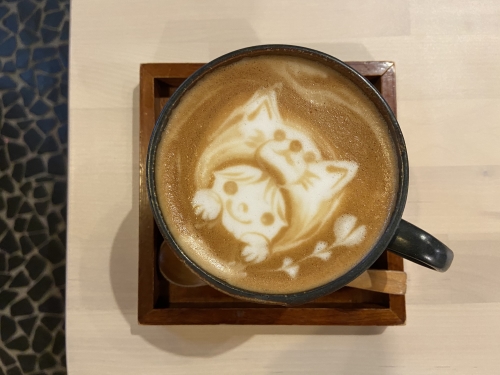 ―How have you felt since the first time? ―
There are people with ideas in Narita after all! There were some misunderstandings and groundless fears that I wouldn't have known about if I hadn't have tried to talk to people, but ultimately, I was able to think, "people love their home town!".
Nevertheless, there were so many different ties of obligation and harmful influences, to such an extent that it was excessively irritating. Even if we took action, we couldn't get results easily, and sometimes it got miserable.
However, we have made many friends and connections. The city has its own problems, but it has many advantages too. We think we should assess what they are and keep moving forward.
Above all, we have to have fun! If you give up because you are tired, there is nothing you can do about it.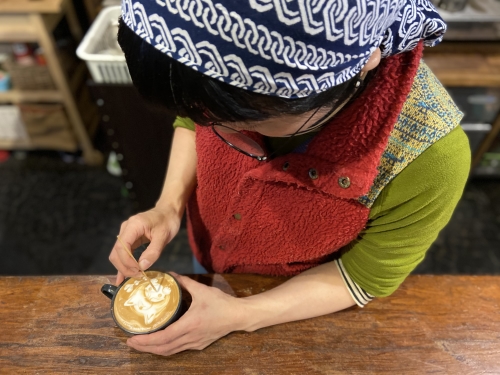 ―Narita will see an increasing number of foreign tourists visiting Japan at events such as the Olympics in the future. What do you want to do, looking forward? ―
Originally, at the time when our grandmother from the previous generation was running a soba noodle restaurant, there was nowhere where foreign crews could hang out.
So, starting from the small washi paper shop that she ran in the corner of the restaurant, my mother, who was good at English, created a washi classroom where crews could gather at night.
She thought it would be lonely for those who were tired from work to return to a cold hotel without a family, so she created a place where they could gather, and offered hospitality at just the cost of the materials.
These days, "Hashira Deli & Cafe" is full of cabin crew in the mornings.
That's because we make breakfast for them.
They say they want to drink real coffee made with an espresso machine, no matter what it takes, so our 10am opening time gradually got early, and at this stage, we're open from 7:30am.
I look over at the crew that come in every week, say "the usual?", and make some for them.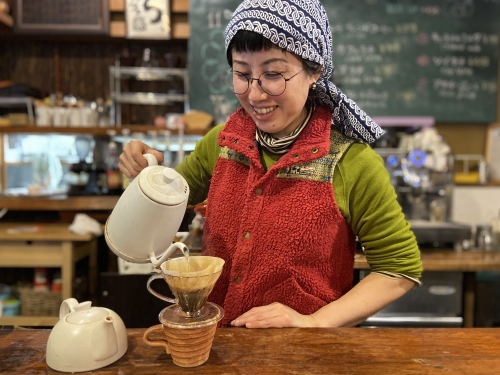 I think that everywhere needs to have a place that people can come home to when they go abroad, whether it be for work or for sightseeing.
Although hospitality is a warm word, you see a lot of superior, showy events in Japan, too... So I think we need to show more of the Japanese daily life.
The more you are used to traveling, the more you want to know about the local daily life.
In addition to simply making memories, I think that what we provide to foreigners who have come all the way to Japan is making a place where people can interact with more local people and have a truly cross-border cultural exchange.
―Thank you very much. Is there anything you want to say to finish off? ―
People say that Narita isn't worthy of having an airport next to it.
We want to enjoy working so that young people make a start and make the most of their potential, and so that we can turn ideas into a reality together.
I want to enjoy even more and more cutting edge things. I want to do that locally.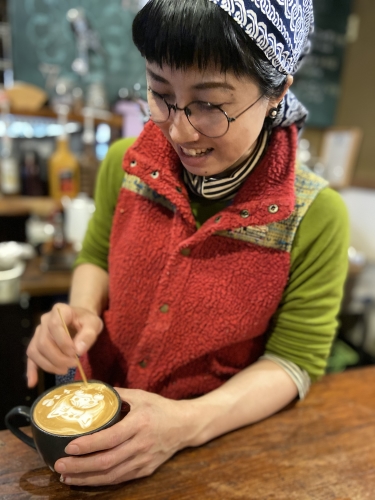 Owner of Hashira Deli & Cafe
Eriko Yabu
In her student years, Eriko visited many different countries as a backpacker. Afterwards, she worked at a travel agency in Tokyo, however she began to wonder if she could possibly find work back in her hometown, and so she returned to Narita to work at Narita Airport. After marrying, Eriko and her partner thought up ways to make use of their splendid family homes, and so they remodeled Eriko's old house into a cafe, and thus Hashira Deli & Cafe opened its doors. There they cook with rice grown at her husband's old family home, and she hopes to make the cafe a place that's beloved by locals and tourists alike.