Narita is home to the famous Narita-san Shinshoji Temple, which lies adjacent to Narita-san Park, a sprawling garden. The park's flowers and scenery change with the seasons, making it great to visit all year round. The park's vast size, with a lot of ups and downs, means that it can take 1-2 hours to fully explore, so what begins as a casual stroll can easily turn into a light hiking session. With that in mind, we'd like to outline an easily accessible stroll that you can take from Narita Station, and the many accommodation facilities in the surrounding area. This short walk is sure to lift your body and mind, help you to build an appetite, and energize you for whatever you plan on doing next.
The walk we'll introduce here encompasses the west exit of JR Narita Station and Nakadai Sports Park. The west exit of the station is home to fewer restaurants and tourist facilities than the east, which connects to Narita-san Shinshoji Temple. Instead, though, it is rich with parks and nature, and offers the perfect place to relax and unwind for a moment. If you want to get some fresh air but don't feel like dealing with crowds, or if you're just looking to read quietly outdoors, then we hope that you'll take the advice given here, and pay a visit to the west exit of the station. While there are many parks accessible from the west exit for those looking to connect with nature, Nakadai Sports Park is the closest of them all, and you can reach it from the station on foot in just five minutes. To make things even better, the park is connected to a gym that is accessible to the public, meaning that it's also the perfect place for those who feel like a good workout!
So without further ado, let's take a look at our "relaxing stroll around Nakadai Sports Park" route, starting from JR Narita Station's west exit.
Starting here, with the station's ticket gates, we've added easy to follow pictures too!
This is JR Narita Station, where the walk begins.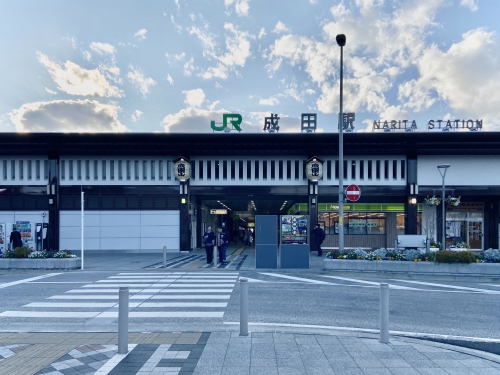 First of all, turn your attention to the "running in board", which is in front of the ticket gates at JR Narita Station.
These "station nameplates", or "eki meihyo", show the name of the station you're at. The plate in front of JR Narita Station's ticket gates has been in use since the days of JNR, the previous operator of Japan's railway network, and JR's predecessor. And its use of white text against a black background is quite unusual. People often pass by without noticing it, but we hope you'll give it a look when you stop by.
Passing by the nameplate and the green counters, walk down the stairs leading to the traffic circle outside the station. Then, take a right at the 7-Eleven, and head straight on. The west exit is equipped with elevators as well as stairs, so if you have difficulty walking or have a lot of luggage with you, you won't have any problems!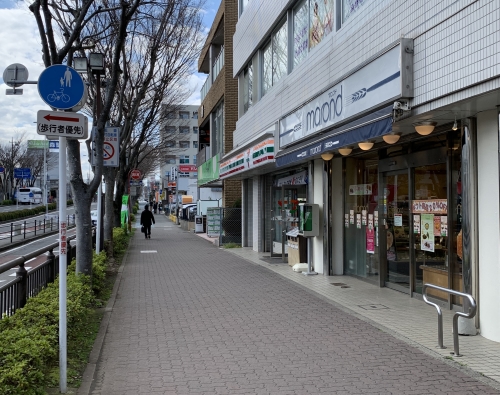 In front of 7-Eleven, you'll see Marond, a local chain of bakeries operating across Chiba Prefecture.。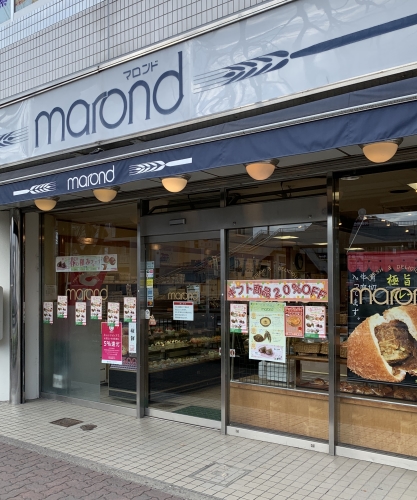 This chain is beloved by a wide range of generations, from children to adults, and offers a diverse selection of breads, from sweet breads and cakes to stuffed breads. There's always a delightful scent in the air when you pass by. Inside the shop, there's an adjoining cafe where you can enjoy the bread you've bought with some tea. Of course, you're welcome to take it away too, so buying some bread to snack on when you take a break from your walk could be a good plan. Nakadai Sports Park is full of benches for you to take a rest, so we highly recommend taking something to eat and drink, and treating it like a mini picnic
Head straight ahead after passing Marond and 7-Eleven, and once you've crossed two sets of lights, you'll see Kawatoyo Nishiguchikan, a famous Narita eatery.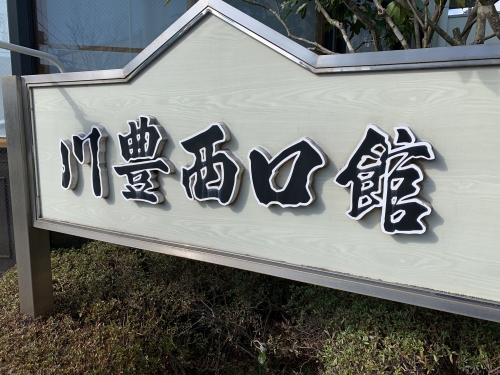 This unagi (eel) store, which has its central branch on Narita-san Omotesando Street, is a venerable establishment dating back to 1910. Some people even say that it was thanks to this store that Narita became renowned for its unagi. It offers the perfect chance to enjoy plump, fragrant, top quality eel, and depending on the time, the restaurant also sells takeaway lunch boxes. Why not give it a try when you're going picnicking or flower viewing?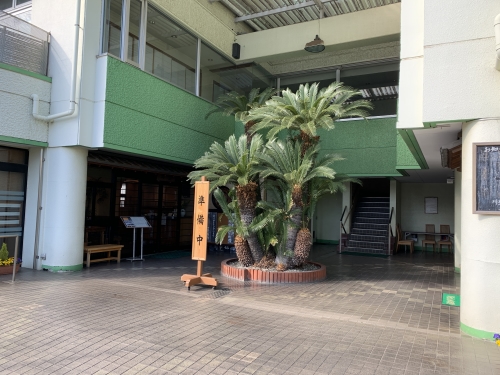 After passing the restaurant and walking around fifty meters, you'll see the entrance to Nakadai Sports Park, the final destination on the walk.
This entrance is for the park's third car park, and is located the closest to the station.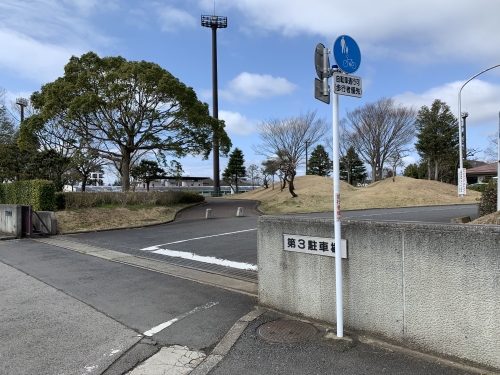 Walk ten meters past the car park entrance above, and you'll arrive at the main gates!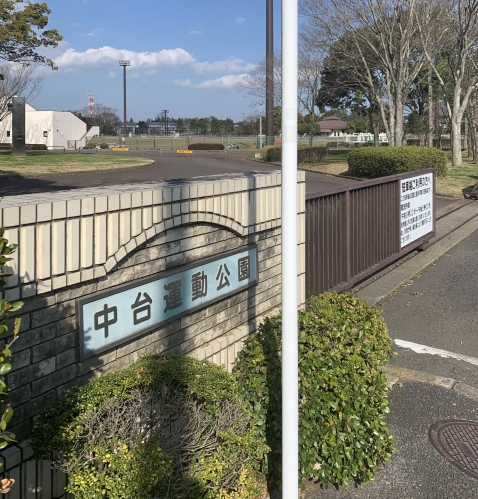 Enter through the main gates, and you'll see an impressive sports stadium sprawling before you, which is used for school sports competitions, marathons, and other similar events. In the past, it also served as a training ground for the 2002 World Cup, which was co-hosted by Japan and Korea. If you're lucky, you might have the chance to see some athletes training there.
The area also plays host to the marathon event "Narita Pop Run" every November, which is open even to non-residents. As well as a full marathon, the event also offers 3km and 10km courses, so you should absolutely put your name forward if you arrive at the right time.
Let's continue on.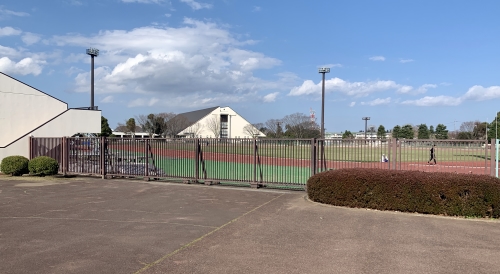 Take a right at the stadium, and head down a gentle sloping path.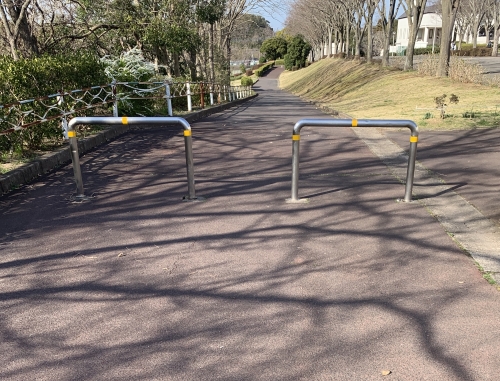 At the bottom of the path, you'll find yourself facing a small arbor.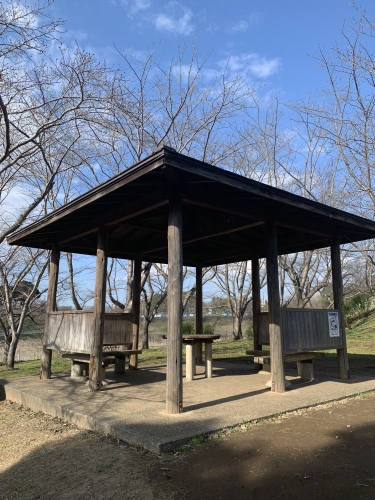 This arbor is the perfect place to take a rest, and spread out a lunch box or light meal.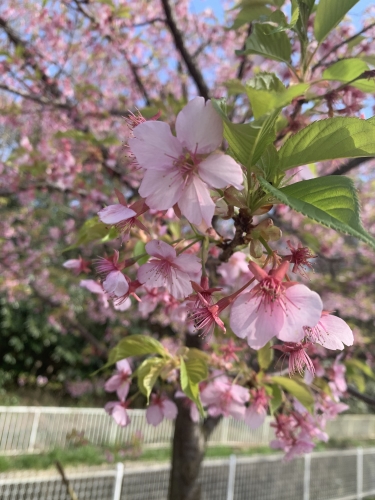 In spring, you can enjoy the sight of the cherry blossom trees that encircle this arbor bursting into bloom in unison. The tree in the photo is a Yoshino cherry, or somei-yoshino. For Japanese people, a bento box tastes all the better when it's enjoyed under the cherry blossoms during flower viewing season. And we'd love for visitors from abroad to take the chance to sample this special, distinctly Japanese spring experience for themselves.
It's worth mentioning that Nakadai Sports Park is home not only to somei-yoshino trees, but also to kawazu-zakura, a strain of cherry blossom that is known to bloom a little earlier than most, so you can enjoy the cherry blossom season for a little longer here than in some other locations.
You'll also see a sprawling carpet of grass stretching before your eyes. And provided that the weather is nice enough, it might even be possible to lie down and take a little nap here. Why not return for a moment to your childhood days, and throw your body onto the grass?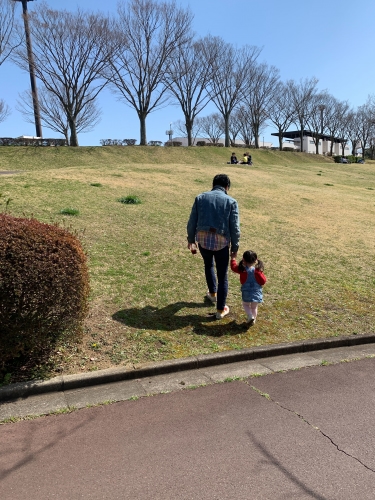 We've discussed the seasons and the park's cherry blossoms, but the park is also a great place to enjoy the sight of plum trees, which are the official tree of Narita. And we'd like to share a little trivia about the official plants of Narita with you here. The official tree of Narita is the plum, and the official flower is the hydrangea.
At Nakadai Sports Park, you'll be able to see plum trees in bloom from the end of February to the middle of March, in the same arbor introduced above. And during the rainy season, you can look forward to the sight of hydrangea flowers covering the hedge which encircles the area around the stadium. You'll see different flowers depending on the season, so depending on when you arrive, you'll come away with completely different impressions of the park.
After resting up, the nature trek continues.
Following the trail around the arbor, you'll come to a path lined with cherry trees.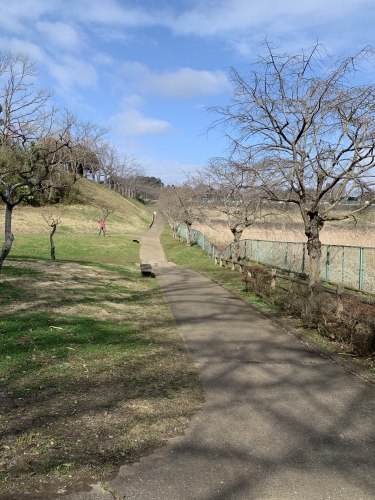 You'll find a small stream flowing at your feet here, and at the beginning of spring, when the cherry blossoms trees burst into full bloom, you'll see their petals dance nimbly down to the surface of the water. As you turn your ear to the sound of the stream, you'll find your gaze being captured by the sight of these falling petals.
Time feels like it slows to a crawl here, and you're sure to feel the aches and pains of your journey gradually begin to melt away.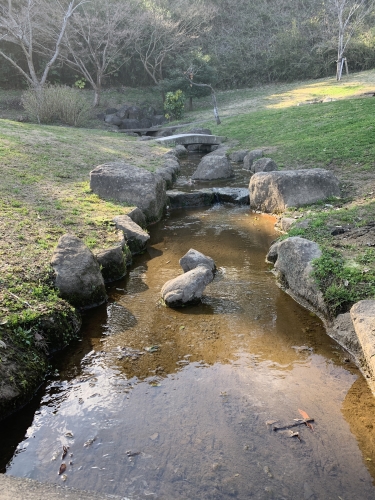 Nakadai Sports Park is also, as its name suggests, a park that is home to various facilities where you can exercise. Each facility has its own restrictions in terms of price and hours of usage, but they're open to the public. As entry to the park itself is free, it's also well suited for running or walking around the outside of the stadium.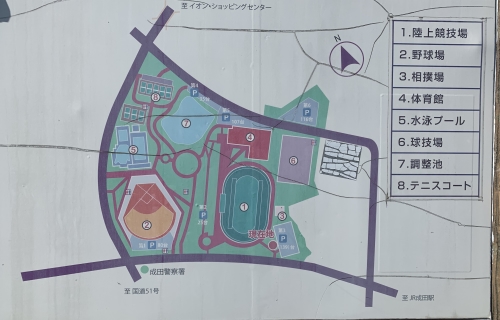 For those who want to push their bodies a little harder, we recommend the various facilities in the park, such as its gym and pool. Anyone can use them if they pay!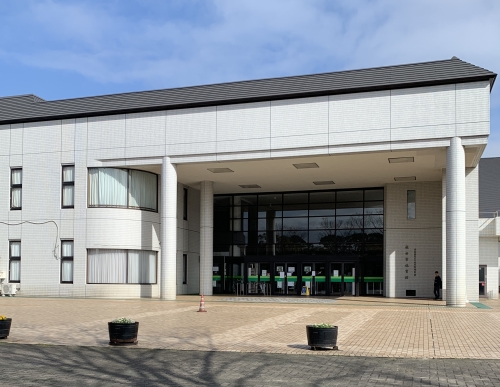 It can be difficult to find places to exercise when you're traveling, but Nakadai Sports Park gives you access to a gym within five minutes' walk of the station. We hope you'll put it to good use.
That wraps up our recommended stroll around Nakadai Sports Park, located five minutes on foot from JR Narita Station's west entrance. The path we've outlined here gives you plenty of chances to enjoy flowers and nature, so we hope you'll find it helpful at this time of year.
There are plenty of other walks you can enjoy through the park besides the places outlined here. As you might expect from a so called "exercise park", the park is rather large, and it might take you half a day or more to explore it in full!
Narita-san Shinshoji Temple and the many restaurants in the surrounding area are not without their charms, but there's a lot to be said for spending your time peacefully surrounded by nature. So when you visit Narita, we really hope you'll take the chance to add Nakadai Sports Park to your list of destinations.