There must be many people who find themselves unexpectedly confined at their destination due to various circumstances, such as travelers staying in Narita and those on standby in Narita due to the influence of the novel coronavirus.
In this article, we will introduce those people to carefully selected restaurants in the Narita area where you can get delicious takeout!
We'll be introducing the takeout menus of restaurants unique to Narita, so please be sure to enjoy the charm of Narita's cuisine! Even if you have to keep from going out, you don't need to keep from enjoying yourself! Let's enjoy delicious food and refresh our minds and bodies!
Jingisukan Cuisine

―Mee Moo Boo―
Did you know that Narita City is famous as the place where jingisukan originated? In the early Meiji period, a sheep farm was established in Sanrizuka, Narita City, and there was a history of serving jingisukan.
Here, we'll introduce Mee Moo Boo, where you can enjoy the jingisukan cuisine characteristic of Narita!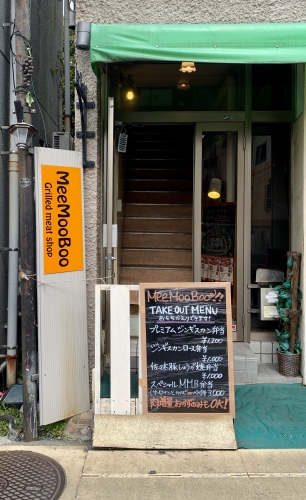 Walk about three minutes down the street to the right of the police box in front of the JR Narita station and you'll be able to see the store's sign.
It's on the second floor of the building, so please use the first-floor sign as a landmark.
The recommended takeout menu item for this store is the "jingisukan bento"!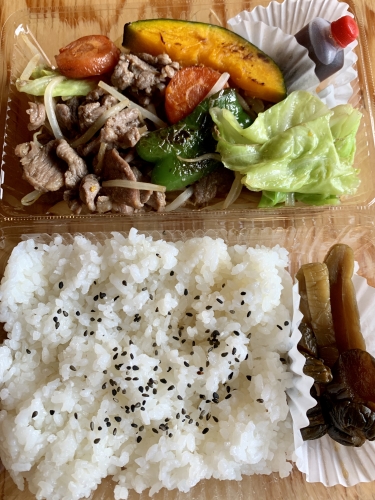 The jingisukan is grilled in a fragrant sauce, with vegetables that have fully absorbed the flavor of the meat. It's accompanied by rice and pickles such as Narita's famous teppozuke pickles. The lamb meat is very tender and very juicy!
The meal is improved just by cooking the vegetables together with the lamb and having them fully soak in its essence!
The spicy teppozuke pickles go perfectly with the rice. If you aren't careful, the rice may be the first thing to go!
Since only fresh lamb born within the last 12 months is used, it has none of the odor characteristic of mutton and even those not used to eating sheep can enjoy the flavor.
This bento, packed with specialties of Narita, is ¥1,000!
The price for jingisukan roasts usually offered in stores starts at ¥980, so ¥1,000 is very reasonable for the content!
The restaurant owner is full of humor and also makes very delicious hot teppan cooking grilled at the table, so please be sure to try eating at the store when you come to Narita after the novel coronavirus epidemic has passed!
Takeout menu (tax included)
・Jingisukan bento
・Double hamburger bento
・Sasaki pork shogayaki (pork fried with ginger) bento (¥1,000 each)
・Two pound bento with one pound rice and one pound steak (¥2,500)
・Home yakiniku set (set for grilling at home) Lamb! Galbi (Korean-style marinated short-ribs)! Sasaki pork! Mini salad! (¥3,500)
Hours:They are taking orders as needed, regardless of business hours, but, depending on circumstances, there may be times when they cannot take orders, so please contact the restaurant directly. (TEL: 0476-37-5700)
Payment method:Cash only.
About delivery:Delivery is possible for orders of two or more items (please contact the restaurant directly about the delivery area).
Takeout period:Ending date undecided. Decisions are made in accordance with administrative directives (as of April 17th).
Please check the Mee Moo Boo Facebook page for the latest information.
Multinational Bar―Seeds―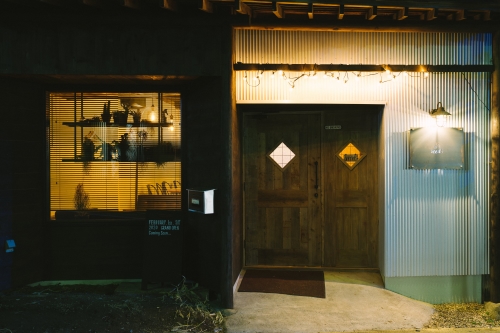 Seeds just opened in February 2020. It's located on the left after walking about 10 seconds down the lane to the right of the police box in front of Narita Station.
It's a multinational cuisine bar where you can enjoy an arrangement of cuisine including Middle Eastern and Southeast Asian dishes made using carefully selected spices and organic vegetables grown in the suburbs of Narita City. As an airport city, we have an awareness of the diversification of food and we actively provide fermented foods such as superfoods and kombucha.You can enjoy dishes that will regulate your body and mind in various ways.
It's perfect for those who are concerned about taking care of their bodies and minds while being shut away in their place of lodging!
The recommended menu item for Seeds is the "bibimbap with plenty of vegetables."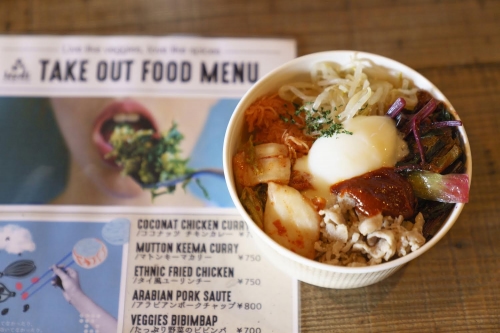 As the name suggests, it is authentic bibimbap (a Korean-style rice bowl with assorted ingredients) made using plenty of organic vegetables.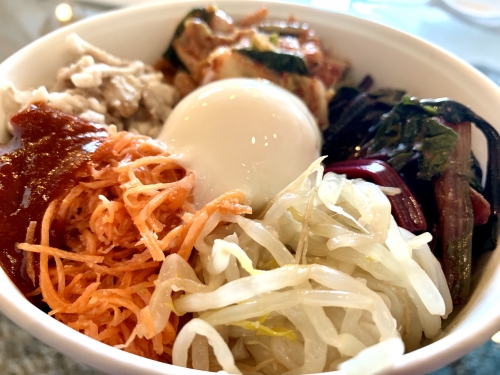 There is namul (seasoned herbs) made of sprouts, spinach, and carrots. And there is a well-balanced arrangement of kimchi made from Chinese cabbage, pork belly, gochujang (red chili paste), and soft-boiled egg.
Each namul has subtle seasoning, drawing out the true flavor of the vegetables and overwhelming customers with the chef's skill, making them wonder how vegetables could taste this good.
The salty pork belly is moist and tender and goes incredibly well with the spicy kimchi! The gochujang consists of a condensed flavor of sweetness in a stimulating spiciness, creating a good balance to tie the whole thing together.
Bibimbap is the Korean word for mixed rice and it's a dish that is even more delicious when mixed together. For Seeds' bibimbap, that delicious flavor will expand explosively by mixing together high quality ingredients!
The soft-boiled egg makes the spiciness of the gochujang more mild, creating an overall harmony and making it possible for people to enjoy it even if they have trouble handling spicy foods.
The restaurant offers cuisine from a wide variety of nationalities, so please come find your favorite dish once the corona crisis has settled down! Not just the food, but the drinks that can only be ordered at the store are also appealing. Please visit Narita and have a toast with a drink made using fermented food, like kombucha, or with some of our abundance of craft beer!
Takeout menu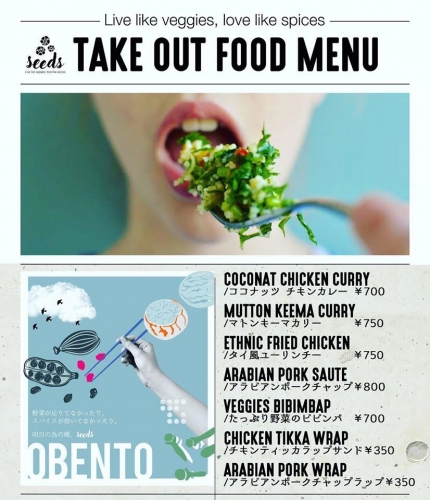 Hours:11:30 a.m. to 8:00 p.m., last orders at 7:30 p.m. (closed Tuesdays).
Payment method:Cash and various credit cards.
Takeout period:Ending date undecided (as of April 21st). Decisions are made in accordance with administrative directives.
▼Message from the restaurant
・You may wait inside the store between ordering and pick-up.
・You can have a smooth pick-up if you order in advance by telephone(TEL:0476-29-5009).
・In order to maintain quality, please keep the food out of direct sunlight, avoid high heat and humidity, and consume the food as soon as possible.
・ We do not deliver.
・We are considering a vegetarian and vegan menu for takeout (confirmation required by telephone at least one day in advance).
・Please check the restaurant's official Instagram for the latest information. Click here
Eel Cuisine―Kikuya―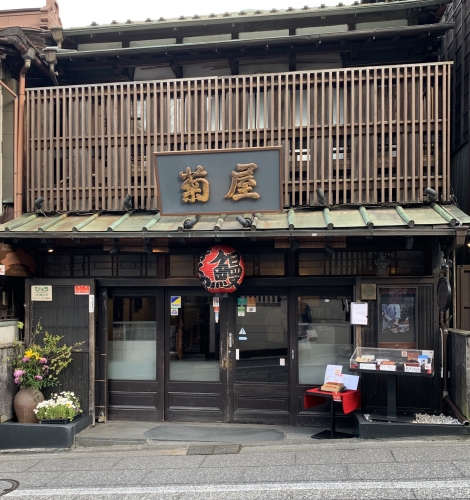 As many of you may know, however you look at it, Narita's specialty is eel cuisine. Omotesando, the road that leads to Naritasan Shinshoji Temple, is lined with numerous famous restaurants and you can eat exquisite eel at each one.
Here, we'll introduce Kikuya, a well-established Japanese restaurant with a history of over 100 years. They offer carefully selected ingredients and seasonal vegetables prepared with skillful techniques!
The restaurant is located on the right-hand side of the downward slope leading to the main hall of Omotesando. Even before entering the restaurant, the aromatic scent of the eel sauce spreads throughout the area, stimulating the appetites of passersby.
The recommended takeout menu item is the "unagidon (eel and rice bowl) bento"!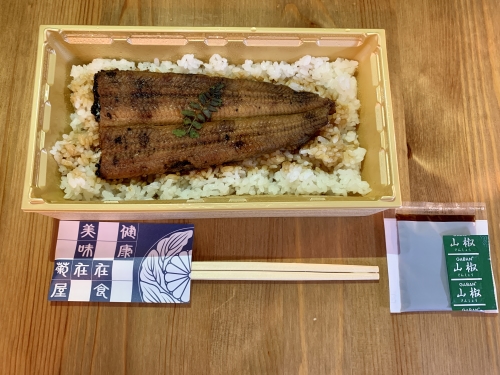 The eel is slowly grilled over a charcoal flame for a delicious flavor with a crispy outside and a fluffy inside. The traditional sauce has been slowly simmered down, allowing you to experience a rich yet refreshing sweetness that draws out the flavor of the eel.
Since that sauce, the pride of the restaurant, is included in a bag, you can enjoy your fill of the juicy taste of eel and the delicious flavor of rice soaked in sauce, even with takeout!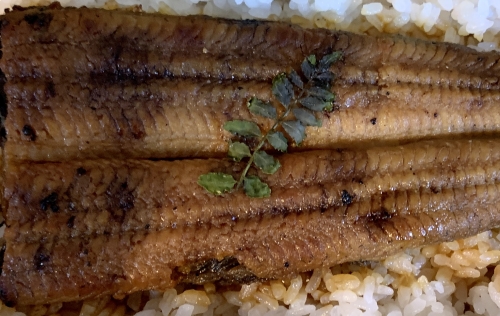 The rice and vegetables are also carefully selected, and locally produced Koshihikari rice is used for this eel bowl. The grains are large, fluffy, and glossy. Since the flavor is strong, it goes incredibly well with the rich flavor of the eel!
It's also nice that, since the takeout bento also describes how to heat it in a microwave oven, you can enjoy warm, tasty eel even if you're staying at a hotel or guest house.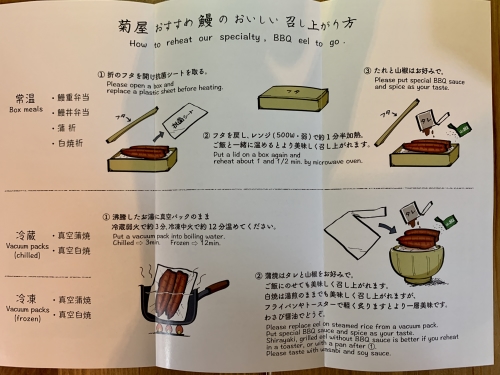 This unagidon bento is ¥2,500. It's a little expensive since it uses high-quality eel, but when you consider that it's made from ingredients that have been carefully selected with a discerning eye and prepared using skillful techniques, being able to eat eel at this price is pretty nice.
We also recommend the jotendon (tempura and rice bowl), a menu item that uses domestic eel and is recommended by the restaurant! It's quite a luxury to be able to eat the eel that's the pride of a well-established restaurant even outside the store. Please be sure to take this opportunity to savor eel from Kikuya.
Of course, we can also look forward to enjoying freshly grilled eel at the restaurant after the novel coronavirus epidemic has passed!
Kikuya is a cozy shop with considerate hospitality and very wonderful service!
Takeout menu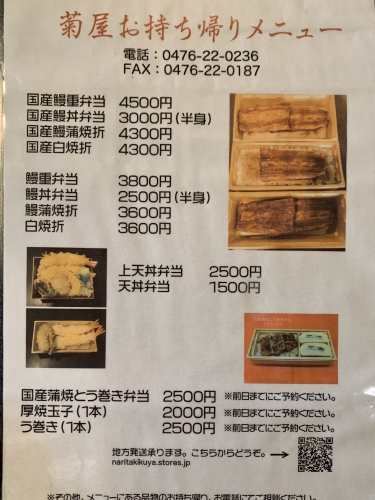 *Due to the time required to make them, menu items that use umaki (eel rolled omelette) or atsuyaki tamago (thick rolled omelette) require the order to be made at least one day in advance. (For same-day orders, please contact the restaurant in advance by telephone.)
Hours:10:00 a.m. to 5:00 p.m., last orders at 4:30 p.m. (open daily)
Payment method:When paying at the store, cash, credit card, electronic money from commuter passes, and QR code payments (PayPay, Alipay, Apple Pay, ID, NFC) are accepted. Only cash is accepted for delivery payments.
Takeout period:Ending date undecided (as of April 17th).
Message from the restaurant
・Delivery available. (Basic free delivery within the city, delivery outside the city for orders of ¥20,000 or more.)
・Advance consultation is required for those requesting delivery.(TEL:0476-22-0236)
・Eel menu items and tempura bowls can be ordered at the restaurant.
When ordering at the restaurant, it will take about 15 minutes to cook. (It is possible to wait inside the restaurant.)
・Please check Kikuya's official Twitter for the latest information, such as offers. Click here
ーLocation where you can eat your bento outside the place where you are stayingー
If you'd like to eat your takeout bento outside, or if there is a time that the place you are staying is unavailable due to ventilation or cleaning, why not try visiting Kuriyama Park, which is within a 5-minute walk from Narita Station?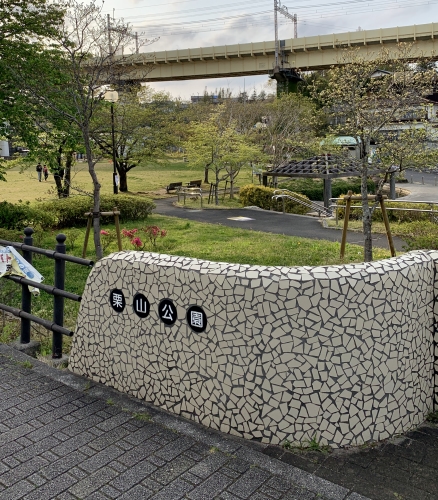 This park has a wide expanse of lawn and there are benches set up at intervals throughout the park, so you can be sure to keep a social distance.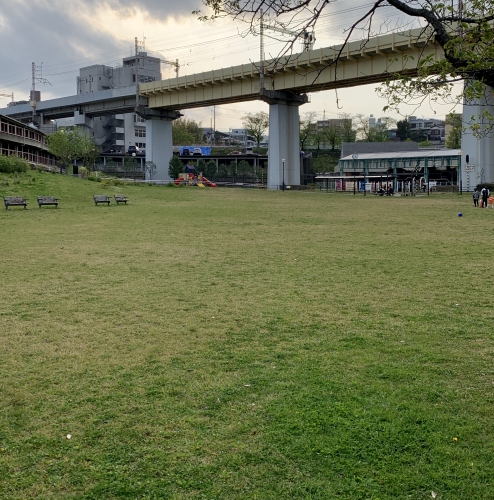 Another feature of this park is that it has a genuine D51 steam locomotive on display.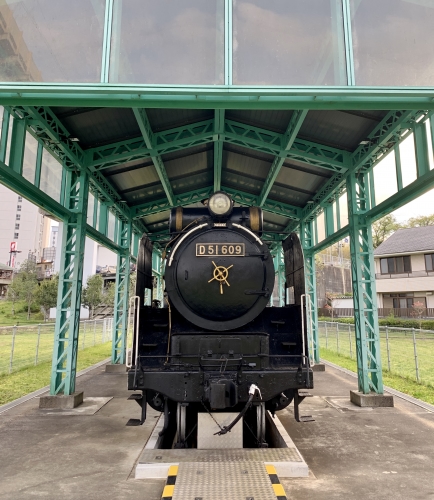 Some people know the park as Tetsudo Park, or Railroad Park, since a mini steam locomotive runs through the park during normal times. The tracks for the mini steam locomotive are even equipped with railroad crossings.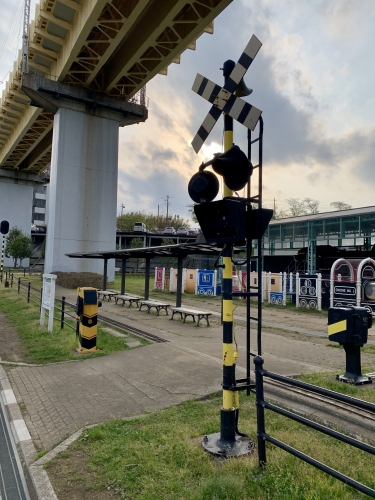 It tastes delicious to eat a bento under the blue sky! And being able to eat a special menu that can normally only be eaten inside a restaurant is the greatest happiness.
There are no trash cans inside the park, so please take your trash home with you.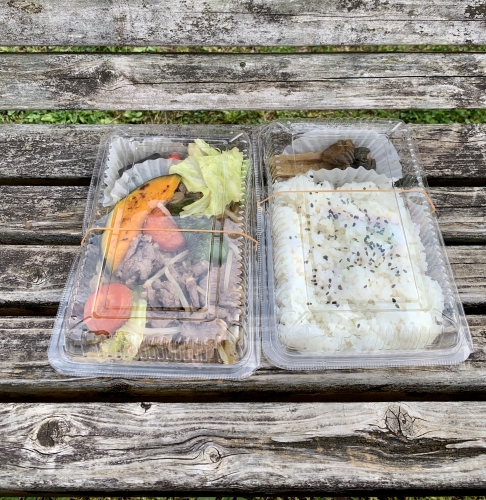 What did you think? Many of Narita's restaurants offer takeout besides the ones we've introduced. Volunteers residing in Narita have created a compilation website, so please be sure to check out the following homepage!
Eating delicious meals is linked to maintaining mental and physical health. Please be sure to refresh your mind and body when it's worn out from restraint!
*This article is not intended to encourage going out.
・Please refrain from unnecessary and non-urgent outings. When going out, be sure to maintain a social distance, wear a mask, use disinfectant, and do your best to prevent the spread of infection.
・The takeout menu and the period in which takeout is available are subject to change according to the circumstances of the store.
・ Please check each of the social networking services introduced in this article for details.