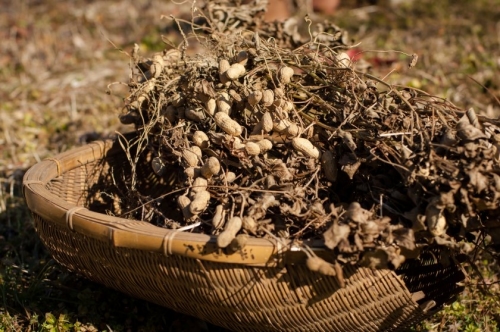 Peanuts are famous as a speciality of the Chiba prefecture, and there are five main types grown in the region.
Due to its inclusion in many recipes, including the menu for school lunches, peanuts have become a common ingredient for Chiba residents.
In the autumnal harvest season, domestic uses of peanuts include eating them boiled or roasted into a cup of tea to produce a sensation of familiarity.
In Narita, you can purchase the delicious Chiba prefecture peanuts and various peanut-based souvenirs all year round.
Today, we will introduce some carefully curated highlights!
There are some souvenirs solely exclusive to Narita, so please check out this selection.
1. Peanut Ice cream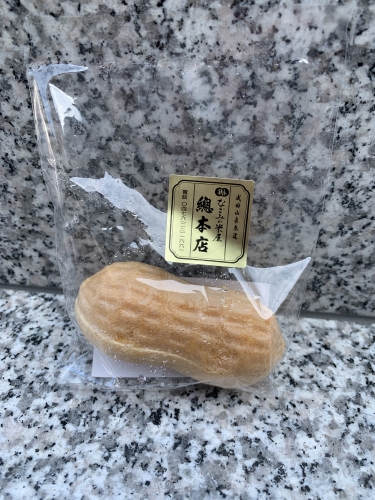 Firstly, we shall introduce the Peanut Ice cream.
This souvenir is a limited edition item from the Sou main branch of Nagomi Yoneya.
The store is a 10-minute walk from the Mt. Narita path leading to the station.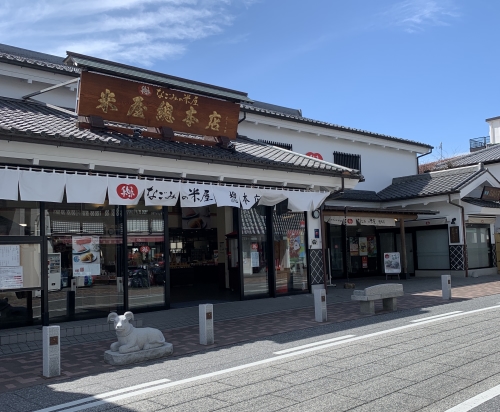 It is marked out by the cute peanut-shaped POP advertisement.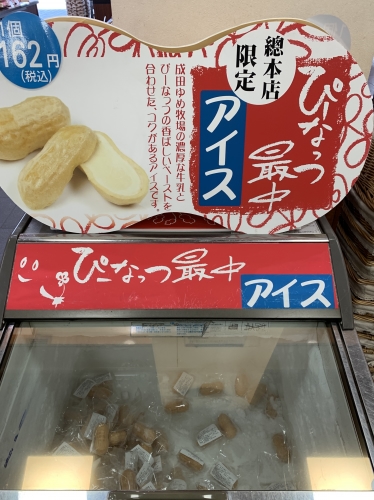 As you can see, the skin in the middle is formed in the shape of a peanut which allows you to enjoy the appearance as well!
The center is filled with ice cream made from peanut paste and milk from the Narita Yume farm.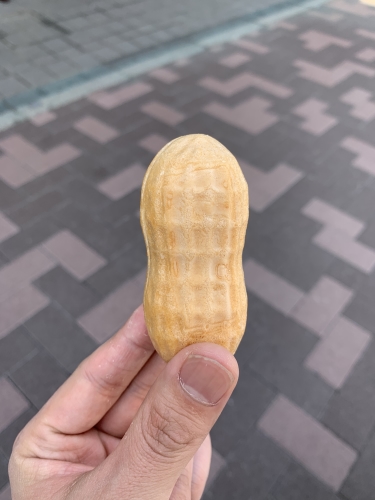 The moment you insert it into your mouth, the fragrance of the peanut paste will astound you! Soon after, the gentle yet rich flavor of the milk and the soft sweetness of the peanut paste mixes in your mouth, gradually spreading its deliciousness.
Then, despite the rich flavors, there is a special finish with a refreshing aftertaste!
It has a fresh sweetness so even those who don't typically enjoy sweets can savor its deliciousness.Your hands won't get dirty while you eat so it's recommended for eating while walking!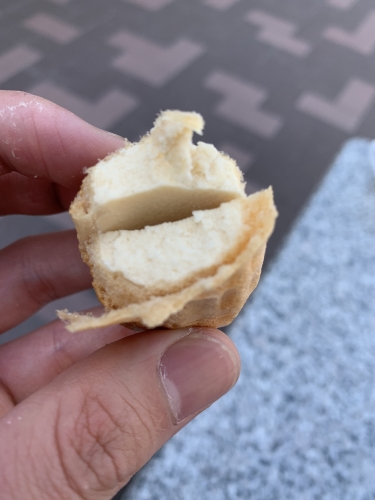 At Nagomi Yoneya, there are many other peanut-related souvenirs besides ice cream, such as peanut manju, so you can enjoy choosing your souvenir!
These can be ordered from branches other than the Sou main branch as well.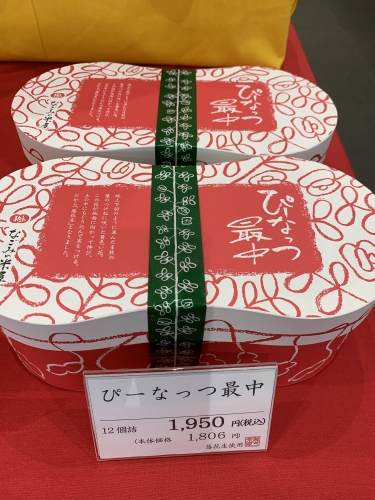 2. Sugared Peanut Natto
We shall continue by introducing the Sugared Peanut Natto.
This souvenir can be bought at Fusanoeki..
If you walk straight for approximately 5 minutes from the entrance to Omotesando, you will find this shop near the first corner.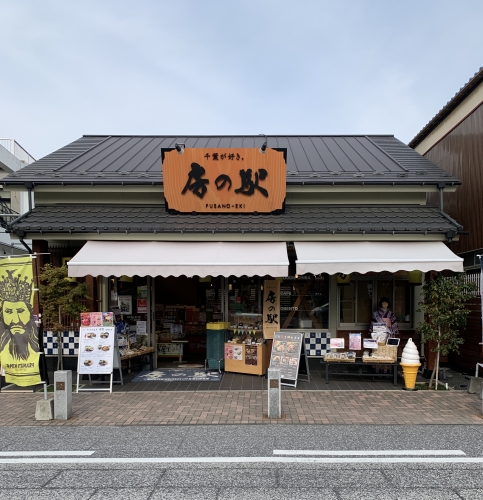 Sugared peanut natto is made by skillfully boiling the peanuts in sugar, then sprinkling sugar on again afterwards and drying.
The version made from golden and red beans is well known throughout the country, but it is not rare for it to be made from peanuts in Chiba prefecture.
It is a moist, sweet candy that melts in your mouth with an addicting sensation.
The inclusion of peanuts adds a powerful fragrance and allows for the flavor of each ingredient to be firmly experienced.
Although it is sprinkled with sugar, the light sweetness doesn't remain in the mouth which is appropriate for people who do not eat too many sweets.
It goes well with a wide range of tea and coffee beverages, including green tea.
(Although it is called natto, it is completely different from the sticky natto.)
3. Fujishow Peanut Honey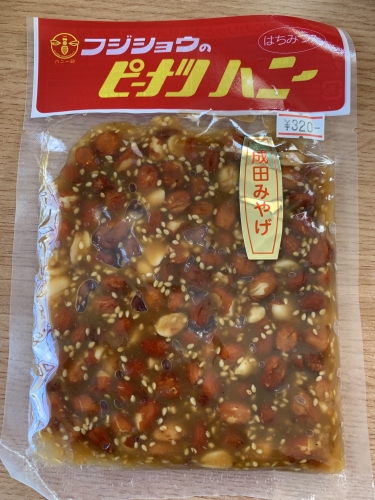 Next is the Fujishow Peanut Honey.
Also known as Misopee, this is also a common inclusion in school lunches.
This souvenir can be purchased at the Saito branch store.
If you walk for approximately 3 minutes from the entrance to Mt. Narita, you will find the shop on your left.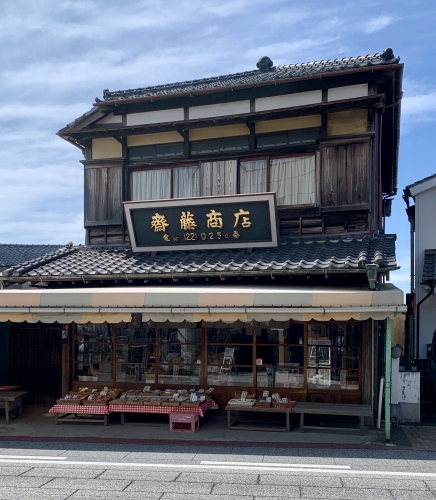 The Saito Branch has a bountiful selection of souvenirs so you can purchase many other peanut-based souvenirs in addition to the peanut honey introduced in this article.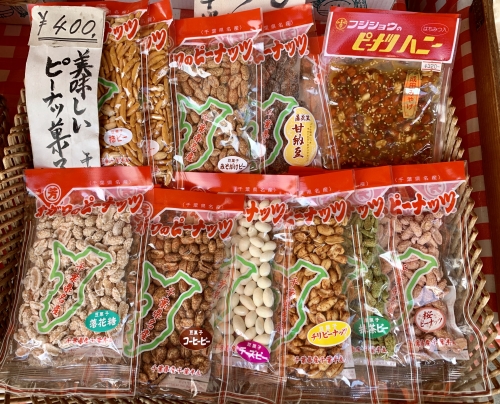 Peanut honey is loved for its wide variety of uses, such as eating as it is for a snack or dripped onto hot rice.
The fragrance of the peanuts and the sesame join with the rich umami of miso which is then wrapped in sweet honey with exquisite seasoning to create a gentle and refined palette.
You will find it difficult to stop your chopsticks from moving because of its sweet taste and texture.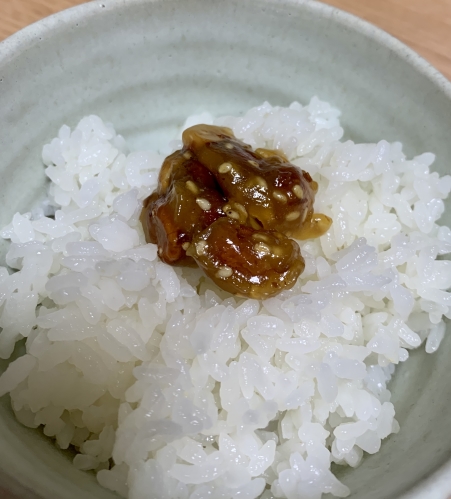 It is also recommended to use as a snack with hard liquor such as whiskey on the rocks or highball!
4. Boiled Peanuts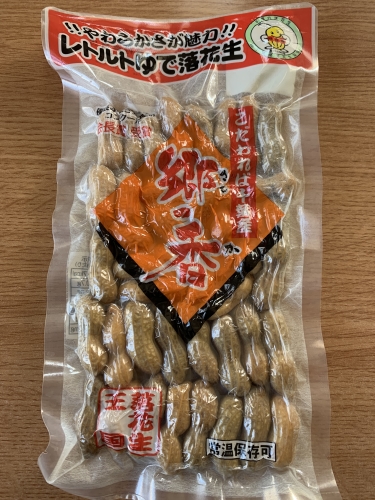 The last product to be introduced is the Boiled Peanuts.
You can buy this souvenir from Mamenohukudaya.
It is located approximately 15 meters from the Saito branch store.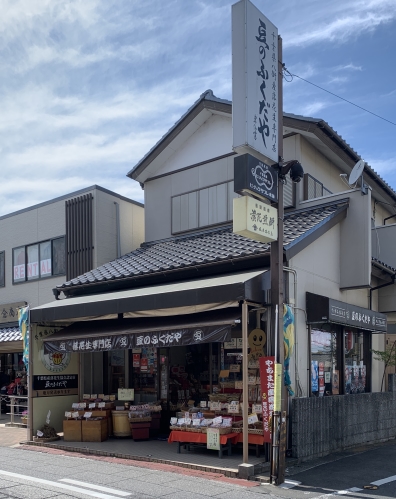 In reality, boiled peanuts cannot usually be enjoyed for such a long period of time outside of the production area, due to the necessity of washing and boiling soon after the peanuts are harvested (at present, the boiled peanuts are usually roasted first).
As a result, freshness is essential, so until the development of refrigerated delivery and retort pouch technology, it was typically held that the local production was for local consumption only.
It was typically a luxurious product that could only be eaten in the production area during the harvest season from September to November.However, with the advancement of technology, it is now possible to enjoy boiled peanuts all over Japan throughout the year!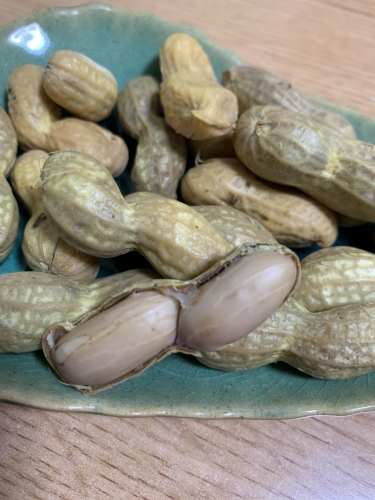 The deliciously boiled peanuts have a soft and moist texture, which combines with the slightly salty flavor to enhance the peanuts' intrinsic sweetness.
It is no exaggeration to say that boiled peanuts are the most delicious way to eat these peanuts. There are also freshly boiled peanuts that are not in retort pouches within the store during the harvest season.
Let's eat more deliciously! - Arrangement
Here, we shall introduce methods to enjoy the souvenirs introduced above in your own home or in any place you can cook including guest houses!
1. Arrangement of Peanut Honey: enjoy spread over white bread.
As mentioned above, peanut honey is a great snack as an accompaniment.
It's a great souvenir for when you're a little peckish at night.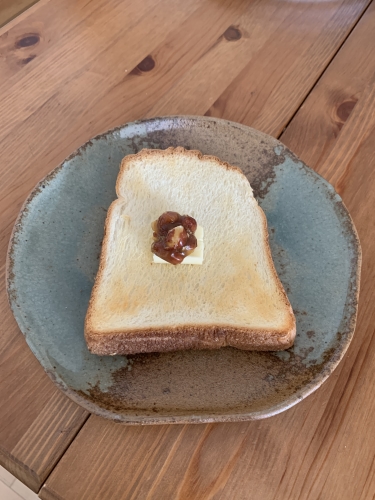 Apply a generous amount of butter to fresh toast and then add a little peanut honey to it.
You can enjoy this mysterious deliciousness that isn't quite Western nor Japanese style! It is salty but sweet all at once, so it's recommended for a snack or a meal.
It is also enjoyable on toast with a lot of cheese.
You can also use it as a topping for vanilla ice cream, or even spicy chrysanthemum and spinach!
It can be used for a wide variety of purposes if you also add a small amount of Kinpira to thicken it.
2. Sugared Peanut Natto: Enjoy with ice cream.
Sugared peanut natto is delicious as it is, but its sweetness is subtle, so we would recommend eating it as an accompaniment.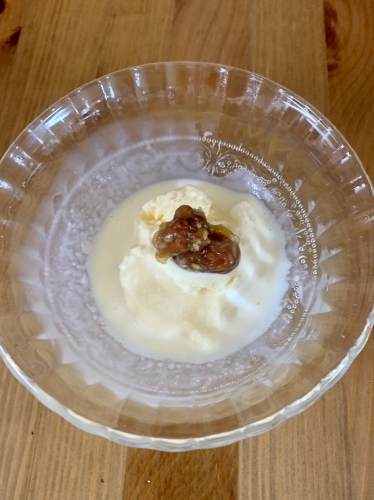 If you eat it with ice cream, the deep richness of the peanuts infuses within the dish, making it taste just like a luxury ice cream!
Although its appearance matches best with vanilla ice cream in a photo, it matches any ice cream regardless of flavor such as chocolate or matcha!
What do you think?
If you come to Narita, be sure to choose peanuts as a souvenir.
Also, from autumn to winter, you can enjoy seasonal peanuts at souvenir stores and restaurants.
If the time is right, then please experience that as well!
*Please refrain from eating these products if you are allergic to peanuts.