October, when autumn is deepening and each day, one can feel the season changing into winter.
The trees dye the streets in vivid reds and yellows and sometimes, a cold wintry wind scatters the fallen leaves.
In this season, when everyone starts rushing to prepare for winter, how about drinking a warm beverage and taking a short break?
This article introduces cafes in Narita that will soothe the fatigues of your journey and warm up your chilled body.
Hashira Deli & Cafe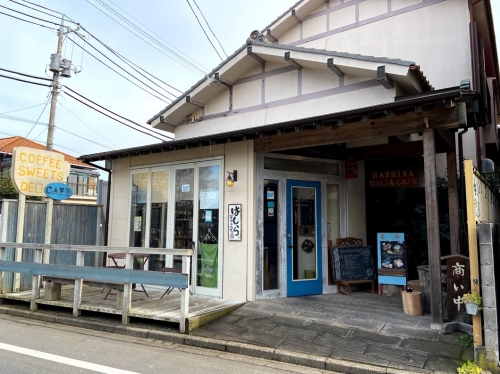 A 1-minute walk from JR Narita Station. Hashira Deli & Cafe stands quietly on a narrow lane beside the neighborhood police station.
The building, which used to be a soba restaurant, was reconstructed by the owner to be reborn as a cafe, and the interior bears traces of its days as a soba restaurant.
Right in the middle of the cafe stands a large pillar that symbolizes the cafe's name.
The cafe's atmosphere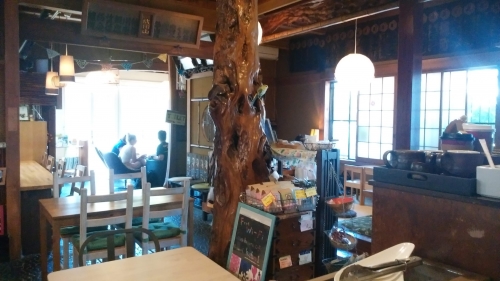 There are table seats, Japanese rooms, counter seats, and sofa seats, and you can freely choose based on your purpose and how you feel that day.
There are many large windows, so a notable feature is that no matter which seat you pick, it is well lit by the sun.
The light from the windows and relaxing BGM allow you to forget the outside world so that you can spend a leisurely time there.
It is a space that will make you want to put your smartphone and tablet aside and feel the atmosphere of the cafe with your entire body.
Hashira Deli & Cafe's recommended items on the menu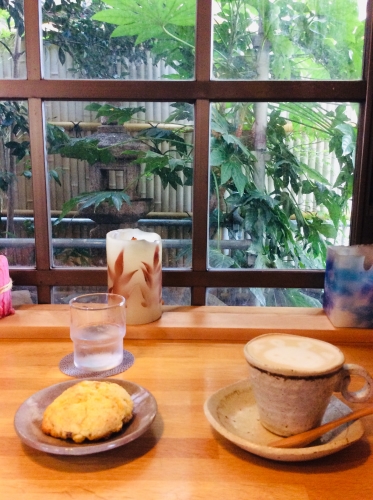 Chai latte (390 yen including tax) and sweet potato scones (240 yen including tax)
In this period that chills our bodies, warm up with a chai latte.
The scones change every day and you can choose from two types, sweet snack scones and meal scones, which are recommended for those who do not like sweet foods.
On this day, they had sweet potato scones, but what you will be able to try is something for you to look forward to when visiting the cafe!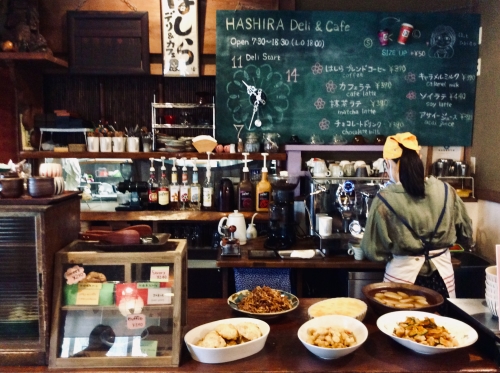 This is how it looks like at lunchtime. You can choose your preferred lunch set, which starts from 1,050 yen (including tax).
The cafe's menu and services are full of things that were originally customers' requests and were realized.
The current Hashira Cafe is a result of integrating customers' requests with the desire to allow customers to have a relaxing time there.
It seems that the owner, Mr. Yabu, stands in the cafe every day with the desire to create a cafe that raises the standard of everyday life by a little so that customers can casually drop by without the need to prepare themselves just because it is located in an area that is a tourist attraction.
A message from the owner, Mr. Yabu
"There are many local customers as well, so it would make me happy if visitors catch a glimpse of Narita's abundant everyday life instead of just looking at it as a tourist attraction. It is situated 1 minute away from the station, so please casually drop by while you are waiting for the train, etc."
Also, Hashira Deli & Cafe is currently renovating their second floor.
It seems that they are in the middle of creating "Hashira Roll", a store specializing in takeout roll sandwiches at low prices that you can easily drop by! For details, please check out Hashira Roll's Instagram @hashiraroll .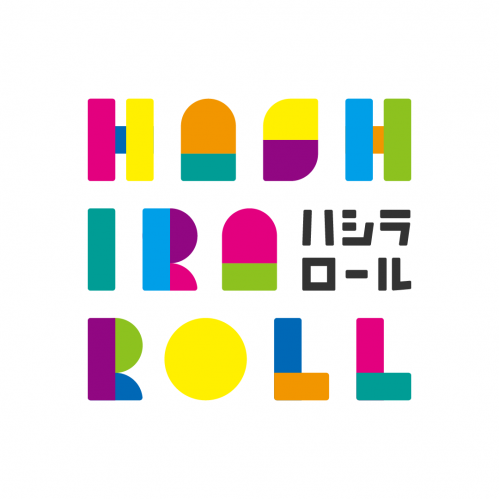 A small book cafe, Slow Down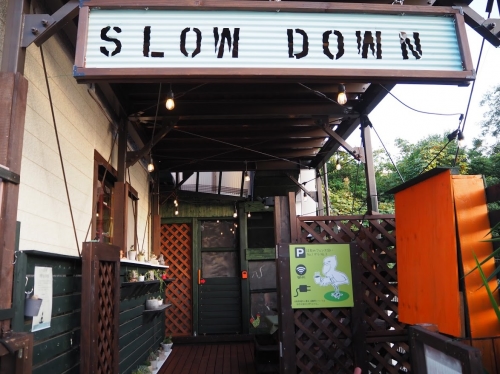 A small book cafe Slow Down is a good place to visit when you want to focus on reading in a relaxed environment.
Just as the cafe's name states, customers can leave behind the restlessness and tumult of everyday life and spend their time as they please.
Step out of the JR West Exit, turn away from the station building, and walk straight towards the left along the railway track to reach in about 5 minutes. Look out for the green signboard.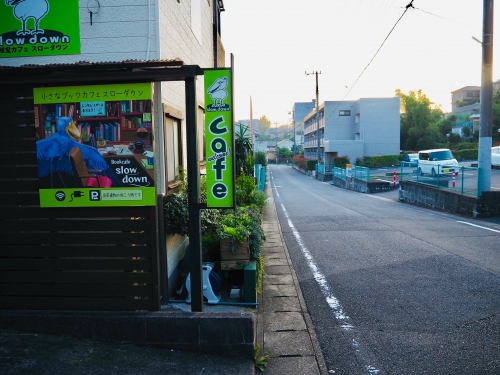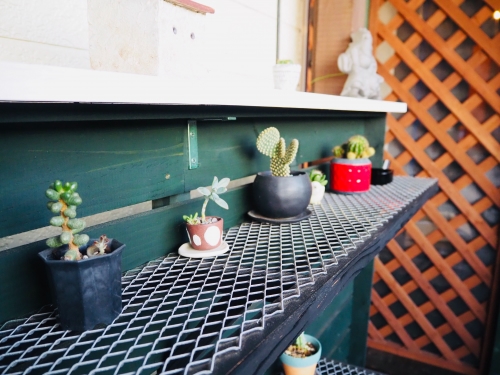 Cute cactuses will welcome you.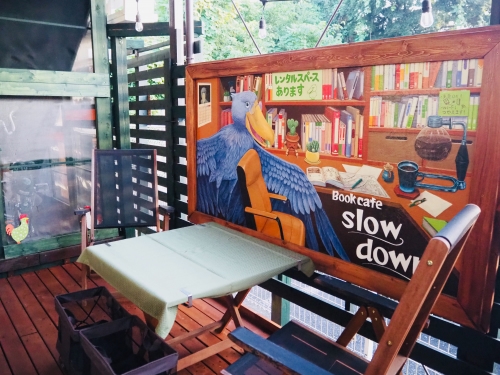 There are also terrace seats at the entrance.
Reading books or magazines here on a day off in autumn with good weather seems like a pleasant experience.
The cafe's atmosphere
Upon entering the cafe, a cheerful employee will welcome you.
It is not the manager of the cafe. The manager of the cafe is this shoebill that could be seen in the picture of the terrace seats.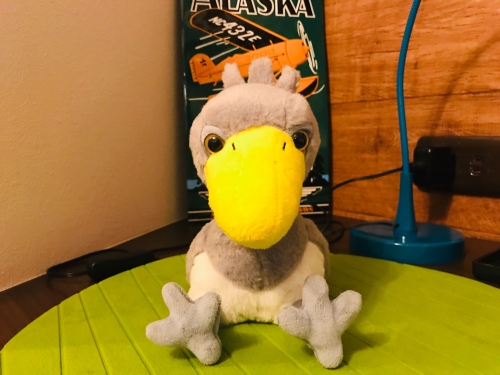 The cafe has three counter seats, one sofa, and one table seat.
The seats are spaced nicely far apart, so you will not be bothered by those around you.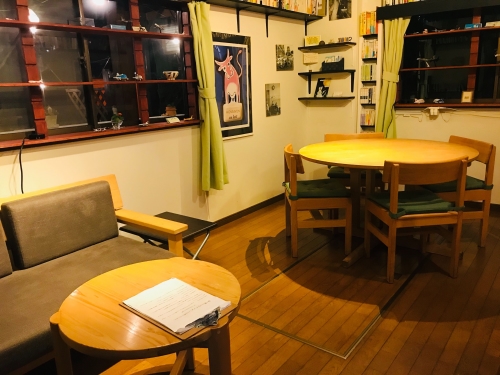 The BGM consists of relaxing music such as classical music that is played at the perfect volume.
Sometimes, the refreshing murmuring sounds of a river are also played.
Other than reading, it is an environment in which you can focus on solo tasks such as studying and work.
Inside the cafe is a space surrounded by books in all directions.
The walls are completely covered by bookshelves and all kinds of books, from hit novels to encyclopedias, cookbooks, geeky themed books, and even comic books line these shelves. Just as one would expect from being able to read an unlimited number of books of various genres, this cafe is irresistible to book lovers.
The employee says that even if it is not relevant to your own life, learning about yet unseen and unknown worlds is fun.
These books were gathered by this employee.
There is a diverse range of genres, so you will surely encounter books that you usually do not read as well.
Even if you do not read books, there are apparently customers who visit as "they feel calm when surrounded by books".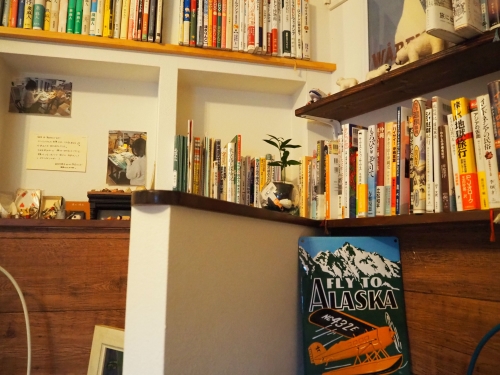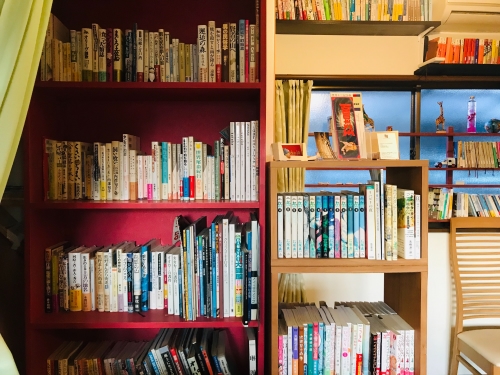 A small book cafe, Slow Down's recommended items on the menu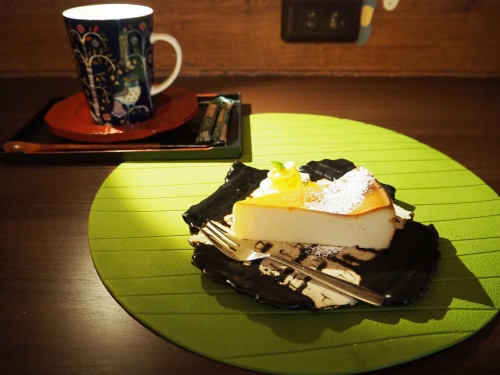 Cake set (900 yen including tax)
You can order items usually available in cafes such as coffee, black tea, cakes, pasta, and curry.
According to the employee, "there is nothing I recommend in particular. There aren't any dishes that look great on Instagram, haha."
That being said, the cafe au lait with topped with fluffy milk steam and cheesecake with a moist and smooth texture are just two examples of the many flavors that you can only taste at this cafe.
Every dish is delicious, such as the meat sauce featuring finely chopped celery and the homemade potato salad that comes together with sets.
*The contents of the salad change depending on the day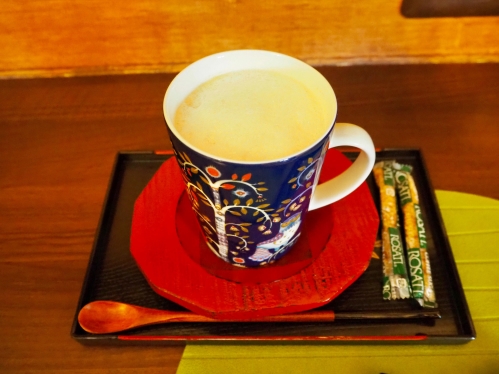 Cafe au lait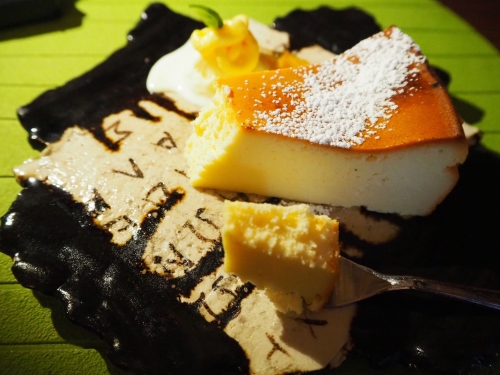 Cheesecake
A message from the manager
"Everything comes to those who wait."
(A translation by the employee: even if things aren't going well right now, as long as you wait patiently, your chance will come.
It is a saying that the employee likes very much. If you come to Slow Down, please spend your time here as you please.)
It is open from 11:00 a.m. to 7:00 p.m., but as it is closed irregularly, we recommend checking the calendar on the cafe's homepage before visiting.
Miyoshiya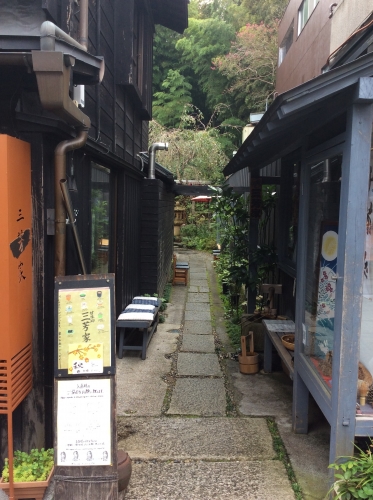 Next up is Miyoshiya, which is a 15-minute walk from Narita Station, at the end of the path in front of Narita Tourist Pavilion.
The cafe itself is right at the end of the path, so please be careful not to overlook it.
After walking through the path from the crowded path leading up to the shrine, you will find a small Japanese garden there.
The open space will create the illusion that you have suddenly escaped from the hustle and bustle into a place where time flows differently.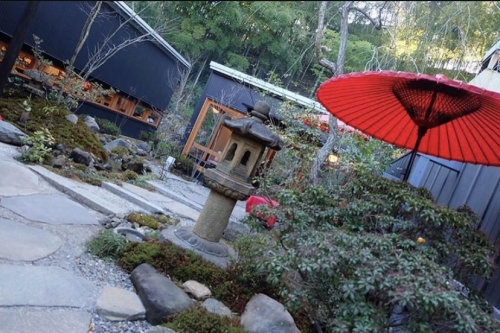 Table seats and counter seats are available as if encircling the garden.No matter which seat you choose, you will have a beautiful view, and depending on the seat, you can enjoy the scenery from a different angle, so you will find yourself wanting to visit several times.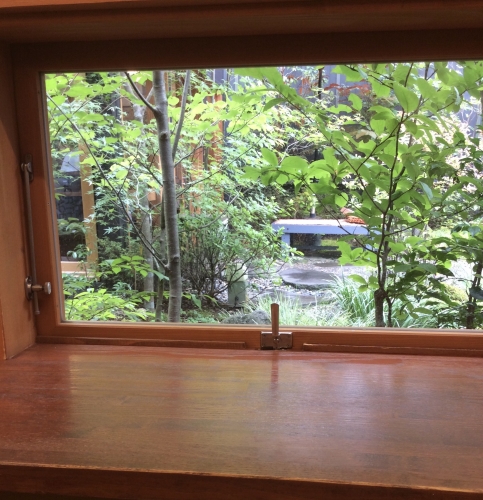 The photo shows the view from a counter seat. The world seems to have been cut out, as if looking at it through a viewfinder.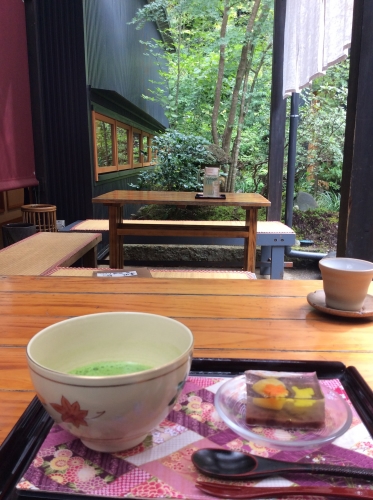 Tatami mats have been laid onto the benches of the outside tables and the cafe's thoughtfulness can be felt even in the smallest details, such as the addition of mosquito-repelling incense sticks and uchiwa in summer and blankets in winter.
Miyoshiya's recommended items on the menu
The drink we recommend you to savor in this atmosphere is matcha.
The gentle taste of matcha will make you want to take a breather.
The traditional Japanese sweets that you can choose are all handmade in the kitchen of the cafe.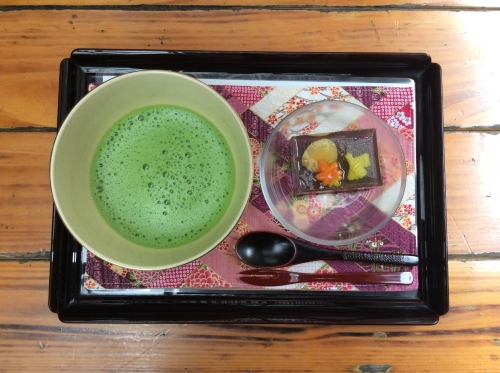 Matcha and Japanese sweet set (820 yen including tax)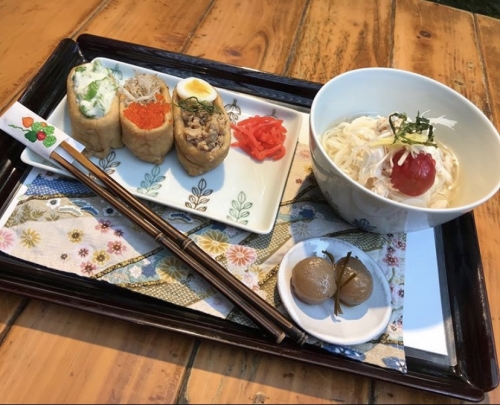 This is the weekend-only lunch. The menu changes according to the day.
After enjoying matcha and Japanese sweets, you will be served warm roasted green tea and okaki for free. Here, you can feel the thoughtfulness of the cafe.
A message from someone from the cafe
In the morning, it is comparatively quiet and you will likely be able to spend a leisurely time here.
Please bring your children and dogs and enjoy a relaxing time.
Please relax leisurely while experiencing the seasonal flowers and changing nature. We also serve lunch only on weekends.
Coffee Chiru Chiru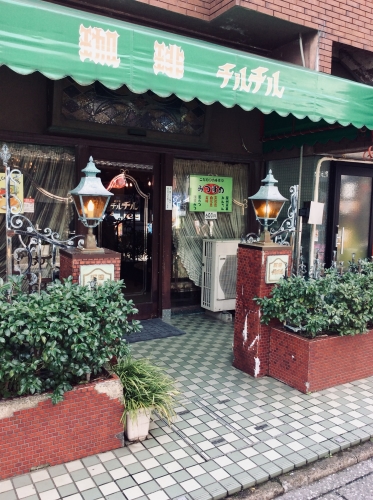 The final cafe in this article is Coffee Chiru Chiru, a 1-minute walk from Naritasan Shinshoji Temple.
Established in 1972, it moved in 1974 and for about 50 years since then, this veteran coffee shop has been constantly protecting its reputation.
So that those visiting Naritasan Shinshoji Temple can visit anytime and so that they can enjoy the same flavor anytime, it has tried its best not to change the coffee and snack menu since its establishment.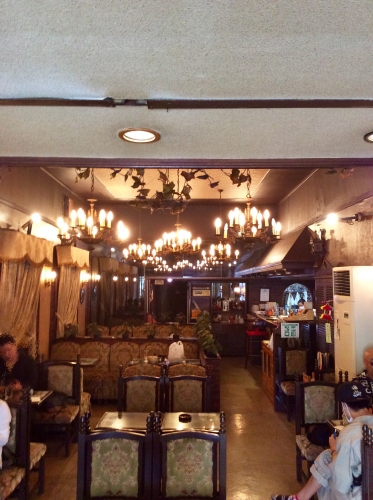 The retro decor with chandeliers hanging from the ceiling makes you feel as if you have traveled back in time to the time of its establishment.
As the mistress wishes to be able to provide the same space anytime, the modern decor makes use of even broken and damaged items that are lovingly repaired.
In particular, the damask-patterned Kinkazan brocade covering the chairs is a precious element that makes up the cafe, and apparently, they have been continuously using the same fabric while recovering torn ones countless times.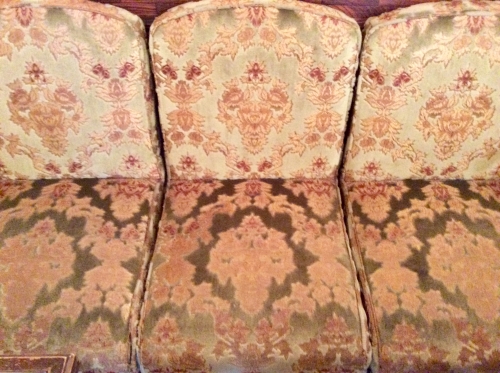 The chairs in the cafe covered with Kinkazan brocade. They are a consistent green color so that customers can relax.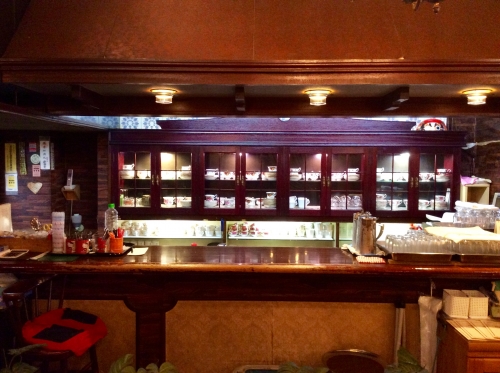 The counter on which the mistress has made countless cups of coffee
Chiru Chiru's recommended items on the menu
At Chiru Chiru, we highly recommend ordering their special coffee and mitsumame.
You can talk to the staff about your preferred fragrance and flavor of coffee from among the wide variety of beans.
You can also order nostalgic items of the past such as a Cafe Royal.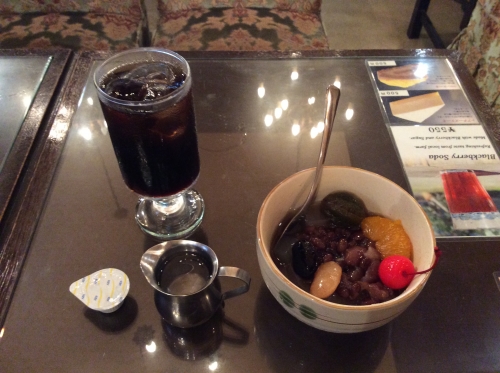 Iced coffee (500 yen including tax) and mitsumame (600 yen including tax)
The agar in the mitsumame is specially made from scratch by the mistress by boiling red algae. The white tea beans, purple tea beans, and red kidney beans are each carefully boiled as well, and it takes a whopping 25 days for the completion of this dish.
The mistress places great importance on carefully making this dish over a long period of time so that she can express her feelings of gratitude to the customers who visit the cafe, as well as to connect the efforts of the bean and algae manufacturers.
A message from the mistress
"I strive for thorough hospitality so that I am not rude to visitors and Ofudosama, who protects this area. Anyone who comes is free to take a leisurely break here. I will continue to protect this cafe so that it remains a place that customers can visit again."
This article has introduced cafes where you can spend a leisurely time and are visited by many locals as well despite being a tourist attraction.
How about soothing the fatigues of your journey and leisurely enjoying Narita in autumn?