Narita Airport is a popular travel hub for many travelers, with an average of 121,015 passengers using the airport each day in 2019.
It is also known as the gateway to Japan, and is used by many foreigners visiting Japan.
In fact, there is a natural hot spring facility right next to Narita Airport! The water comes directly from the source.
This is a great spot for visitors to Narita, so why not visit there?
"Narita Airport Onsen Sora no Yu" is conveniently located 4 kilometers from the airport and 500 meters from the nearest station, Shibayama Chiyoda Station.
They also offer a free shuttle bus service with reservations, so even travelers with large luggage can easily use the service!
In addition to the hot springs, the hotel also offers a variety of relaxation and lodging facilities, making it a good base for your trip.
Let us show you the charms of Narita Airport Onsen Sora no Yu (Sora no Yu)!
Sora no Yu Welcomes Travelers
At Sora no Yu, thorough measures are taken against the novel coronavirus, including the placement of disinfectant solution in various places, automatic ventilation system, table arrangement to avoid dense crowd, and admission restriction.
In addition, since the management company is in the business of building maintenance, daily cleaning and disinfection are done from a professional perspective, creating an environment where travelers can use the facilities with peace of mind.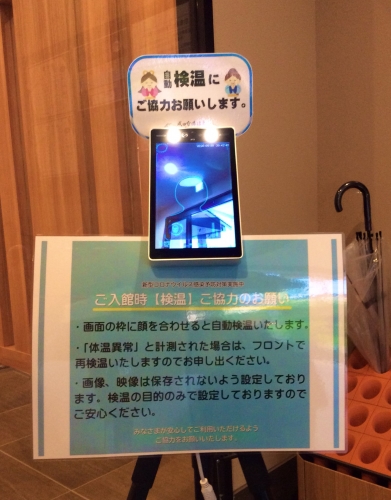 After taking your temperature and disinfecting your shoes, put them in the shoe box and put a wristband with a key on your arm.
By wearing this wristband, you can get goods or meals at the vending machines or restaurants in the building and pay later before you leave the building, so you do not have to carry your valuables with you!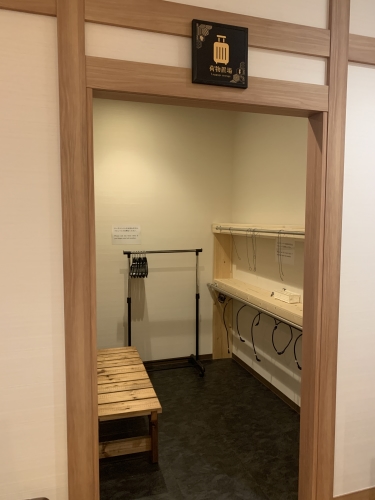 There is a lockable luggage storage area next to the reception desk where you can leave your suitcase or backpack, so you do not have to worry about carrying large items. Valuables can be left in the valuables locker next to the entrance.
There is a vending machine in the bathroom changing area that sells underwear and toothbrushes, so it's convenient for those on a quick business trip or in transit!
Natural Hot Spring Bathing While Watching Planes Fly in the Sky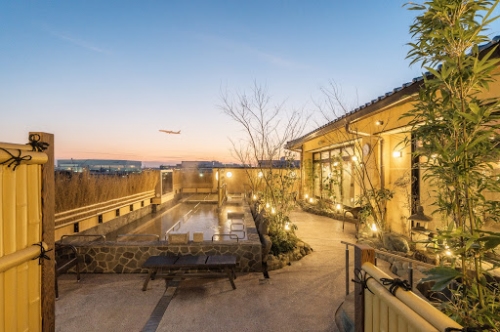 The hot spring water at Sora no Yu is a strong salt spring rich in iodine, which warms you from the core and keeps you warm even after taking a bath.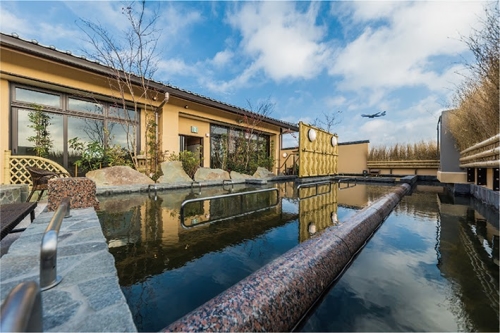 One of the unique features of Sora no Yu, located near the airport, is the open-air bath with a view of airplanes!
There is a flight recorder installed next to the bath tub, so you can check which direction the planes are coming from and how close they are flying.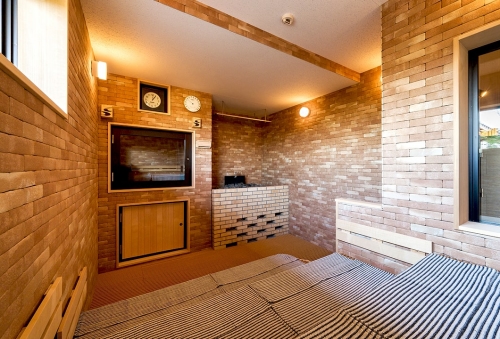 The sauna is set at 90 degrees Celsius for men and 85 degrees Celsius for women.
There is also a daily changing herbal sauna in the women's sauna, and an automatic loyly is provided every hour, so you can enjoy a real sauna!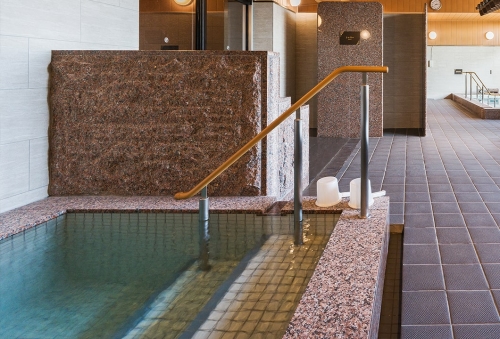 The best part of the sauna is the water bath.
The water bath at Sora no Yu is a luxury bath that uses well water drawn directly from the well.
You can use the cold water bath at around 15 degrees Celsius throughout the year.
After warming your body in the sauna, take a water bath to stimulate your autonomic nervous system and improve your physical condition.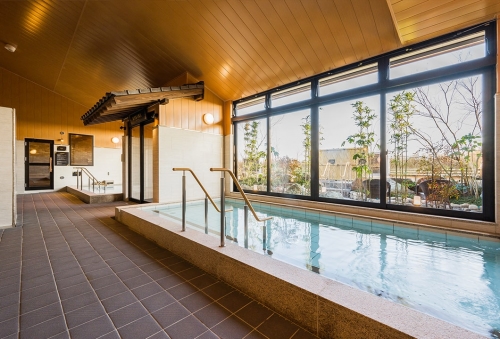 There are also a variety of indoor bathing facilities such as daily changing baths. You can have a good time all day long.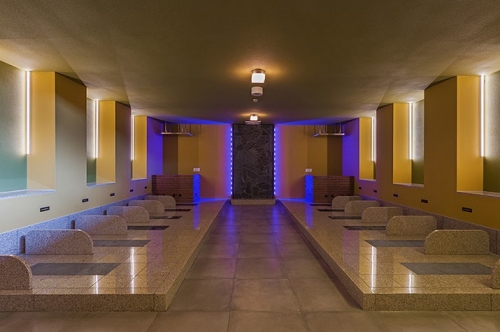 The largest rock bath, with a room temperature of around 42 degrees Celsius, can accommodate 26 people at the same time!
Another attraction is the private baths that can be rented by families or friends.
The private bath has a Japanese-style room attached to it, and you can also order meals from the restaurant on the first floor, with the exception of some items such as noodles.
You can also rent futons to rest on, making you feel as if you were at a ryokan.
(Reservations are required. For reservations, please check the official website .)
The Best Relaxation After a Hot Bath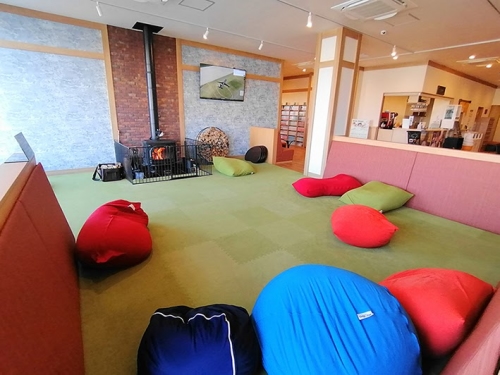 The second floor is a relaxation floor where you can relax after a hot bath.
There is a manga corner with about 8,000 books, a resting area where you can rest while looking at airplanes, and other facilities where you can relax.
On the same second floor, Cafe&Bar Kiraboshi serves beer and soft drinks, as well as light meals and desserts.
This season's most popular items are the fluffy handmade smoothies!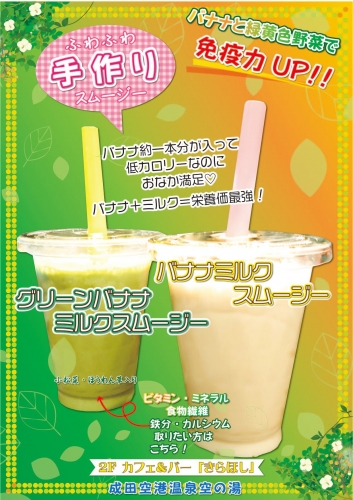 Banana smoothie and green banana smoothie
This menu is the result of a lot of trial and error by the staff to find something that women would enjoy as a post-bath drink.
This drink is not only for rehydrating after a bath, but also for replenishing vitamins and minerals and other beauty ingredients.
Next to Cafe&Bar Kiraboshi, there is a napping area with a wood stove made by JØTUL, a traditional Norwegian manufacturer.
Surrounding the wood stove is Yogibo, a cushion that can spoil you.
As you listen to the sound of the wood crackling and watch the fire flicker, you can be sure that you will be "spoiled" by the cushion.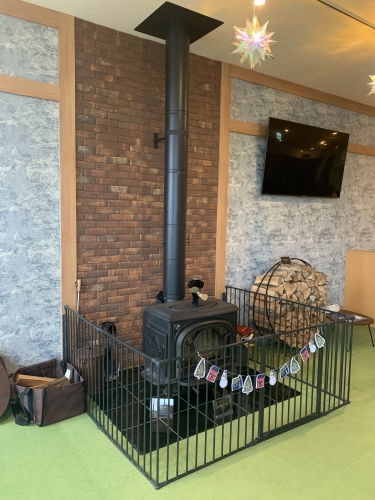 There are other facilities such as those for karaoke and yoga, but they may not be in operation due to the novel coronavirus, so please check in advance if you want to use them.
Accommodation "Capsule Hotel Hokutosei"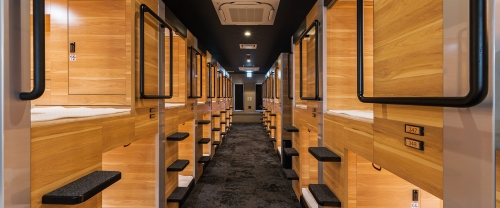 The next day's flight is early in the morning, but I want to sleep until the last minute... I'm worried about the train to the hotel because my flight lands late at night... Have you ever felt that kind of anxiety when you travel?
Sora no Yu has a capsule hotel with a 19:00 check-in time, 9:00 check-out time, and day-use capability, so you do not have to worry even if you have early morning or late night plans!
(*As of December 15, due to measures against the novel coronavirus, it is only open for overnight use on Fridays, Saturdays, and the day before a holiday)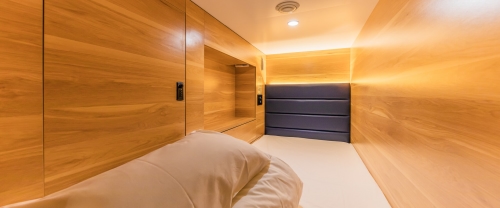 The rooms are spacious and have the warmth of wood.
Custom-made mattresses and down comforters are carefully selected to ensure a comfortable night's sleep.
The rooms are completely separated for men and women, with roll curtains and valuables boxes installed in all rooms, so you can use the rooms without worrying about your safety and privacy.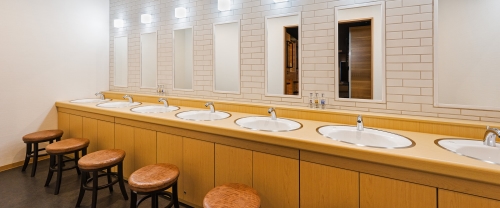 As separate washbasins are available, you can prepare for your trip at ease. Take your time getting ready for your trip.
Dining and drinking facilities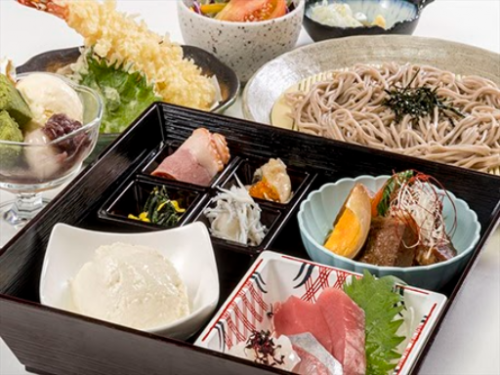 At Sora no Yu, you can enjoy delicious meals.
There are tatami rooms, counters, and tables, and you can use them while wearing your in-house clothing.
Outside the window, you can see the Japanese garden, the masterpiece of Heiichi Kato, one of Japan's leading gardeners.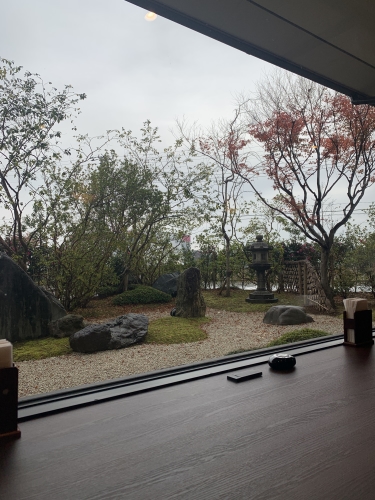 As you gaze out at the Japanese garden while savoring meals that feature seasonal local ingredients, the fatigue of your trip is sure to fly away.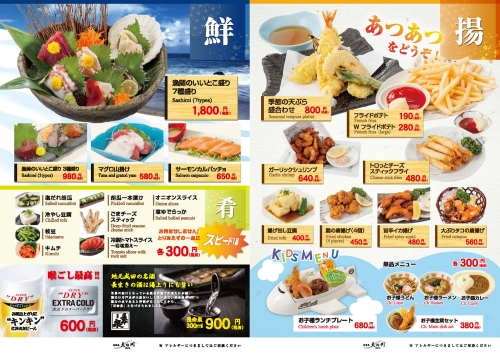 The menu offers a wide variety of dishes for both children and adults.
It is such a popular place to eat that people from nearby companies use it for lunch.
Excerpt from the grand menu (a variety of noodles and meat dishes will also be available)
The aforementioned Cafe&Bar Kiraboshi is a great place to go if you are hungry or just want to relax and enjoy coffee, juice, or alcoholic beverages.
You can enjoy light meals such as pasta and sandwiches, and alcoholic beverage such as beer and highball.
And the ice cream you get after a hot bath tastes really good!
Activities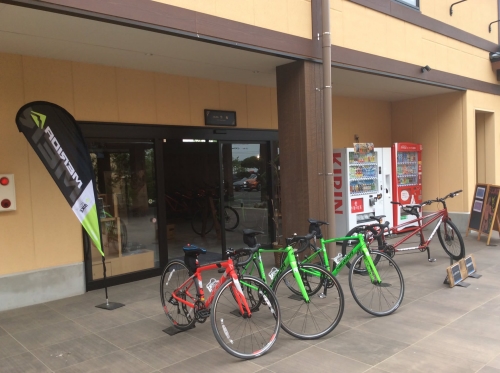 At Sora no Yu, you can not only relax, but also try a wide range of activities such as bicycle rental, bouldering, simulation golf, and table tennis!
The best activity of all is cycling on a rental bike!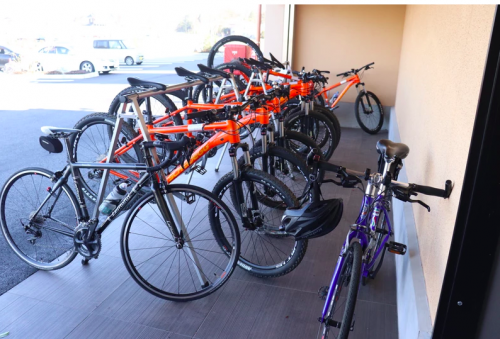 You can rent tandem bikes for two people, mountain bikes, and road bikes, which are rare in the rental market, for half a day or a full day from Bicycle Base KURIN.
Helmets and gloves are provided free of charge so that even beginners can enjoy cycling.
Furthermore, if you get stuck due to an accident or breakdown, they will come and pick you up so you can use the service with peace of mind.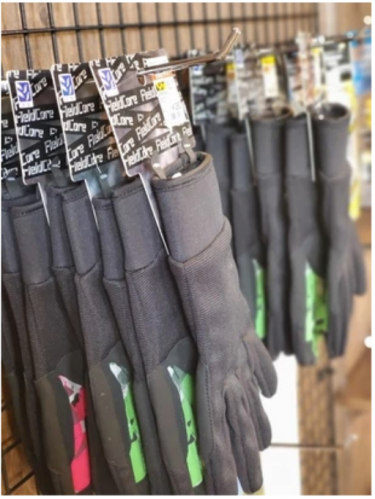 A wide variety of cycling routes is available, from a 10 km course for beginners to a 470 km course for advanced cyclists!
Choose a bike and course that suits your purpose.
Conclusion
Narita Airport Onsen Sora no Yu is a general relaxation facility with very friendly services for travelers.
Although some services have been suspended due to the novel coronavirus, we are taking all possible measures and continuing to provide more services.
Everything we do is for our customers. Please visit Sora no Yu, where you can feel such care and warmth!
Please note that some services may not be available due to the effects of the novel coronavirus. Please check the official website,Instagram,Twitter for details.