Many of you may think of Naritasan Shinshoji Temple when you think of Narita. However, Shinsoji Temple is not the only point of interest. There are also many people in Narita who are working to make visitors feel welcome, so we'd really like you to know about them.
Here, we will introduce them to you as the "People of Narita!"
The guest this time around is Hideki Hirayama, who manages Hirayama Kensetsu in Narita. We spoke to him about his feelings toward Narita and his activities, which go beyond his existing corporate activities.
―Please introduce yourself first―
I manage a company called Hirayama Kensetsu that engages in construction and real estate in Narita and aims to be a company that people are glad to have in Narita.
Some of my projects from the past include building Chomeisen on Naritasan Omotesando Road and Naspa Stadium, which is a municipal baseball stadium.
Although this company is commemorating its 120th year in 2021, we have a short history compared to the traditional companies and shops of Narita.We engage in our activities with an awareness that our job is to "create the hometown of Narita."
▼Hirayama Kensetsu Headquarters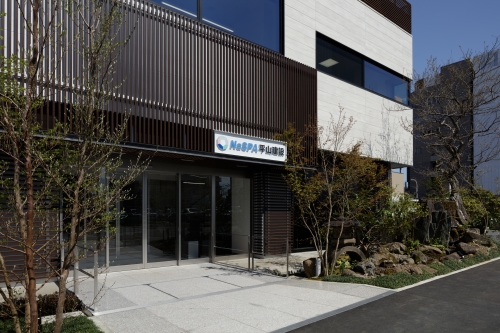 ―You mention the idea of "creating a hometown, creating a city, and creating buildings," but what does this mean specifically?―
In the past, I believed that my job was to simply construct buildings. Indeed, construction companies usually do only that. However, as I was able to construct buildings one after another in the city of Narita, the city changed and became fun. I felt that our job was to help those who call Narita their hometown.
In particular, I was able to engage in the setback for Naritasan Omotesando Road, which made me aware for the first time of the fact that "creating a hometown, creating a city, and creating buildings" in Narita is our mission. I believe that our construction company exists for this mission.
By the way, a setback refers to each shop reconstructing or reforming their building to each move back 2m to ensure that pedestrians have space. We were able to move forward with this project due to cooperation between the owners of buildings on Omotesando Road, Narita City Office, and construction companies like us with the spirit of "sanpo yoshi."
―How do you want people who visit Narita to enjoy this city?―
First of all, since Narita is a city with a long history, it has many elements related to history. Some people may head back after paying a visit to Naritasan, but there have been many footsteps left behind by the Ichikawa family of Kabuki actors. For example, even on Omotesando road, there is Yakushido, which was built in the 17th century as the old main hall and is the oldest remaining building of the temple. In addition, there is the site of Enmyoin, which is said to have sheltered Ichikawa Danjuro VII during the Edo Period. I would like people to see these places by all means.
▼Naritasan Muneage no Zu: The muneage-shiki, or ridge-raising ceremony that takes place upon completion of the framework of a building, was held for Naritasan Gaku-do Hall on December 19th, 1822. Ichikawa Danjuro VII made a donation to Naritasan. This ukiyo-e work depicts the scenes from this time. (Artist: Utagawa Toyokuni)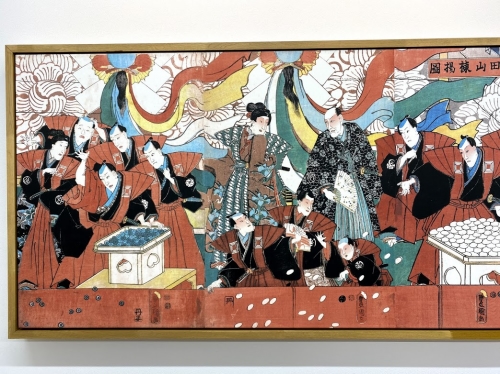 Meanwhile, since many foreigners walk around Narita because of its airport, you can also feel an international atmosphere in this city. I believe the fact that it has both of these elements is part of Narita's charm.
―"'31 Sayings' the Company Will Keep Forever" was published. The saying "For some reason, human resources are nurtured in good cities" is included. Does this relate to how you feel about Narita?―
With the purpose of revisiting the spirit behind the founding of Hirayama Kensetsu, which is commemorating its 120th year in 2021, this book contains 31 sayings by the late Kingo Hirayama, the founder of Hirayama Kensetsu, as well as the history of the Hirayama family and our company. It also touches on the history of Narita. Although it is a story of the past spanning 120 years, I hope that this book can offer hints related to the future.
One of the major points of appeal of Narita is that it hosts the Gion Festival. Many young people wish to participate in the festival or even serve as the wakaimonogashira (person in charge of pulling the float) of the festival or the wakaimonogashira of the tobancho (town responsible for managing that year's festival) someday. I heard a story from a client who moved from a rental unit to a single-family home about their child strongly opposing their plan to build a new house because it would prevent him from being that town's wakaimonogashira. I feel that Narita became this child's hometown because it has this festival.
In addition, Narita is a city that has flourished through "sanpo yoshi" (a way to approach business while satisfying all three parties involved, which are the seller, the buyer, and society, as contributing to society, in addition to the seller and the buyer, is seen as good). Even when we unravel the threads of history, temples, residents, and public institutions have long cooperated in Narita, which was a temple town. The story of the principal image of Naritasan being carried to Edo to hold the Gokaicho is famous.
▼Ukiyo-e works also hang in the lobby of Meet Inn Narita, the hotel managed by Hirayama Kensetsu.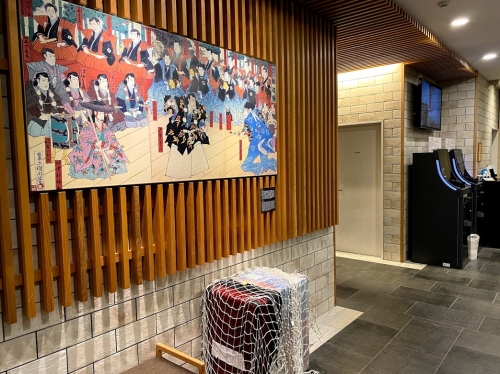 ―Are there any cities that remind you of Narita?―
I would like us to look to Obuse, Nagano as an example. Even though it only has a population of 11,000, I believe it is wonderful, as it has sake breweries, confectionery shops, and wineries, while it is also a cultured city that has the Hokusai-kan Museum, which houses many works by Katsushika Hokusai. What makes me think this city is similar to Narita is that Obuse was an Imperial estate with a knack for self-government. I also feel that the city has a strong sense of self-governance by its residents. Obuse is a city with a real charm.
―Looking 10 or 20 years ahead in the future, in which direction are you planning to move?―
Even after the company is inherited, I would like Hirayama Kensetsu to value creating the city. I would like this company to be passed down from generation to generation because Narita thrives, because the people of Narita become happy, and because Narita exists.
―Finally, please share a message with our readers―
When I say that I am from Narita, many people tell me that they have been to Narita Airport but not the city of Narita. It is true that the airport plays an important part in the image of Narita, but I hope you will come to the city of Narita at least once by all means and learn about the history and background of Narita. Since Narita is actually fun at night also, I would be delighted if you would please stay in Narita and gain a deep understanding of the city and history of Narita.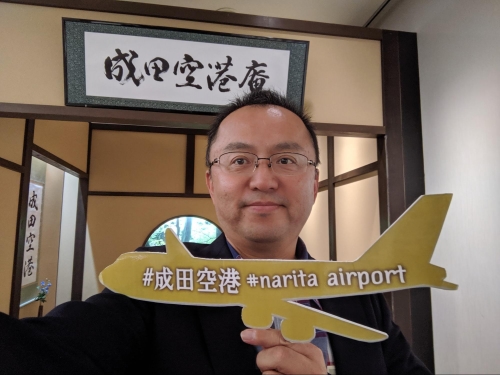 Hirayama Kensetsu KK Representative Director and President
Hideki Hirayama
Born in 1966. After graduating from the University of Tsukuba, joined Tokyu Land Corporation. Studied abroad at the School of Business at American University in the United States in 1993 and earned an MBA (Master of Business Administration). Joined Hirayama Kensetsu in 1995 and became the President in 2005. Hirayama Kensetsu was founded in 1901 as Hirayama Shoten. It is headquartered in Narita, Chiba and engages in a wide range of construction projects, including detached homes, condominiums, commercial facilities, baseball fields, and other public facilities. A group company also carries out hotel management. The Hirayama Kensetsu group has 102 employees and sales of approximately 6 billion yen (in the term ending June 2020). It published "'31 Sayings' the Company Will Keep Forever" in October 2020.