When they think of Narita, many people might picture the Naritasan Shinshoji Temple. However, that is not its only highlight. There are many people in Narita working to welcome visitors, which is why I would like to introduce them to you as well.
Here, I will introduce them as "Naritanohitobito!"
Today's guest is Mr. Kotaro Ishibashi, who runs the Kikuya.
―What kind of restaurant is the Kikuya?―
Basically, it is a Japanese restaurant.
For the past 10 or 20 years, our eel dishes have been tremendously popular.
We are pleased to entertain a variety of guests, young and old, male and female, domestic and international.
―Could you tell us a few words about the history of the Kikuya?―
The Kikuya has been running an association called "Marunari Motoko" for generations.
I had understood that it was the first kosha association (=community organization for the worship of Narita-san) of Shinsho-ji Temple, and thus was called Motoko (=original association). However, when I asked someone familiar with it, I was told that it was not so, but rather "moto," the native kun reading for the "Gen" character in Genroku (the name of an era, 1688.9.30–1704.3.13), which is not clear, but it seems to have a history of almost 300 years.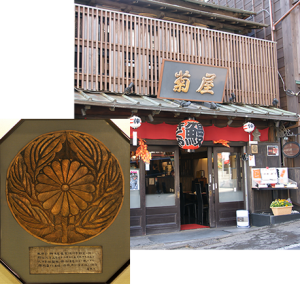 Incidentally, the oldest surviving menu is from the Taisho Era (1912–1926), and it is a gorgeous menu suited for dancing and cherry blossom viewing.
For generations, religious visitors to Monzen-dori Street have been coming to the Kikuya.
Before the airport opened, the area was crowded with general contractors building it.
As the airport opened, the number of customers increased, especially airline crews.
Airline crews at the time could afford to stay much longer than they do now, in terms of both the cost of stay and the time spent, so they spent a lot of money.
In that era, the restaurant had a reputation as one of the first in Narita to serve draft beer.
In addition, it stayed open until late at night, so crewmembers were very pleased with it, invited their friends to join them, and had a great time.
―Were there any problems communicating with foreign crews at the time?―
The proprietress before the last owner did not study English anywhere in particular but picked it up while attending to those people.
For example, a part-time server asked, "How should I express in English the nami/regular, jo/large, and tokujo/extra-large orders of unaju (broiled eel over rice in a box)?" The previous owner would answer, "Good! (regular, in terms of the amount of eel), Gooood!! (large, more eel), and Goooooooood!!! (extra-large, even more eel)" and told her that she could convey the message by the modulation of her voice, facial expressions, and gestures.
And, in fact, it was well communicated.
I will never forget the scenery of Narita Sando at the time.
Women in kimonos and flight attendants in bright red scarfs and on high heels were shopping at a supermarket on Sando together.
The atmosphere was a bit different from today, with locals and foreigners mingling as they were.
For example, my grandfather used to watch live sumo wrestling broadcasts while having an evening drink at the counter, and then a foreign crewmember would join him and become a sumo fan.
In our interactions with these foreigners, we offered tempura and fried food for people who did not enjoy raw fish, which became popular items on the menu.
For this reason, some menus have become established as they were.
―Have you had Hollywood stars visit your restaurant?―
We have served Tom Cruise and Steven Spielberg, who ordered sashimi of medium fatty tuna and unaju.
Since it would be a big fuss if they had come to our restaurant, we delivered the meals to the hotel so that they could enjoy them in a private jet.
As a matter of fact, there are times when stars walk Narita Sando.
Ralph Fiennes (who played M in the movie Skyfall in the Agent 007 series) came to the restaurant after a film festival, and members of the rock bands Sonic Youth and the Grateful Dead have also wandered into it.
Recently, Mr. Yoshi Ikuzo came to the Kamicho Kikuya and said, "I have not decorated anything yet, so I will write a calligraphy piece and send it to you."
―Does the characteristic feature of the restaurant lie in the hospitality inherited from the previous proprietor?―
The one thing that has not changed at all over the years is our hospitality to customers and making sure that they leave with a full stomach and in a good mood.
There is a saying in the Japanese restaurant where I first worked after graduating from school, "A long-established restaurant is always new."
We have always had the mindset of bringing in what is new and keeping what remains, which is how we have been able to incorporate the draft beer and cutlets mentioned earlier into our menu.
Credit card payments were introduced around the 1970s when the airport opened.
― Please tell me how you opened the new Kamicho Kikuya.―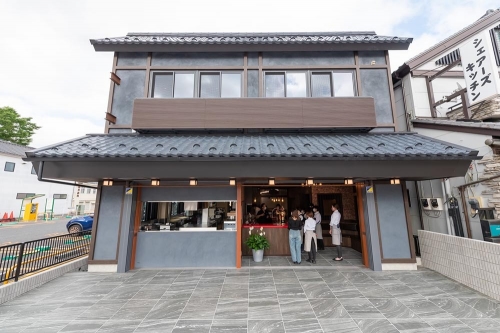 The building structure of the restaurant in Nakacho, where the Kikuya was originally located, dates back to the Edo period and therefore requires continuous maintenance.
We knew that another restaurant was necessary because we would be inconveniencing our customers in the meantime.
Since an aunt of mine lives in Kamicho and therefore I have a connection there, I first lived for a year there before I started building the restaurant.
When I lived there, I realized that the exposure to the sun and the strength of the wind were completely different from those in Nakacho.
That is how this restaurant came about.
We have enriched our menu with Irish coffee.
This is another menu item that we have learned from our customers.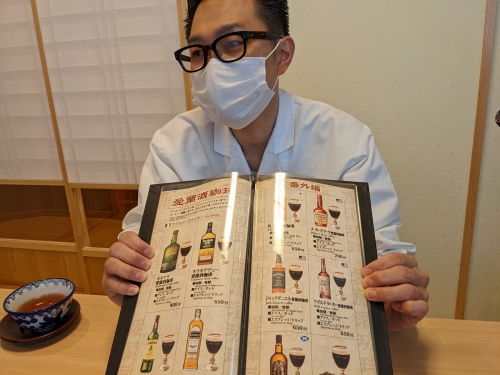 Foreigners wear light clothing even in the middle of winter, and when the previous proprietress was requested to serve Irish coffee because of the cold, she was given the recipe and served it with Japanese whiskey. That is the way it started.
Winters in Narita are freezing, and as they walk from the station to the temple, people are chilled to the core, so we hope that they will warm up here and also stay warm on the way back home.
―How would you like visitors to Narita to enjoy the town?―
Sure enough, the centerpiece of Narita is Narita-san.
First of all, I would like them to see Narita-san.
Then, there is Sando on the way to Narita-san.
When people use Narita Airport, I would like them to get off at Narita, which is one stop before the airport, rather than going straight there from Tokyo, and enjoy themselves.
Foreign visitors say that Kyoto has too many places to see, but Narita is nice and compact.
Furthermore, Japanese hospitality is truly unique.
I want people to feel everything that is good about Japan and which is not found in other countries.
―Finally, what do you plan to do about the future?―
In particular, I am not planning to make any major changes to the Kikuya.
I would like to do exactly what my predecessor and the one before her showed me.
I do it as if I were a leg runner in a relay race.
If it were just me, I would cut corners, but I feel that if I work hard now, the next person who receives the tasuki sash may be able to do so a little easier.
I can run with all my might wearing my sash precisely because I am both in front of and behind myself.