When you say Narita, many people probably think of Naritasan Shinshoji Temple, but it is not the only thing to see. In Narita, there are many people who provide hospitality to visitors, and I would like you to know about them. Here, we will introduce them to you as "People of Narita"!
Our guest this time is Mr. Yoshiyuki Mano, a Narita City Council member, who was elected in April 2023 and is currently serving his second term. We spoke with Mr. Mano in detail about his impressions of Narita and his current and future activities.
ーWhat are your current activities?ー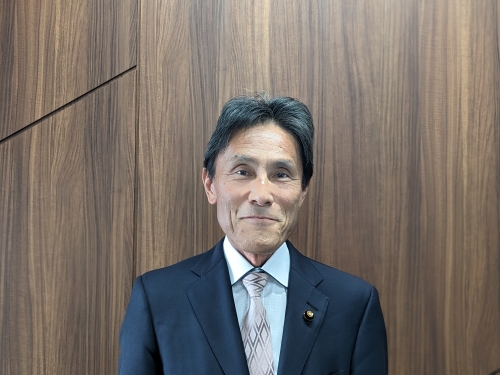 We have been active for one term of four years under two slogans: "Make Narita a truly international city" and "Raise children in the community".However, I feel that there's still much to be achieved, particularly in fostering a multicultural society where coexistence with foreigners is realized. I aim to push forward with building such a city.

Since Narita is a city with an international airport, I believe it should be a city that leverages its geographical advantages to create a harmonious society. This is my main activity.
ーCan you tell us how you came to be involved in such activities, including your personal history?ー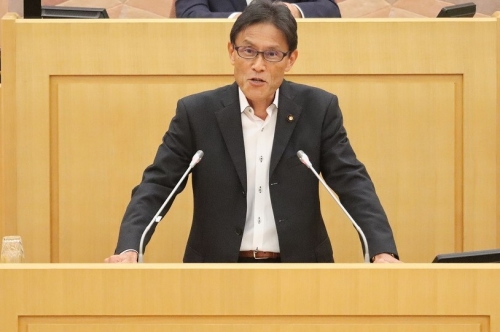 I used to be an English teacher at a junior high school. In fact, Narita's English education for children is the most advanced in Japan. The reason it's advanced is because about 20 years ago, we received a designation from the Ministry of Education as a "special educational school," which is a special educational zone, and we have Assistant Language Teachers (ALTs), who are native speakers of foreign languages, assigned to all our elementary and junior high schools. While it is common for other municipalities to receive ALTs dispatched from staffing agencies, the Narita City Board of Education hires them directly. As a result, we are able to hire high-quality foreigners who are in alignment with the educational philosophy of Narita City. Furthermore, we have two Chief ALTs who is permanently stationed within the Board of Education and can directly oversee training sessions for ALTs, classroom observations, and other aspects. Moreover, most of our ALTs are very serious and keen to research, continually training and enhancing their skills on their own.

However, despite providing this excellent international and English education, by the second half of the third year of junior high school, students start preparing for entrance exams, and the lessons become centered around grammar. This essentially nullifies the communication skills that students have built up from the first grade of elementary school. While this is an issue with the Japanese education system, my primary reason for leaving teaching was my desire to build a city where people can leverage the skills they've accumulated from an early age. I wanted to work from outside the system to promote international education and the development of communication skills for the citizens.
ーWhat do you consider important in aiming to create a harmonious society?ー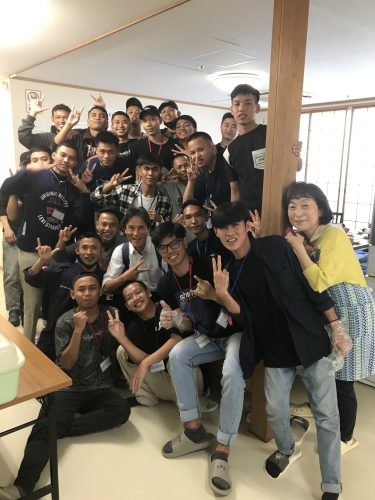 Creating a harmonious society is not achievable if we only consider foreigners as entities who spend money in our city as tourists. The registered foreign population of Narita City reached its highest ever in late May of this year, at 7,292 people. This means more than 5.5% of the population of Narita City, or one in every 20 residents, is a foreign resident. This is quite a high ratio compared to the overall ratio of about 2% in Japan. If it weren't for these people, who support the Japanese economy in industries such as construction, hotel services, agriculture, and manufacturing, our conveniently normal lives would collapse.

A characteristic of Japanese society is being "kind to tourists but cold to residents". As earthlings with the same red blood flowing in our veins, Narita must grow into a city that recognizes our differences in values, common sense, and culture and customs.

To do this, it's crucial to conduct surveys among foreign residents and quantify the everyday challenges they face. Based on these findings, we need to establish a council that includes foreign residents to promote city development from their perspectives. Engaging in grassroots activities and humanitarian aid is most important.
ーWhat is your personal favorite spot in Narita?ー
Around the airport, there is Sakura-no-yama Park. When my children were young, I used to take them there quite often, and it has become even more developed since then. With the airfield right in front of you, and about 500 cherry blossom trees blooming in the spring, it's wonderful.

Also, there's the Sora no Eki Sakura Hall within the park. They showcase local farm produce and local goods, like the famous Chomeisen sake, and they also carry Unarikun merchandise and airport-related goods. What's noteworthy about this station is that it has partially outsourced operations to the social welfare corporation of Narita, the Taiseikai Kashinoki-en. They are responsible for tasks such as sales and cleaning of the shop, which allows them to provide work training for people with disabilities. This is another reason why I recommend this place.
ーWhat are your plans for the future?ー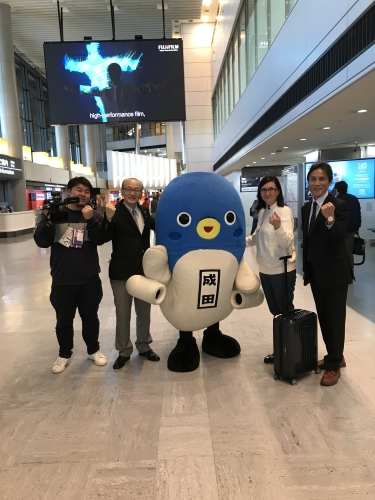 The first initiative is to establish a Multicultural Coexistence Counter on the first floor of the Narita City Office. It's genuinely embarrassing that we claim to be an international city, yet we don't have a dedicated counter for foreigners.

The second initiative is to create a Multicultural Coexistence Hub. I want to make effective use of the second floor of the Narita Tourism Hall, and in collaboration with other groups, develop the monthly Japanese culture experience program "Japanese Fragrance for You," run by the UNESCO Association, which includes activities such as calligraphy, flower arrangement, tea ceremony, and kimono wearing. I want to make it a hub for multicultural coexistence in Narita where not only tourists, but also residents, foreign students, and technical interns can interact on a daily basis.

The third initiative is to continue producing "Hospitality English in Narita". I believe that if the citizens of the city can provide simple guidance in English to foreign visitors, it would contribute to enhancing the Narita brand with this spirit of hospitality.

The fourth initiative is to attract international schools and establish International Junior and Senior High Schools (six-year secondary schools). I believe that these educational facilities are essential in a city with an international airport and could contribute to attracting high-quality foreign companies.
ーFinally, do you have a message for everyone?ー
To appreciate the charm of Narita, a city rich in history and cultural traditions, one cannot miss visiting Naritasan Shinshoji Temple. But rather than just casually visiting, I recommend deepening your understanding by getting explanations from volunteer guides - they even welcome Japanese people. The temple is especially bustling during the New Year's visit in January and the Narita Gion Festival in July. The cherry blossom and autumn leaves festivals in Naritasan Park are truly splendid.

As for accommodations, I would recommend "Ready to flight! NARITA", which utilizes a former school site. Its gymnasium is also available, making it ideal for camps or training sessions.

Though it's exclusively for foreigners, I hope that people will take the opportunity to experience Japanese traditional culture through the Narita Airport Transit & Stay Program (currently temporarily suspended due to the pandemic).