When you say Narita, many people probably think of Naritasan Shinshoji Temple, but it is not the only thing to see. In Narita, there are many people who provide hospitality to visitors, and I would like you to know about them. Here, we will introduce them to you as "People of Narita"!
Our guest this time is Takeki Tatsuzaki, master of the cocktail bar "Toyo" on Shinmichi Dori. "Toyo" is a well-known bar that has long been a favorite of travelers and local residents alike, and cannot be missed when discussing the charms of Narita at night. We spoke with the master of "Toyo" in detail about the changes he has seen in Narita and his current and future activities.
ーWhat are your current activities? Is your main activity as a bar master?ー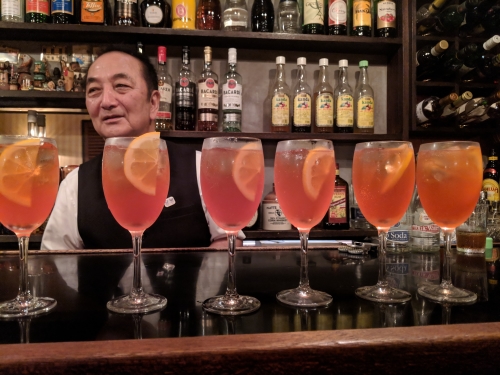 That's right. I also teach tea and flower arranging, and I served as the Hanasaki Town District 3 Ward Mayor for 10 years. I also continue to serve as the treasurer of the Narita District Ward Managers Association.
ーYou have titles such as Omotesenke tea ceremony professor for tea and Ikenobo Ikebana professor for flower arrangement.ー
I teach tea and flower arranging on our second floor. For the tea ceremony, only those who come casually attend, as no one wants to learn the complex procedures. As for flower arranging, I teach up to advanced levels.
ーPlease tell us again about your background.ー
I was born in 1941, before the war. I was born on this street.
On May 9-10, 1945, Narita was in the center of a huge fire. It burned all the way from the station to around Chomeisen-san. It was not an air raid, but a lost fire. The fire went up Shinmichi Street all the way to the police station. Then it moved to the other side and reached Chomeisen-san on the front street.
I was just not at home. There was a place called Yanaka Onsen in Ohto, Sawara, that had mineral spring boiling water, and I was there for a hot spring cure, but early in the morning a relative who worked at the railroad office came to inform me by the first freight train. So when I came back to Narita, I had no house or anything.
But I had no trouble living there. There was another house in Igodai, and I lived there for about six months. I came back here around September or October.
The war ended during that time. I heard the Gyokuon-broadcast in an air-raid shelter. I remember sitting upright in front of the radio.
ーI understand that you started working in bars from there when you were 18 years old.ー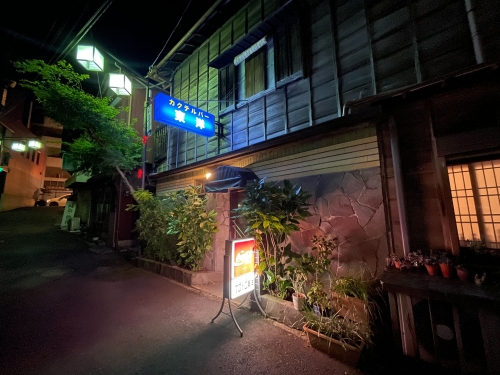 I opened the bar on December 24, 1959, the year I turned 18. I got out of high school in 1960. Then I started attending bartender school after the middle of April.
I was probably the first person to go to bartender school in Narita.
ーWhy did you decide to open a bar?ー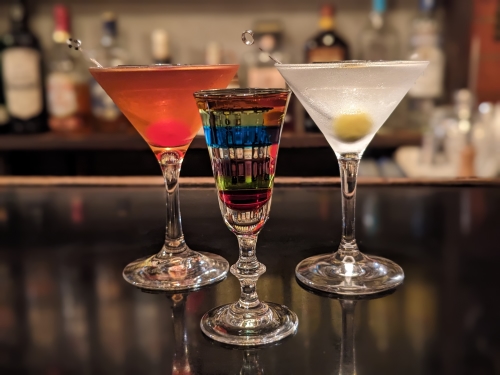 It's the influence of movies. There are bar scenes in Nikkatsu movies, such as those of Akira Kobayashi and Yujiro Ishihara. So when we rebuilt this building, I turned the two small rooms in the dining room into a bar.
At first, I didn't know anything about it, so I had mom and bartender come from Tokyo to open the bar, but they couldn't stay long either, so I started going to bartender school. I went all the way to Roppongi. There was no subway at that time, so I took the streetcar from Aoyama Itchome, Toranomon, or Shimbashi. The school was located behind Amando.
It has been 64 years since then.
ーIt has been more than half a century now. Do you have any impressive customers?ー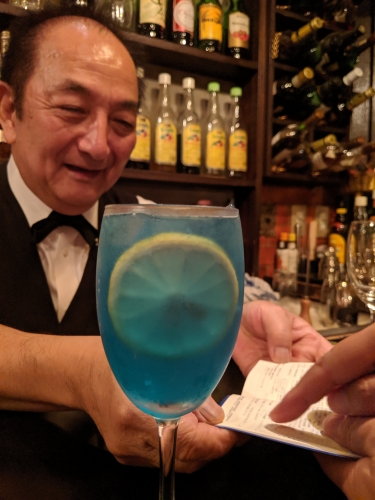 At first, JAL came, and then ANA came when we were getting used to them. We began to receive visitors from a variety of companies.
I was impressed by the captains, all three of them have been here for over 20 years. They were from the U.S., Canada, and Australia. They have been coming to see us for a long time. They came to greet me when they retired.
It was also the filming location for the drama "Apoyan." Before the book was made, the author came to here and asked if he could write about here. I told him it was no problem, and he wrote it and brought me a signed copy of the book.
Well, there were all kinds of people.
ーWhat are some of your personal favorite spots in Narita?ー
Naritayama Park is a big deal. It is very natural for a half man-made park.
I think that was a major renovation and rebuild before the 1000th anniversary. There used to be a zoo, and there used to be boats on the Sannoike Pond in front of the Calligraphy Museum.
ーWhat are your plans for the future?ー
I don't particularly want to put on airs or do things in a rigid way, but I do want to be myself and be natural, and I also want the people who come here to feel comfortable in the town to their heart's content.
The mayor told me the other day that I should do the bar as long as I am physically able to continue. I don't know how long I will be able to do it.
ーFinally, do you have a message for everyone?ー
I think Narita is safe and secure. Even if you lose something, you can still find it.
It is a town with many hills, but I hope you will enjoy it. I, on the other hand, was surprised when I went to a flat town and wondered why it was so flat.