Did you know that Narita and Kyoto have something in common?
Just like in Kyoto, a Gion festival is held each year in July. The indispensable dish during the Gion festival in Kyoto is "hamo" (pike conger). There actually is a kaiseki restaurant in Narita where you can try hamo to the fullest. This report is about its charms.
Eisho is a restaurant in Narita where you can enjoy authentic Kyoto kaiseki cuisine that has been making waves. It opened in February 2020 on Omotesando street in Narita. It's in pursuit of delicate seasonal dishes and is not only frequented by local discerning foodies but by those from other prefectures as well.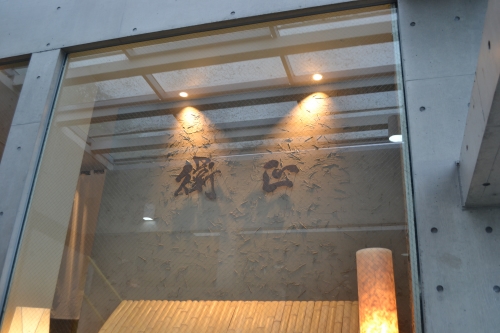 Eisho is located on the third floor of a modern concrete building a short distance from Omotesando street in Narita. It's a concealed restaurant with a homely atmosphere that is highly regarded by those in the know.
It is operated by Mr. Taichi Horikawa, who has studied at a Japanese restaurant since he was 18. Following that, wanting to familiarize himself with techniques not used in Japanese cuisine, he worked at an Italian restaurant. Additionally, to address the issue of to what extent it would be possible to create Japanese food in regions where not many ingredients are available, he has a remarkable career in which he honed his skills at Japanese restaurants in Lisbon in Portugal and in New York in the U.S.
Mr. Horikawa says, "Kyoto kaiseki has its roots in the tea ceremony. Within that tradition, the concepts of "wabi" and "sabi" (the acceptance of transience and imperfection) are expressed through seasonal ingredients, which is how I want to make an impression on my customers." The bamboo townhouse fence at the entrance evokes impressions of Kyoto, there's a wickerwork ceiling in the style of a tea ceremony room, and a veranda covered with gravel... You can feel the restaurant's devotion through its interior design.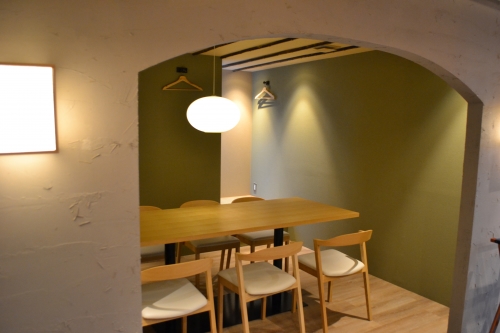 The tranquil interior of the restaurant features counter seating, private dining areas, and table seating.
Mr. Horikawa, who sincerely believes in cherishing unique occasions with seasonal ingredients, believes that communication with producers is of utmost importance, and proactively incorporates local ingredients by visiting producers himself.
In fact, Narita is a major agricultural region. Blessed with waterborne transport through the Tone River and Lake Inba, and a relatively temperate climate throughout the year, an abundance of field crops are grown there. "We can get all kinds of vegetables of excellent quality," says Mr. Horikawa.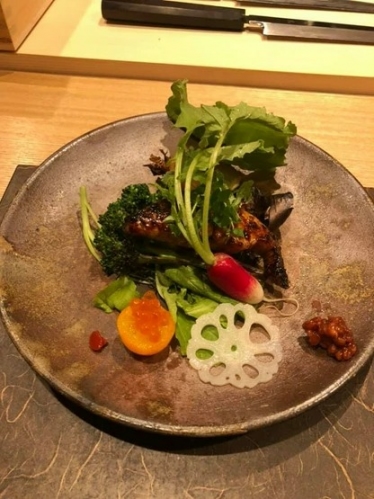 He proactively sources local Narita vegetables. He speaks especially highly of the root vegetables through autumn to winter.
In addition to vegetables, he uses many ingredients produced in Chiba prefecture. The rice is "Koshihikari" rice from Tako, tuna from Choshi, "Nanohana Umashi Pork" from Asahi... I talk to the producers I source from, and their sentiments are reflected in my cooking.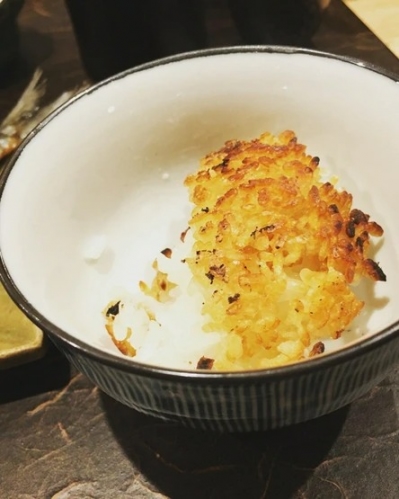 He serves me kettle-cooked Koshihikari rice from the town of Tako in Chiba prefecture.
I try to prepare dishes that bring out the inherent qualities of the ingredients that all of their producers have poured their hearts and souls into growing. Such cooking will allow you to become healthy naturally, " says Mr. Horikawa. "Become healthy by eating" is also the concept of the restaurant, and he places a high value on it.
Mr. Horikawa is very serious and thorough in the selection of the ingredients. He will spare no time and effort doing so. "For each of the ingredients, I will carefully consider how they should be consumed and will painstakingly prepare them."
Using ingredients such as high-quality bonito flakes and kelp, it takes four hours to bring out the flavors of the ingredients and make "dashi" soup stock, which is said to breathe life into Japanese cuisine. Furthermore, the dishes and the dashi used for flavoring them are prepared separately. Practically all foods served at the restaurant I make myself. All of the seasonings that are served with the food, such as chili vinegar and tamari soy sauce, I've also made myself.
Mr. Horikawa treasures the "process" of cooking. "In my mind, I deconstruct Kyoto kaiseki, which has a long history and can be said to have reached its final form. I carefully examine it, and I reconstruct it in my own way. That's a neverending process."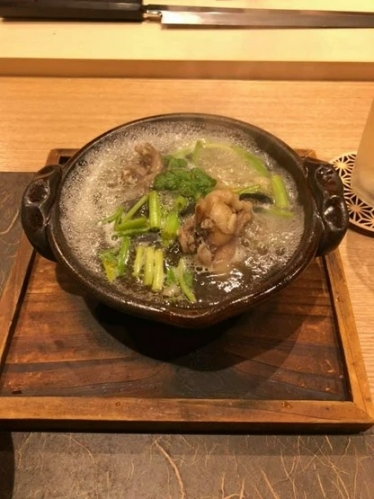 He also serves "suppon" (softshell turtle), which is a cornerstone of Kyoto kaiseki, as a course. The suppon turtle "zosui" rice porridge is a delicacy he is very proud of.
He believes that due to this, even though the finished dishes look the same, he can add his own touch to them, and by changing the preparation methods, the dishes he has "played" with will obviously taste and appear different.
He has held this belief for a very long time. Back when he was a junior high school student who decided to walk the culinary path, the reason he chose to go to an agricultural high school was to learn about the food distribution process, that's how resolute he was. "The customers may not understand it, but the "process" is my religion. I am unable to serve food to my customers that I myself do not believe in."
He places great value on honest work. "Customers who come here often tell me, 'I forgot to take photos of the food'," says Mr. Horikawa. "It looks like you are engrossed with the food and suddenly say 'Oops! I ate it!'," laughs Mr. Horikwaka. It appears that Mr. Horikawa's sentiments are being conveyed to his customers.
Mr. Horikawa especially puts his sentiments into some of the ingredients. One of them is hamo (pike conger), which is a traditional summer food in Kyoto, and is a cornerstone of Kyoto kaiseki cuisine.
Apparently, a pike conger has over 3,000 fine bones. An advanced technique called "honekiri" which requires a knife to be inserted 24 times or more each 3 cm, so it really is a dish that will test the skill of the chef.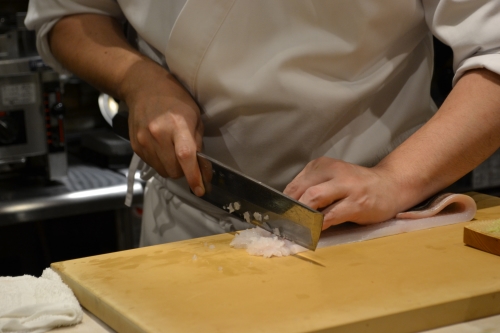 "You can't just do this with novice skills. Inserting the knife blade within just 1 mm up to the skin is impossible unless you have mastered the core techniques of Japanese cuisine and have a feel for preparing pike congers," says Mr. Horikawa.
At the same time, pike congers are a kind of fish that also require the cook to be very skilled. "The pike conger is a fish with a delicate taste and umami, and also is very fatty. An unusual amount of dashi is excreted by the bones. It's an interesting ingredient that can't be substituted by anything else. It can be used in a variety of ways," says Mr. Horikawa, and he offers a "Hamo Zukushi" exhaustive pike conger full course meal from May to October each year. This full course meal allows you to enjoy pike conger, which is not commonly eaten outside of the Kanto region, in various ways.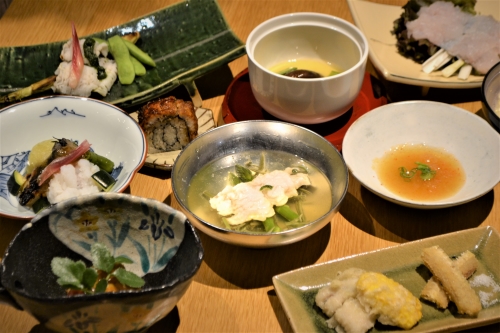 The "Hamo Zukushi Full Course Meal", which will allow you to try pike conger from head to tail.
On a day when the start of the humid rainy season could be felt, I tried the pike conger cuisine that Mr. Horikawa skillfully prepared. Sitting at the unvarnished wooden counter, there was a pike conger before my very eyes. Roughly weighing 800 g, these are sourced from both the Seto Inner Sea as well as from the Sea of Japan.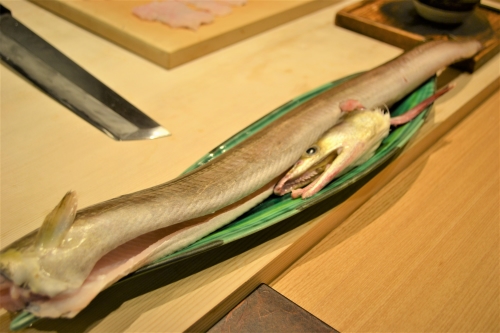 At Eisho, you can enjoy dishes that match the seasons, from the beginning of the pike conger period, throughout the height of summer to the Blanched Pike Conger. In Autumn, the Bottle-steamed Pike Conger and Matsutake Mushrooms is also a delicacy.
Mr. Horikawa prepares the pike conger with the honekiri technique for each individual dish. Each time he inserts the dull-colored hamo knife into the flesh and moves it in small increments, a satisfying crunchy sound reverberates across the counter.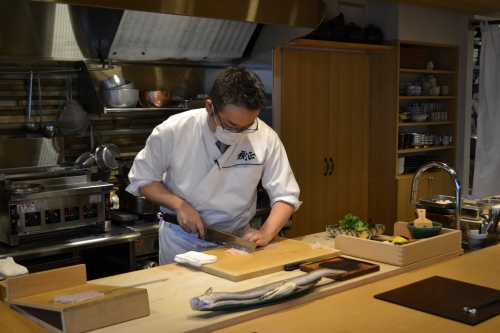 Mr. Horigawa, using the honekiri technique. He says that at the beginning of the pike conger season, he needs to cut three or four pike congers with the honekiri technique before he refinds his groove.
Hamo no Zaku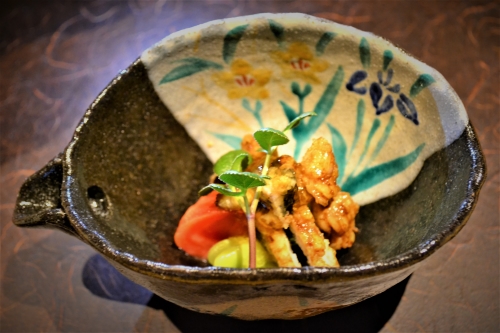 Known as "Hamo Zaku" as well as "Hamo no Zaku". After the pike conger is skewered and steamed, it is marinated in an eight-year-old tare sauce that he has continuously replenished, and then baked kabayaki-style. It wasn't garnished with a cucumber but with a small melon. The pike conger's flesh was soft and tender, its skin aromatic and seared, and it went wonderfully well with the verdantly fresh fragrance of the small melon. A dish that evokes a refreshing early summer breeze.
Pike Conger Shinjo Asparagus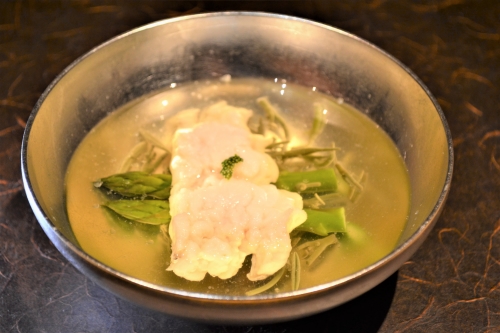 A soup bowl with the fresh taste of green asparagus and the smooth flavor of pure pike conger. The pike conger, steamed with a pinch of salt, is simmered in a very light "happo dashi" broth, and has a soft and delicate taste. This allows you to enjoy the simple, natural umami of the pike conger.
Pike Conger Hiyashi-bachi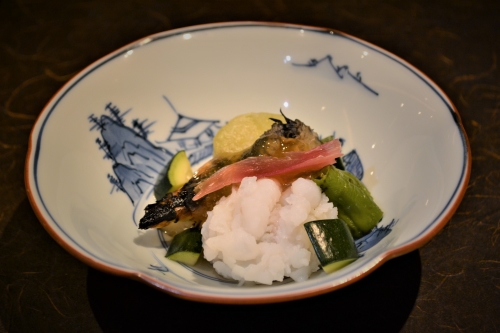 An extravagant dish, combining abalone and boiled pike conger. The pike conger is soft and juicy. Together with the abalone jelly, you can enjoy sampling various textures and colors such as individually fried white asparagus, eggplant, green peppers, and zucchini.
Pike Conger Otoshi-zukuri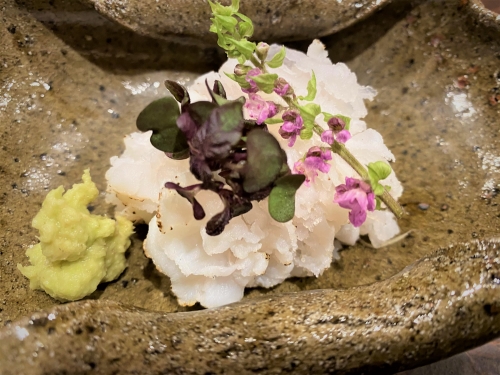 The broiled skin and flesh of the pike conger are as beautiful as peony flowers. Its fresh and refined sweetness stands out and will let you enjoy pike conger to your heart's content.
Pike Conger Stomach, Liver, and Intestines
The gumminess of the liver, the crunchiness of the stomach, and the mouthfeel of the intestines are delightful textures that go very well with alcoholic beverages. Eisho has a wide selection of sakes that are matched to the seasons. Also, because of Mr. Horikawa's professional history, there is an abundant selection of Portuguese wines. Vinho Verde, which is slightly sparkling, fresh, and with a light finish, pairs perfectly with pike conger.
Roasted Pike Conger
Pike conger, roasted without steaming it. The browned and crispy pike conger has a punchy flavor reminiscent of meat. The rejuvenating taste of vinegar combined with broiled unhusked baby corn from Narita is also superb.
Pike Conger Tempura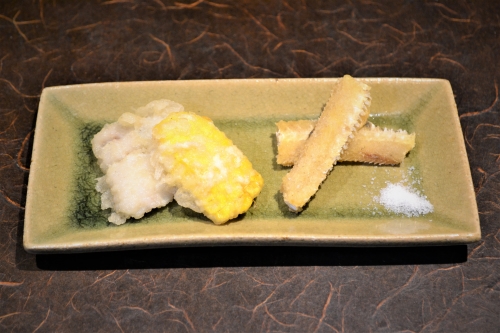 The succulent pike conger and the sweetness of the corn, both covered in crispy tempura coats are a lighthearted combination that will make your mind wander.They are accented by crunchy cartilage crackers.
Pike Conger Sushi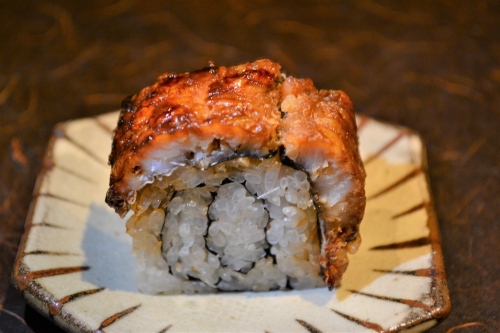 Pike conger is marinated in tare sauce three times and baked until well-coated, and are then rolled up with seaweed for a finishing touch. Although it's as full-bodied as eel kabayaki, its aftertaste is still delicate. This dish brings out the attractiveness of pike conger.
Pike Conger Shabu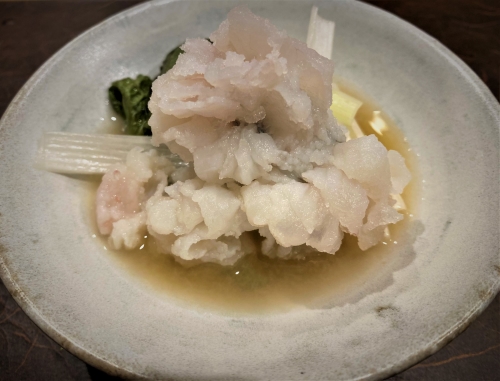 A refreshing dish served with briefly blanched spring onions, lollo rosso lettuce, and grated daikon radish, and specially made chili vinegar in a pike conger bone broth. The freshly finished pike conger is steeped in the bone broth, allowing you to savor the umami even more.
Pike Conger Chawan-mushi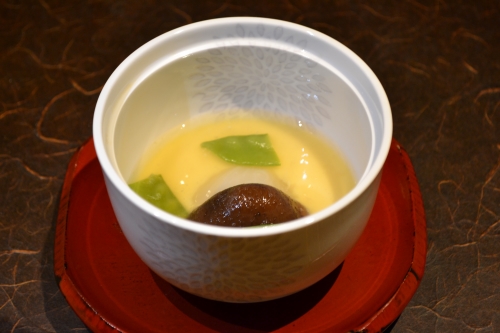 A dish made with the unique techniques of Mr. Horikawa, who has studied Italian cuisine. The dashi soup stock used is a consomme made with vegetables and pike conger. Although it is delicate, it has a full-bodied and exquisite aftertaste.
Pike Conger Zosui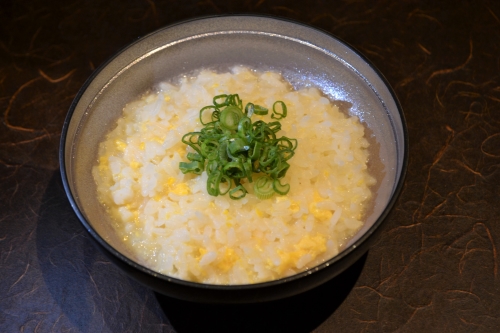 A delicacy that will let you experience the deep flavor of the pike conger dashi broth. It is surprisingly flavor-forward with an umami flavor. It turns the plain impression this dish has on its head.
With so many dishes, you will never grow tired of pike conger. The textures and flavors vary, depending on the cooking process, sometimes delicate, sometimes strong. Mr. Horikawa's "process" is wonderfully condensed into this Hamo Zukushi full course menu which allows you to savor all different aspects of the pike conger and brings out the individual uniqueness of all dishes.
Although Narita is the most famous for its eel, why don't you give pike conger Hamo Zukushi a try? You can taste it without having to go all the way to Kyoto!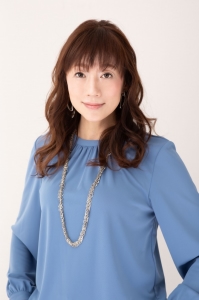 Text
Yoko Ikeda
Upon graduation from the College of Sociology at Rikkyo University, she edited a women's magazine for a publisher and an in-flight magazine for an airline. After enrolling at Beijing College of Traditional Chinese Medicine (currently: the Japan Chinese Medicine Institute), she obtained the qualification of International Chinese Medicine Teacher, and in addition to her work as a Chinese food therapy attendant, she also writes as a food and culture journalist, conveying the allure of the foods from various regions in Japan. She is also active as Sabasienne, the PR manager for the All Japan Mackerel Association, uniting mackerel fans.