Wouldn't you like to make better use of the time you have before or after arriving at Narita Airport? Take advantage of this opportunity to visit Narita and do some sightseeing, even if it is only for a short time!
There are many sightseeing spots and activities in the vicinity of Narita International Airport that can be enjoyed even if you have little time to spend at Narita.
Here are 5 things to do in Narita.
1. Naritasan Shinshoji Temple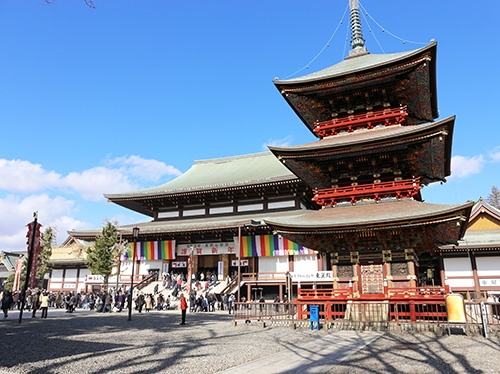 The first temple that cannot be missed is Naritasan Shinsho-ji Temple. Shinsho-ji Temple is one of the most popular temples in Japan for Hatsumode, with an estimated 3 million people visiting the temple on the three days of the New Year. The temple has been famous as a sacred site since the Edo period (around the 17th century) to the present, and is a symbol of Narita City.
It is close to Narita Airport and can be visited by train and on foot in 30 minutes each way, making it ideal for sightseeing in between flight connections. Visitors can spend a relaxing time while admiring the beautiful garden and magnificent architecture.
Ogoma prayer and sutra copying are also available, so please try them if you are able.
Introductory article:A guide to Naritasan Shinshoji Temple. Everything from an introduction to the temple to recommended walks nearby!

Naritasan Shinshoji Temple

2. Enjoy eel cuisine and souvenir shopping at Naritasan Omotesando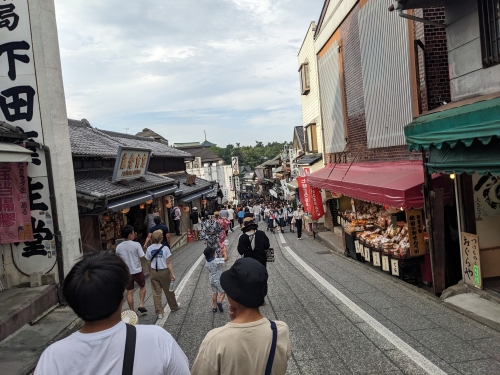 Narita has prospered as a gateway town welcoming visitors to Naritasan Shinshoji Temple. The 800 meter long Omotesando (main approach) to the temple is lined with many restaurants and souvenir shops.
The most popular gourmet food in Omotesando is eels! Blessed with the fishing grounds of the Tone River and Inbanuma Lake, eel dishes have long been popular. One of the highlights is to see eels being vividly handled in front of the restaurant.
There is also a wide variety of souvenir shops. There are many stores selling Japanese sweets, Japanese accessories, and local specialties, so be sure to stop by.

Naritasan Omotesando

3. Naritasan Park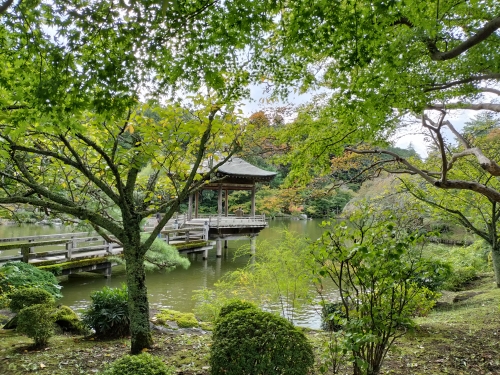 Naritasan Park is located behind the main hall of Naritasan Shinshoji Temple and covers an area of about 165,000 sq.m.. Visitors can enjoy the seasonal flowers and nature, which is especially spectacular during the cherry blossom season in spring and the autumn foliage season in fall. The garden is maintained as a garden, allowing visitors to stroll around and enjoy the four seasons in a typically Japanese way.
Naritasan Museum of Calligraphy, located in Naritasan Park, is also recommended. The museum specializes in calligraphy works and has a collection of over 6,000 works of calligraphy from the Edo period to the present.
Introductory article:Insider Knowledge: Enjoying Walking Around Naritasan Park for First-timers

Naritasan Park

4. Chomeisen Sake Brewery
A sake brewery is located on the Naritasan Omotesando approach. Chomeisen, the only sake brewery in Omotesando, offers sake brewery tours (reservation required) and sake tasting, and is especially recommended for those who love sake.
Please enjoy the unique architecture of the sake brewery and the sake as well as koji amazake and other drinks.

Chomeisen

5. AEON MALL Narita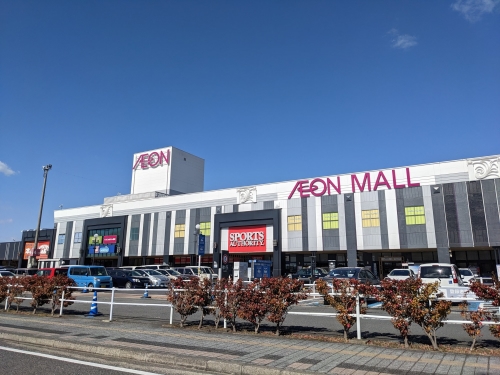 For those who love shopping, we recommend AEON MALL Narita. With its easy accessibility, only a 10-minute direct bus ride from Narita Station, you can enjoy shopping to your heart's content.
In addition to domestic and international brand-name stores, general merchandise stores, and drugstores, there is also a full lineup of sushi and other Japanese restaurants and cafes.
There is also a duty-free counter and a tourist information center.
Introductory article:Not only AEON MALL Narita! Huge Shopping Area "Tsuchiya" Special

AEON MALL Narita

Transit guided tours are also recommended!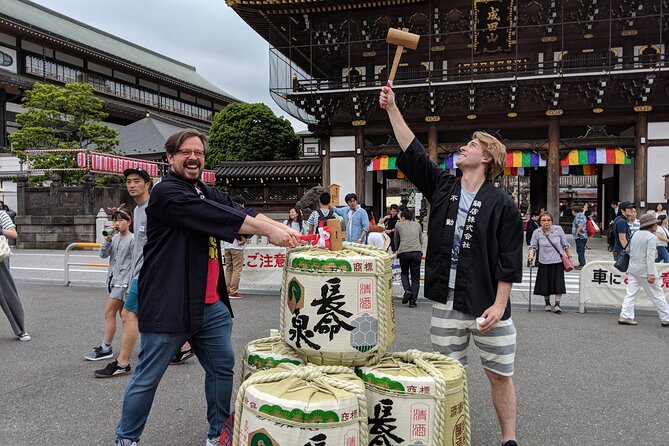 For those who plan to take advantage of their flight connection time to see the sights, we recommend taking a transit guided tour.
A guide familiar with Narita will guide you to Naritasan Shinshoji Temple and Omotesando, etc. according to your request. With a guide, you can enjoy sightseeing even in unfamiliar places.
We look forward to your application!
Click here for transit guided tours (Viator)